News bulletin 19 October 2011
on 19 October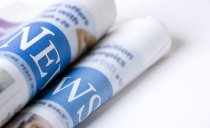 Welcome to the College of Nurses – News Update.
No. 76 – 19 October 2011 
From NZ media this week

 Doctors, pharmacists sharing records online
Doctors and pharmacists are now sharing patient medical records online.
http://bit.ly/oQ3c03 

Clean hands save lives
The Canterbury District Health Board (CDHB) has this week launched its "5 Moments for Hand Hygiene" campaign in health care facilities across the Canterbury region.
http://www.voxy.co.nz/health/clean-hands-save-lives/5/104393 

More talks after DHB offer rejected
District health boards seem destined for a swathe of union negotiations after nine of the 10 unions involved in this year's combined negotiations rejected their offer.
http://www.odt.co.nz/news/national/182429/more-talks-after-dhb-offer-rejected 

Stronger gear for obese patients
Equipment for morbidly obese patients cost the health board $236,000 in the past three years.
http://bit.ly/nANNfZ 

Parents question GP fee hike
The days of Kiwi doctors treating toddlers for free are long-gone, with one big-city clinic charging $44 to see children younger than 5.
http://www.nzherald.co.nz/nz/news/article.cfm?c_id=1&objectid=10759335 

Free after-hours medical advice from the comfort of home
For patients of many of Auckland's GP practices, getting access to free, quality after-hours health advice from the comfort of their own home is now easier than ever. A newly expanded telephone nurse triage service means that if a patient or their ...
http://bit.ly/nmEApr 

Cost of cancer more than $500 million - and rising
More than $500 million a year is being pumped into diagnosing and treating cancer, and costs are set to climb over the next decade.
http://www.nzherald.co.nz/lifestyle/news/article.cfm?c_id=6&objectid=10758597 

DHB drops home help phone assessments
Wellington's DHB has dropped its controversial phone assessments of people who need home help.
http://bit.ly/otLZyE 

Nurses-role-at-rest-home-defended
The New Zealand Nurses Organisation is defending the staff of Woodlands, and says inappropriate resources and support from high-level management was the reason behind the damning findings at the Motueka rest home.
http://bit.ly/pytkeP  

International media

RCN: some of the issues highlighted by CQC 'go beyond nursing'
Nurses must be "leaders" in changing attitudes towards older people in society, the Royal College of Nursing has said in response to a critical report from the Care Quality Commission.
http://www.nursingtimes.net/5036458.article?referrer=e59 

CQC finds half of hospitals failing to provide good nutrition to older patients
A fifth of NHS hospitals are breaking the law on care of older people, according to a new report, with two trusts given prior warnings still leaving patients without intravenous fluids and one incontinent patient left unwashed despite asking for help.
http://www.nursingtimes.net/5036452.article?referrer=e59 

First pressure ulcer prevention programme 'successfully implemented'  
A pressure ulcer prevention programme specifically for nursing homes has been successfully developed for the first time.http://www.nursingtimes.net/5036483.article?referrer=e10 

Nurse prescribers slash alcohol addiction treatment times
Nurses in Yorkshire are pioneering a prescribing initiative for alcohol addiction patients that has helped slash treatment times.http://www.nursingtimes.net/5036471.article?referrer=e1 

Newly qualified nurses 'can handle pressure of ICU'
Nurses who start their career in intensive care cope well with the complexity and pressure of the job, according to Leeds Metropolitan University researchers online in the journal Nursing in Critical Care
http://www.nursingtimes.net/5036481.article?referrer=e26 

Nurse whistle-blowers can face serious issues
Whistle-blowing incidents can have a serious, long-term impact on nurses' emotional well-being and on their colleagues, and employers have a responsibility to provide whistle-blowers with the support they need, according to a study that appears in the October issue of the Journal of Clinical Nursing.
http://news.nurse.com/article/20111011/NATIONAL02/110170023/1003  

Public health 

Free measles vaccinations offeredThe Ministry of Health is working with the three Auckland district health boards to ensure there is a sufficient supply of the measles vaccine, as the disease continues to spread.
http://www.stuff.co.nz/national/health/5774650/Free-measles-vaccinations-offered 

Deadly disease escalates in WellingtonA 12th case of meningococcal disease has been confirmed in Wellington, less than a month after a teen died of the infection.
http://bit.ly/ncIlj5 

Health and wellness 

Stressed out! Strategies for enhancing performanceWorkplace stress and its effects on job performance are major concerns from both a human and economic perspective.1 The typical day for healthcare providers is inherently stressful.2–4 The consequences for having to work long hours and deal with high case loads, shortages of resources, time pressures, and high performance expectations greatly impact a nurse's job retention, satisfaction, and performance.5
http://bit.ly/qcrdxS 

Improving Emotional Health: Strategies and Tips for Good Mental Health
People who are emotionally healthy are in control of their emotions and their behavior. They are able to handle life's inevitable challenges, build strong relationships, and lead productive, fulfilling lives. When bad things happen, they're able to bounce back and move on. Unfortunately, too many people take their mental and emotional health for granted – focusing on it only when they develop problems.
http://bit.ly/mQ5KnZ 

Conferences, hui and professional development  

Call for Submissions for the 1st European Conference of Mental Health Nursing
The 1st European Conference of Mental Health Nursing will be held in Helsinki, the beautiful capital of Finland, May 23-25, 2012.One of the themes for the conference is "substance abuse nursing".The Conference will be organized and funded entirely by nurses so nursing point of view will be represented clearly.If you are interested in presenting at the conference the submission deadline is early December.You can find out more about the conference at there website by following this link.
http://www.nurses.fi/fna_congress_academy/1st-european-conference-of-menta/ 

 Articles of interest 

In position: Proper placement of OR patients can prevent injuries
It's always useful for perioperative nurses to be able to read minds — to know what the surgeon will want and when, understand an anesthesia provider's needs and anticipate anxieties from patients. But to prevent patient injury, it's also vital to be able to read body language.
http://news.nurse.com/article/20110926/OR01/309260042  

From the Ministry of Health 
The Price of Cancer: The public price of registered cancer in New Zealand
Date of publication (online): October 2011

Summary of publication
The price of cancer in New Zealand has been estimated before, but not for all registered cancers and not with the same level of granularity.
This report calculates the annual price of all cancers registered with the New Zealand Cancer Registry in 2008, and then estimates the drivers and likely magnitude of price change 10 years into the future, based on previous cancer incidence projections.
More than $500 million dollars a year is spent by the public health system on diagnosing and treating cancer and this is set to increase more than 20 per cent by 2021.
Identifying each cancer when it is diagnosed and how much it costs to treat, makes it easier to see where future cost pressures are likely and how best to manage them.

http://www.moh.govt.nz/moh.nsf/indexmh/the-price-of-cancer
The above information has been collated for the College of Nurses Aotearoa (NZ) Inc by Linda Stopforth, SNIPS and is provided on a weekly basis.

 

It is current as at Tuesday 18 October 2011
If you have any feedback about content - what parts are most useful or what you would like added - please email
admin@nurse.org.nz