News bulletin 14 October
on 14 October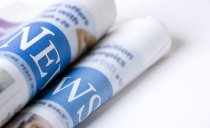 Welcome to the College of Nurses Aotearoa News Update.
No. 516, Wednesday 14 October 2020
Weekly news round-up of nursing and health information in New Zealand and internationally
NATIONAL NEWS
Waitematā DHB grapples with shortage of nurses and too many paramedics
An Auckland DHB needing to get seriously ill patients from one hospital to another is turning to a new way of using paramedics to ease the workload ...
What's happened to mental health nurses working with police?
There's more than one scheme involving mental health experts working alongside police.
Speaking about the suicide rate during the Press Leaders Debate, National Party leader Judith Collins said the Labour-led Government had removed mental health response workers from police custody suites.
INTERNATIONAL NEWS
Sepsis rates fall when nurses have fewer patients, study finds
Increased nurse staffing levels and intensivist hours were linked to significantly lower sepsis rates at a sample of Massachusetts hospitals, a study published in Critical Care Nurse found.
Filipino Americans make up 30% of COVID-19 deaths in US nurses
Filipino and Filipino American nurses are dying from COVID-19 at disproportionately high rates, accounting for more than 30 percent of the 205 U.S. nurses who have died, though the group makes up just 4 percent of the total nurse workforce, reports The Mercury News.
CANCER NEWS
Refusal to lower bowel screening age for Māori labelled 'institutional racism'
Performing just one extra colonoscopy per week at each district health board would offer equitable bowel screening for Māori, an expert says.
CHILDREN AND YOUNG PEOPLE
Children now immunised against measles three years earlier
Children will be fully immunised against measles, mumps and rubella almost three years earlier than in the past thanks to a change brought in at the start of this month. Read more
Youth19 survey: One in five youth unable to access healthcare
Fears "we are failing our youth" come after new research reveals one in five high school students haven't been able to see a health professional when they needed to.
The Government-funded Youth19 survey also found thousands of pupils weren't assured of their confidentiality and were unable to talk with a health professional in private.
COVID-19 / CORONAVIRUS
Testing required for years: SDHB
The Southern District Health Board expects to need to co-ordinate Covid-19 testing for about two years at least.
Covid-19: $208 million spent by Ministry of Health funding Covid-19 tests
The Ministry of Health has forked out more than $208 million for Covid-19 testing since the outbreak began.
Covid-19: Govt inks agreement to purchase 1.5 million vaccines
The Government has inked an agreement to buy 1.5 million Covid-19 vaccines - enough for three-quarters of a million people - in the first vaccine purchase agreement for the country.
Will NZ follow WHO lead to 'living with virus'? - Covid Plan B group
The Covid Plan B group is reassured by the shift of international policy and science consensus toward what had been a dissenting position six months ago; learning to live with the virus.
Covid 19 coronavirus: Global infections surge - a million new cases in three days
According to a survey from the national French nursing union, 57 per cent of the country's nurses said they were in a "state of professional exhaustion", ...
DENTAL CARE
Dentists, health leaders frustrated over New Zealand's fluoridation failure
Children as young as 18 months continue to suffer with rotten teeth while political parties have dodged responsibility for a proven prevention method – fluoridation of drinking water, leaders in oral health say.
Dentists plead for fluoridation and pain relief service as infections increase
More people are suffering potentially life-threatening brain, lung and heart infections as a result of severe and untreated tooth decay, dentists say.
New Zealand's dental care in a 'state of crisis'
Dental care in New Zealand is in a ''state of crisis'' and Christchurch health professionals say it is leading to a resurgence in intensive care admissions and third-world oral health problems. VICKI ANDERSON investigates.
Thousands of Auckland kids going years without dental checkups
About 2,500 Auckland children have not had a dental check-up since 2016.
Dental treatment inaccessible for many low-income earners
Christchurch wheelchair user Stephen Mudgway says even if he could afford it, access to dental care is ''literally and financially impossible''.
DIABETES
Preventing diabetes: What does the latest modelling evidence tell us about health gains and cost savings?
Approximately 5.5% of NZ adults have been diagnosed with diabetes. In this blog we summarise our recent modelling work that suggests that further investment in interventions of proven effectiveness to prevent type 2 diabetes could substantially benefit health, reduce health inequalities, and save billions in health sector costs for NZ.
'New tech sees teens with diabetes improve glucose monitoring'
A world-first Otago study has revealed flash glucose monitors help youth with type 1 diabetes better monitor their blood sugar levels, however it does not improve glucose control. Read more
HEART HEALTH
Maori, Pacific heart health targeted by new Centre
MÄori, Pacific heart health targeted by new University of Auckland-hosted Centre of Research Excellence
The $40.5 million Centre of Research Excellence for heart health equity aims to close a seven-year gap in life expectancy for Māori and Pacific people versus the rest of the population. Read more
MENTAL HEALTH
Suicide, family crisis, isolation: Asians' mental health on the decline, says advocacy group
From suicides to family crises, anxiety to isolation, the mental health of Asian New Zealanders is deteriorating and Covid is making it worse, says an advocacy group calling for a targeted mental health strategy for the country's diverse Asian communities. Read more
Ignorance and disbelief is causing thousands of New Zealanders each year to be incarcerated, placed in care or left to fend for themselves without proper support. Bruce Munro speaks to researcher Anita Gibbs about her campaign for change and hears from distraught parents pleading for help for their children with foetal alcohol spectrum disorder. Read more
Where is the mental health support in New Zealand?
Political parties are putting the issue of mental health strongly in focus.
But there's a wave of youth anxiety, mental distress and worries about Covid-19
heading this way - and the services already in place are being overwhelmed.
MIDWIFERY / MATERNITY
Midwives' shortage prompts closure of Horowhenua maternity services
The maternity unit had extra registered nurses appointed to help with some tasks to relieve the work pressure on midwives. The board was offering a ...
PALLIATIVE CARE
Palliative care can't survive on 'cakes and op-shops'
According to leaders in the palliative care field, the sector can no longer survive on "cakes and op shops".
PHARMACY
PHARMAC confirms their new way of contracting for medicines
PHARMAC is standardising the way medicines are contracted, providing better support to healthcare professionals when they are prescribing medicines for their patients.
Supply of at least four commonly used contraceptive pills is about to run out - leaving many people without their first choice contraception option.
PUBLIC HEALTH
'Near extinction' of influenza in NZ as numbers drop due to lockdown
Mask wearing and social distancing for Covid-19 has all but cut influenza cases in New Zealand this year, with only six flu isolates detected in this country from April to August.
Supercharged 'clones' spark scarlet fever's re-emergence
Scarlet fever is on the rise worldwide, after being almost eradicated by the 1940s. Researchers says supercharged 'clones' of the bacteria Streptococcus pyogenes are to blame for the resurgence of the disease, which has caused high death rates for centuries.
REFERENDUM and ELECTION 2020
Misinformation About Palliative Care Dangerous In Euthanasia Debate
The Collaboration that includes Palliative Care Nurses New Zealand, Hospice New Zealand, Hospital Palliative Care NZ alongside ANZSPM agree it ...
Public health experts urge a yes vote in cannabis referendum - Otago University
Leading specialists in addiction treatment, public health, health promotion and epidemiology are calling on New Zealanders to vote for cannabis law reform in the current referendum.
SOCIAL HEALTH
Effects of poverty on childhood development seen in children as young as 5
Researchers have found that health inequities can be measured in children as young as 5 years old. The research contributes to a growing body of literature finding that children of color who are also poor face greater health inequities than their white counterparts.
MINISTRY OF HEALTH REPORTS
Summary of Feedback: Kia Kaha, Kia Māia, Kia Ora Aotearoa: COVID-19 Psychosocial and Mental Wellbeing Recovery Plan
The Kia Kaha, Kia Māia, Kia Ora Aotearoa: COVID-19 Psychosocial and Mental Wellbeing Recovery Plan provides a national approach to supporting the mental and social wellbeing of New Zealanders in the COVID-19 recovery period.
COVID-19 in Health Care and Support Workers in Aotearoa New Zealand
Health care and support workers are an essential and valuable workforce. The nature of their occupation or workplace means they may be at increased risk of contracting COVID-19 during a time of community transmission.
GENERAL REPORTS
Laying foundations Attitudes and access to mental health nurse education
Mental health nurses account for more than a third of the mental health workforce in England and work across a wide range of health and care settings. However, this report finds that the pipeline of people choosing to study and qualify to become a mental health nurse is unable to meet sharply rising demand for this service. It looks at ways more people might be attracted to apply to study mental health nursing – and reasons why numbers are currently limited. Read more
ARTICLES OF INTEREST
Lost in translation - Silent reporting and electronic patient records in nursing handovers: An ethnographic study
International Journal of Nursing Studies
Volume 109, September 2020, 103636
Electronic patient records are increasingly being implemented in hospitals around the world to promote a process of sharing information that is reliable, more efficient and will promote patient safety. Evidence suggests that in practice, adaptations are being made to how such technologies are being used in practice. Few studies have explicitly aimed to explore how electronic patient records influence on nurses' communication of patient information in clinical practice. Read more
The article below is not freely available but may be accessed through databases and libraries to which readers have access
Models of prescribing, scope of practice, and medicines prescribed, a survey of nurse practitioners.
Fong, J, Cashin, A, Buckley, T.
J Adv Nurs. 2020; 76: 2311– 2322. https://doi.org/10.1111/jan.14444
Aims and Objectives
The aim of this study was to explore current Australian Nurse Practitioners (NPs) models of prescribing used and medicines prescribed within their scopes of practice.
Design
Descriptive online electronic national survey.
Methods
An online survey of Australian NPs was conducted in 2017. A total of 252 NP participants reported on their current prescribing practices.
Results
Participants reported prescribing via three prescribing models with autonomous prescribing the most frequently used, followed by prescribing under supervision and prescribing under a structured arrangement. Participants reported prescribing 298 separate medications, representative of all major drug classifications from the Australian Medicines Handbook.
Conclusions
NPs appear to engage in several modes of prescribing as relevant to their context of practice with most NPs prescribing using all models of prescribing at different times. Findings also highlight the diversity of and breath of the medicines that NP prescribes and highlight the need for NPs to have broad capability in relation to the quality use of medicines, irrespective of specialty or location of practice.
Impact
Findings of this research add to the international literature on NP prescribing and through identification of models of prescribing and medicines prescribed inform future NP education and policy.
Indigenous nurses' practice realities of cultural safety and socioethical nursing.
Hunter, K., & Cook, C. (2020).
Nursing Ethics. https://doi.org/10.1177/0969733020940376
Persistent healthcare emphasis on universal moral philosophy has not advantaged indigenous and marginalised groups. Centralising cultural components of care is vital to provide ethical healthcare services to indigenous people and cultural minorities internationally. Woods' theoretical explication of how nurses can integrate cultural safety into a socioethical approach signposts ethical practice that reflects culturally congruent relational care and systemic critique.
Aim:
To demonstrate the empirical utility of Woods' ethical elements of cultural safety within a socioethical model, through analysis of indigenous nurses' practice realities in Aotearoa New Zealand
Voluntary assisted dying in Victoria: Why knowing the law matters to nurses. Nursing Ethics.
Hewitt, J., White, B., Del Villar, K., Willmott, L., Greaves, L. L., & Meehan, R. (2020).
https://doi.org/10.1177/0969733020944457
In 2017, Victoria became the first state in Australia to pass legislation permitting voluntary assisted dying. Under this law, only those people who are near the end of their lives may access voluntary assisted dying, and because many of these people require nursing care to manage the progression of their illness or their symptoms, it will invariably have an impact on nursing practice. The Victorian law includes a series of procedural steps as safeguards to ensure that the law operates as intended. To support people who choose voluntary assisted dying and to practice safely within boundaries of the law, nurses must be aware of these requirements and how they operate. However, there are often gaps in nurses' legal knowledge. This was demonstrated in an article that aimed to inform nurses about the operation of Voluntary Assisted Dying Act 2017 (Vic) but contained several errors and misstatements of the law. Our article corrects these errors and discusses how the law is intended to be applied by revisiting the fictional case of Chloe – a woman with a terminal illness who is seeking voluntary assisted dying. As the Voluntary Assisted Dying Act 2017 (Vic) also protects nurses from liability if they act in accordance with its provisions, we conclude that sound knowledge and understanding of its operation support nurses to provide the safe, comprehensive and compassionate care their patients deserve at the end of life.
The above information has been collated for the College of Nurses Aotearoa (NZ) Inc by Linda Stopforth, SNIPS and is provided on a weekly basis. It is current as of October 13 2020
If you have any feedback about content - what parts are most useful or what you would like added - please email admin@nurse.org.nz
For more up to date news and information follow SNIPS at:
Facebook: Snips Info
Twitter: @SnipsInfo