News bulletin 28 October
on 28 October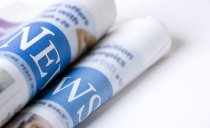 Welcome to the College of Nurses Aotearoa News Update.
No. 518, Wednesday 28 October 2020
Weekly news round-up of nursing and health information in New Zealand and internationally
NATIONAL NEWS
New nursing and health programmes in Thames and Åtorohanga
Wintec will deliver Enrolled Nursing and Certificate of Health and Wellbeing programmes in Thames and Åtorohanga in 2021.
University's new nursing degree incorporates mental health skills into all nursing fields
In New Zealand all nurses are comprehensively trained, meaning nursing undergraduate programmes cover a wide range of nursing fields over three ...
NZNO Escalates Primary Health Care Strike Action
The New Zealand Nurses Organisation (NZNO) has issued a strike notice today covering some 3200 Primary Health Care (PHC) nurses and ...
Nurses to strike again after 10 months of 'fruitless' pay parity negotiations
Community nurses will strike for the second time in less than three months, to fight for pay parity with their counterparts working in hospitals.
Nurse has registration cancelled following racist social media posts
A New Plymouth Nurse who made a public post on social media saying all Māori nurses do is have meetings all day and "sit on their fat arses", has had her registration cancelled for the next two years.
I felt guilty not being in the Covid-19 trenches with my fellow nurses
OPINION: I'm a nurse with rheumatoid arthritis. I keep my condition private and most of my workmates have no idea. I come home exhausted and sore, go to bed early and then paste the smile on, ramp up the energy button and head back to work.
Managed isolation nurses 'frustrated and angry' at '20-hour' working days, staff shortages
Twenty nurses have been pulled away from other jobs around New Zealand to staff Auckland's managed isolation facilities. Nurses say they're ...
INTERNATIONAL NEWS
'That Kindness' Review: Nurses Didn't Sign Up for This
Stars including Marisa Tomei, Billy Porter and Rosie O'Donnell dramatize the words of real-life nurses pushed to the brink by the pandemic.
New Data Shows Nurses and Their Families are at Significantly Higher Risk for COVID-19 Infection ...
Exergen Corporation Launches Nurse Support Program to Ensure Every Nurse Has Access to an Accurate Thermometer at Home to Protect Themselves ...
Early Career Burnout Among Nurses Associated With Chronic Symptoms of Stress
Burnout early in the career of a nurse was associated with increased rates of cognitive dysfunction a decade later. These results, from a longitudinal observational study, were published in EClinical Medicine.
CANCER NEWS
World 1st surgery at Tauranga Hospital could pave way to new prostate cancer treatment
A world first surgery undertaken at Tauranga Hospital could represent a major advance in the treatment of prostate cancer say medical experts.
A big few years for breast cancer treatments make a 'big difference' for patients
Changes to drug funding, advancements in treatment and accessibility to detection scans have made a "big difference" to New Zealand breast cancer patients in the last few years, says an oncologist.
CHILDREN AND YOUNG PEOPLE
Cot death prevention in New Zealand 'stalled' by long wait for investigations
Faced with the worst cot death rate in the developed world, the NZ Government set a national target for reduction in 2017 and ramped up measures to prevent deaths. Three years on, is the Government on track? No one really knows.
COVID-19 / CORONAVIRUS
Call for data on Covid-19 health impacts'
New Zealand has not released any analysis about the negative health impacts of the Covid-19 elimination and lockdown policy.
Covid-19: A look at the handful of 'reinfection' cases appearing around the globe
For the first time, Australia is treating one of its Covid-19 cases as a rare reinfection.
During a press conference, Victoria Premier Daniel Andrews said that the Victorian man first tested positive for Covid-19 in June, and also recently returned a positive test.
EMERGENCY HEALTH CARE
Emergency patients often young, drunk
About five people a day arrive at Dunedin Hospital because they have drunk too much — one of whom will likely be in immediate or imminent danger of death.
MAORI HEALTH
Fifteen years - and counting - of fighting for Māori healthcare for Tureiti Lady Moxon
Tureiti Moxon doesn't give up easily.
A prime example: the Te Kōhao Health managing director's part in a 15-year fight for more for Māori health and primary care.
"Ever hopeful," the 63-year-old Mōhaka woman said with a grin.
PUBLIC HEALTH
New CEO for the the Public Health Association of New Zealand
Recently, the Executive Council have had the opportunity to interview some amazing leaders in public health for the vacant CEO position. The calibre of the candidates was incredibly high which made the process very competitive. The appointment process is now complete and our appointment has been made. With great pleasure we would like to introduce the new CEO of the PHA Grant Berghan. With Grant's experience, expertise and local, national and international relationships, we feel he will bring new energy to our organisation, be able to connect quickly with our diverse membership, and develop new collaborations in order to drive Public Health locally and internationally.
WORKFORCE
Serious health workforce burden looms: Experts say more migrant workers needed
Experts are warning a significant health workforce burden looms if the Government does not urgently loosen its criteria for critical migrant workers to enter New Zealand.
WORKPLACE
Managing challenging behaviours
The stressful nature of a healthcare environment can result in difficult behaviours and may lead to workplace conflict.
ONLINE JOURNALS
Ethics notes – Health Research Council
Ethics Notes is produced annually. It provides a platform for generating awareness of the ethical issues, especially emerging ones, among the community at large. We hope these pieces generate discussion and consideration of important issues that surround research in Aotearoa New Zealand.

In this issue, we include commentaries related to human challenge studies and cluster randomised trials. We hope you find these a stimulating read. Read more
ARTICLES OF INTEREST
The article below is not freely available but may be accessed through databases and libraries to which readers have access
Implementation pilot of a novel electronic bedside nursing chart: a mixed-methods case study.
Bail Kasia, Davey Rachel, Currie Marian, Gibson Jo, Merrick Eamon, Redley Bernice (2020)
Australian Health Review 44, 672-676.
The aim of this study was to investigate the implementation of a novel electronic bedside nursing chart in an acute hospital setting. The case study used multiple data sources captured within a real-life clinical ward context. Quantitative findings included significant reductions in nurse-reported missed care (P < 0.05) and increased mean time spent at the bedside (from 21 to 28 min h−1; P < 0.0001); reductions in patient-reported missed care and nurses' walking distances were not significant. Qualitative themes included: (1) inconsistent expectations (perceptions about potential vs actual functionality and benefits of the technology); (2) decisional conflict between managers and end-user nurses (discordance between governance decisions and clinical operations; 30% of beds were closed and six of the eight trained nurse 'super-users' were moved from the pilot ward); and (3) workflow effects (ergonomic set-up of the digital interface). This study highlights the complex challenges of implementing and examining the effects of technology to support nursing care. Shared understanding of the technology goals and project scope in relation to nursing care and flexible and adaptive project and contingency planning are fundamental considerations. Complexity, unpredictability and uncertainty of 'usual business' are common confounders in acute hospital settings.
The globalization of missed nursing care terminology.
Willis, E, Zelenikova, R, Bail, K, Papastavrou, E.
Int J Nurs Pract. 2020;e12859. https://doi.org/10.1111/ijn.12859To determine if there are cross‐national differences in nurse understandings of the terms: missed care, rationed care and care left undone.
Background
Nurse researchers from a number of countries have published studies on missed and rationed care. It is not clear if there are differences in understanding the key terms across various language groups.
Implementing advance directives—An international literature review of important considerations for nurses.
Dowling, T, Kennedy, S, Foran, S.
J Nurs Manag. 2020; 00: 1– 14. https://doi.org/10.1111/jonm.13097
To review the global literature on the implementation of advance health care directives to date, and the experiences of the health care professionals who must initiate the discussions around advance care planning, as well as support patients' ultimate decisions.
The above information has been collated for the College of Nurses Aotearoa (NZ) Inc by Linda Stopforth, SNIPS and is provided on a weekly basis. It is current as of October 27 2020
If you have any feedback about content - what parts are most useful or what you would like added - please email admin@nurse.org.nz
For more up to date news and information follow SNIPS at:
Facebook: Snips Info
Twitter: @SnipsInfo