News Bulletin 12 Aug
on 12 August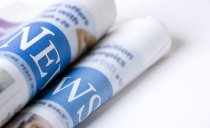 From the NZ Nedia this week
Nursing Leader Makes A Difference Sue Hayward bustles into her office at Waikato Hospital with an air of urgency and focushttp://www.scoop.co.nz/stories/GE1008/S00044/nursing-leader-makes-a-difference.htm 
Kiwi medical journal gets international recognition
A Kiwi healthcare publication has won international recognition for the exceptional quality of its medical research papers.http://www.scoop.co.nz/stories/GE1008/S00048/nz-medical-journal-gets-international-recognition.htm 
DHBs crack down on staff abuse District Health Boards are considering tougher security measures at hospitals with more reports of hospital staff being verbally and physically assaulted by patients and visitors.http://tvnz.co.nz/health-news/dhbs-crack-down-staff-abuse-3692906 
Northtec Nursing Graduates Make Huge Sacrifice For A Better FutureWhen nurses from Kerala in Southern India, Ashanth An Jose and Jerly Eldo decided to come to NorthTec to study for their Bachelor in Nursing degree they knew that it would mean spending two years away from their family.http://tinyurl.com/23qqhb5 
Speech - Turia: Medical Council Of New Zealand, Wellington I am so pleased to be here with you today, to focus on the vital alliance that must be forged between cultural competence and health. It is a genuine pleasure to be in the company of a Council which has done so much to advance the debate around the concepts of cultural safety and competence in the health sector.http://www.voxy.co.nz/politics/speech-turia-medical-council-new-zealand-wellington/5/58361  
From international media sources
HPC Launches Its First Online Campaign Aimed At GPs And Practice Nurses, UK
The Health Professions Council (HPC) has launched its first online referrers campaign aimed at GPs and practice nurses to increase their awareness of the HPC and highlight the importance of referring patients onto registered professionals.

http://www.medicalnewstoday.com/articles/197267.php
Nursing Leadership In Rural And Underserved Areas (USA)The University of Colorado College of Nursing has been awarded a $753,817 grant from the U.S. Department of Health and Human Services, Health Resources and Services Administration (HRSA), to prepare advanced practice nurses with the expertise to provide leadership for high quality healthcare in rural and medically underserved urban areas.
http://www.medicalnewstoday.com/articles/197201.php 
More Money for More Nurses and Doctors (Aust)Nurses and nursing organisations have welcomed the government's announcement of a cash injection of $96 million to provide more nurses and doctors in hospitals and regional areas. However, rural doctors were disappointed by the initiative, believing that it falls short of addressing the medical needs of rural communities.http://tinyurl.com/2fg6469 Swine flu 
Swine flu still a threat here - MoH New Zealand is still seeing a significant level of swine flu despite the World Health Organisation (WHO) announcing the world to be in post-pandemic phase, Deputy Director of Public Health Darren Hunt said today.http://www.nzherald.co.nz/nz/news/article.cfm?c_id=1&objectid=10665349
Public health issues
Overweight-kids-programme-working-GovtNearly 800 of the country's most overweight children are getting fitter by a Government health programme - but a further 200-odd have failed to change their ways.http://www.stuff.co.nz/national/health/4012629/Overweight-kids-programme-working-Govt 
Gareth Morgan: Our approach to booze has been patheticThe health sector is overburdened by those who don't know how to look after themselves or don't give a damn, writes Gareth Morgan.http://tinyurl.com/23ghqk6 
Gareth Morgan on the cost of NZ's drinking habit - VideoThe Law Commission says NZers have "serious problems" when it comes to the way we drink. http://tinyurl.com/2fl2rbc 
Further reading
Targeting abuse
Nursing Made Incredibly Easy!
July/August 2010 
Volume 8 Number 4 : Pages 22 - 28
Abuse is a global health problem. Because the nurse is often the first person the victim sees after the incident, you're in a unique position to recognize, treat, and advocate for patients who've experienced abuse. We help you understand your professional responsibilities when caring for these patients
http://www.nursingcenter.com/library/JournalArticle.asp?Article_ID=1023409
Website of interest
International Centre on Nurse MigrationFounded in 2005 as a joint endeavor between CGFNS International and the International Council of Nurses, the International Centre on Nurse Migration (ICNM) serves as a global resource for the development, promotion and dissemination of research, policy and information on global nurse migration.http://www.intlnursemigration.org/  
Online publication
CAREERING INTO THE FUTURE: NURSES' OPINIONS OF THE PROFESSIONAL DEVELOPMENT AND RECOGNITION PROGRAMME by Leanne M. Havill A thesis submitted for the degree of Master of Health Sciences (Nursing) University of Otago, Christchurch, New Zealand. 15 February 2010 http://tinyurl.com/2d6h3yg
Online reports
eHealth: Consent to create, amend, access and share eHealth records (PDF 290.7 KB)Record keeping is an essential element of nursing practice; it is an important method of communication, is used to monitor the quality of patient/client care, and serves as a legal record of a practitioner's care. The principles of good record keeping in nursing are well established and apply equally to computerised or paper records. The RCN supports the introduction of electronic records, but is concerned to ensure the protection of both patients and nursing staff (nurses and other health care workers) in their use. As electronic records become increasingly commonplace nursing staff need to familiarise themselves with the key concerns associated with their use. Many of these relate to issues of consent – what information is going to be included, who will see it, who it will be shared with, and what rights apply. The governments of all four UK countries have produced and publicised information for patients/clients about their rights and the answers to these questions. This booklet has been prepared to clarify the RCN position on these issues, and to help nursing staff to understand the issues and their responsibilities so that they can help patients to make choices in relation to their personal records. It sets out basic principles, and offers guidance to front line practitioners involved in making decisions about their own use of electronic patient records, and who have responsibility for explaining the position to patients and helping them to make their decisions. The booklet is framed around several principal questions that practitioners might have about using electronic patient records, but it does not provide an exhaustive review of all the issues. For ease of reference, key RCN position statements are highlighted. http://www.rcn.org.uk/__data/assets/pdf_file/0003/328926/003593.pdf    
eHealth: Abbreviations and other short forms in patient/client records (PDF 579.5 KB)To support safe, effective care and communication, patient/client records must be up to date, factual, accurate, and written so that the meaning is clear to everyone who uses the record. The Nursing and Midwifery Council (NMC) in the UK advises that patient/client records should not include abbreviations as these, and other short forms such as acronyms and initialisations, can be misinterpreted with significant risks to quality of care and patient safety. Indeed, some abbreviations are known to lead to an increase in errors. Despite these concerns, the use of abbreviations in patient records is common practice and guidance on the matter is often conflicting. The RCN supports the introduction of electronic records but is concerned to ensure the protection of both patients/clients and nursing staff (nurses and other health care workers) in their use. This booklet is aimed at nursing staff that come into contact with patient/client records. It reflects the RCN position on the use of abbreviations and other short forms in patient/client records, and includes specific guidance on electronic records.http://tinyurl.com/26oa2b3 
Conferences
NEW ZEALAND FAITH COMMUNITY NURSES ASSOCIATION CONFERENCE 2010 Managing Life's Transitions in a Faith Community'Lost in Transition'Kia Kaha! "Be  strong and courageous … for the Lord your Godwill be with you wherever you go"     Joshua 1:9 
3-4th September
Salvation Army Central City
92 Vivian St, Wellington 
This conference will provide an opportunity to:Expand and share your knowledge of supporting others through both difficult and joyous transitions of life.Learn more about the ministry of Faith Community Nursing.Network and fellowship with other Christian nurses.Take time out with God for reflection and worship. 
Supported by the Anglican Church of  Aotearoa, New Zealand and Polynesia WEBSITE:  www.faithnursing.co.nz 
Application Form available for hardship grant for first time registrations to conference For more information and registration form please contact: admin.faithnursing@xtra.co.nz
Contact address:  New Zealand Faith Community Nurses Association, P.O.Box 64, Kaiapoi