News bulletin 25 November
on 25 November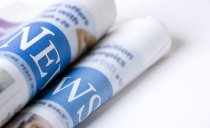 Welcome to the College of Nurses Aotearoa News Update.
No. 522, Wednesday 25 November 2020
Weekly news round-up of nursing and health information in New Zealand and internationally
NATIONAL NEWS
Māori nursing graduate overcomes struggle since car accident
A wahine Māori has overcome constant pain from a serious car accident to complete her nursing degree, and she credits her whānau and a Māori ...
CM Health nurse leader's outstanding contribution awarded | Counties Manukau Health
One of Counties Manukau Health's leaders has been recognised for her outstanding contribution to improving the health and wellbeing of Pacific people.
Clinical Nurse Director, Division of Medicine, Safaato'a (To'a) Fereti won the Pasifika Futures Health and Wellbeing Award at the 2020 SunPix Pacific People Awards recently.
Accepting the award during an evening ceremony, To'a said she felt humbled and thanked the many other people also working tirelessly for Pacific communities.
New Zealand Public Service accolade for Margaret Dotchin
"Margaret is an outstanding nurse and health leader. She is passionate about nursing and delivering vital services to patients, which she has been doing ...
Healthcare worker shortages at Auckland isolation hotels amid new restrictions
Healthcare staff shortages are continuing to bite at Auckland's managed isolation hotels, where existing staff have agreed to more restrictions on their freedoms.
INTERNATIONAL NEWS
Some places were short on nurses before the virus. The pandemic is making it much worse.
In Bismarck, N.D., where Leslie McKamey is a nurse in the emergency ... "Our nurses are working longer shifts, a majority are picking up extra shifts, and ... according to a study published in the journal Nursing Economic$ in 2017.
International nursing leader tells nurses 'it's OK not to feel resilient'
The nursing profession's response to the coronavirus pandemic has shown the world that nurses are "indispensable", according to the president of the ...
'Many of us have PTSD': Pennsylvania nurses strike amid Covid fears
'Many of us have PTSD': Pennsylvania nurses strike amid Covid fears ... Health News, has identified nearly 1,400 frontline healthcare workers who ...
AGED CARE AND ELDERLY
Sexuality and intimacy research to benefit residential age care facilities - expert
The study was conducted in two parts at 35 residental age care facilities nationwide.
Professor Mark Henrickson
A Massey University researcher has published a report today on a three-year nationwide research project into intimacy and sexuality in residential aged care facilities with the goal of supporting and developing awareness, policies and education for staff, families and residents.
CHILDREN AND YOUNG PEOPLE
Hunger means school kids suffering headaches, stomach cramps, nurse says
As the school nurse at Auckland Seventh-day Adventist High School, Joanne Longstaff sees a lot come through her door.
COVID-19 / CORONAVIRUS
Covid 19 coronavirus: Healthcare worker shortage hits MIQ hard
Healthcare staff shortages are continuing to bite at Auckland's managed isolation hotels, where existing staff have agreed to more restrictions on their freedoms.
Unions say nurses are having to work overtime, or take on double workloads, to fill the gaps.
What's Happening With N95 Masks?
"Nurses have been asking for N95 masks in MIQ facilities for some time ... We are building on our offering with thedig.nz our new In-depth Engaged ...
Government agrees to buy 5 million Covid-19 vaccines for 2021 and 2022, once it passes testing
As many as five million people could have their Covid-19 jab by 2022, if the vaccine passes safety tests.
The Government has agreed to purchase a single-dose vaccine from Janssen Pharmaceutica once it finishes clinical trials and passes regulatory approvals. It is the latest announcement of agreements for the supply of Covid-19 vaccines, if they are proved to be safe and effective.
COVID-19 reinfection unlikely for at least six months, study finds
People who've had COVID-19 are highly unlikely to contract it again for at least six months after their first infection, according to a British study of healthcare workers on the frontline of fight against the coronavirus pandemic.
Covid-19: AstraZeneca to start rolling out hundreds of millions of doses of vaccine by Christmas
Pharmaceutical giant AstraZeneca will start rolling out hundreds of millions of doses of its new coronavirus vaccine by Christmas after Oxford University researchers revealed a scientific breakthrough with the potential to end the pandemic.
DIABETES
Diabetes treatment in New Zealand racist - medical experts
A group of medical experts says the way diabetes is treated in New Zealand is racist.
Pregnant Women Missing Out On Diabetes Checks
A University of Waikato study has found only 26.4% of women in the Waikato region are screened for diabetes during pregnancy as per the national guidelines. Even worse, just 17.5% of Māori women receive the recommended checks, despite being at higher risk of diabetes than non-Māori.
EDUCATION
Wintec responds to growing need for more mental health and addiction practitioners
Wintec is responding to the demand for culturally responsive mental health and addictions support roles with a new postgraduate qualification that is a first in Aotearoa New Zealand.
EMERGENCY HEALTH CARE
Emergency docs want tighter controls on alcohol, as snapshot shows EDs under pressure
Emergency doctors are calling for alcohol to be made less easily available and more expensive after their annual snapshot again found alcohol-related cases put pressure on hospital emergency departments.
Rotorua Hospital emergency department diagnosing cancers
A top doctor says she has never had to diagnose so much cancer as she has in Rotorua Hospital's emergency department since starting there 18 months ago. Read more
FOOD, DIET AND NUTRITION
Food insecurity: you are what you can afford to eat
Poverty and food insecurity often go hand in hand with obesity, a result of people eating food high in calories but low in nutrients, according to Massey University School of Health Sciences senior lecturer Geoff Kira.
MENTAL HEALTH
Mental Health Units Not To Be Used For Long Term Accommodation, Says Ombudsman
The Chief Ombudsman today released a report identifying another mental health unit in the Auckland region in which people are staying longer than clinically needed. Read more
SEXUAL HEALTH / SEXUALITY
Let's talk about sex: Why teens' contraceptive use is dropping
A survey of 7,500 Kiwi teens has found their sexual activity has dropped - but so too has the use of condoms and other forms of contraception. The just-released Youth19 Rangatahi Smart Survey found overall, the number of sexually active students who always wore condoms had dropped from 49 per cent two decades ago, to 41 per cent. The numbers were more stark when broken down by ethnicity: 42 percent of Maori and 30 percent of Pasifika reported using contraception consistently, compared to Pakeha - at 61 per cent. To talk about why condom and contraceptive use hasn't improved in 20 years, Kathryn talks to the study's co-lead investigator, Associate Professor Terryann Clark, CEO of Family Planning Jackie Edmond and Christine Cammell, who's project lead for the School Nurses Association.
STROKE
Worse outcomes after stroke for rural New Zealanders and Maori researchers find
New Zealanders who live outside the major urban centres are significantly more likely to experience adverse long-term health outcomes after a stroke than those managed in urban hospitals, research from the University of Otago, Wellington has found.
TOBACCO, DRUGS AND ALCOHOL
Excessive alcohol abuse identified as risk factor in dementia
The Kiwi love affair with alcohol, including an entrenched binge drinking culture, could add to the rising rates of dementia forecast to hit the nation by 2050.
WELLBEING
Shift work and sleep disruption: Implications for nurses' health
Because of the ubiquity of nurses across care settings and the high-touch nature of bedside care, the health and safety ramifications of shift work on nurses and their patients is significant. When individual nurses and organization leaders understand the basic principles of human sleep, the effects of shift work, and the implications for nursing practice, they can take steps to mitigate health and safety risks.
ARTICLES OF INTEREST
Don't Let Covid-19 Get in the Way of Compassionate Nursing
Compassion and nursing are bedfellows, but the Covid-19 pandemic has strained this symbiotic relationship. What once was conveyed by touch and nonverbal communication, no longer can be because of the need for social distancing and PPE. It can make compassionate care difficult.
The article below is not freely available but may be accessed through databases and libraries to which readers have access
Identifying how enrolled nurses meet requisite national practice standards: A quality initiative
Christine Ossenberg, Susan Hull, Trina Pitts, Amanda Henderson
Collegian, Articles in press
Published:October 24, 2020DOI:https://doi.org/10.1016/j.colegn.2020.09.002
Current practice settings are increasingly complex requiring that enrolled nurses (ENs) and registered nurses (RNs) effectively work with each other to optimise health care delivery and improve patient outcomes. In Australia, professional standards endorsed by the Nursing and Midwifery Board of Australia (NMBA) define the expected practice and conduct of nurses and midwives.
Aim
To improve workplace interaction through direct care nurses explaining their understanding of the workplace performance of ENs that align with the NMBA EN standards for practice using professional development sessions.
The above information has been collated for the College of Nurses Aotearoa (NZ) Inc by Linda Stopforth, SNIPS and is provided on a weekly basis. It is current as of 24 November 2020
If you have any feedback about content - what parts are most useful or what you would like added - please email admin@nurse.org.nz
For more up to date news and information follow SNIPS at:
Facebook: Snips Info
Twitter: @SnipsInfo