News bulletin 2 December
on 2 December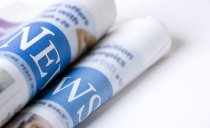 Welcome to the College of Nurses Aotearoa News Update.
No. 523, Wednesday 2 December 2020
Weekly news round-up of nursing and health information in New Zealand and internationally
NATIONAL NEWS
Ara Timaru's first nurses due to graduate
The graduating students have received job offers conditional on passing the Nursing Council of New Zealand state final examinations with "hospitals ...
Coronavirus: Nurses concerned new N95 mask rules in MIQ don't go far enough
Nurses are concerned about new rules around the use of N95 masks in managed isolation and quarantine facilities don't go far enough.
The Ministry of Health announced on Thursday workers in MIQ facilities should now wear the protective masks when within two metres of someone who is a confirmed or probable case of COVID-19.
Major health service shakeup fast-tracked, will take two years — new health minister Andrew Little
The new health minister says major reforms to the public health services could be completed with two years, with the system "crying out for change now".
INTERNATIONAL NEWS
Ratio of medical staff gives Japan edge against COVID-19, OECD says
There are about 12 nurses and 2.5 doctors for every 1,000 people in Japan, according to data in the report. Low-income countries, such as Papua ...
Samoan nurse still employed despite injection mishap
According to the report, Coroner and District Court Judge Alalatoa Rosella Papalii was ''surprised and shocked'' that the nurse, Mele Leilua, was still ...
Call for better access for Niue medical transfers to NZ
We need nurses, defence personnel and police to run these facilities, and this a limited workforce." "In addition to workforce supply issues, a minority of ...
AGED CARE AND ELDERLY
The distance from dementia that's holding back help
Dementia is set to cost New Zealand billions of dollars in care costs, but there are warnings that efforts to keep people out of hospital are being hampered by poor funding and resources. Read more
Designed for dementia: Summerset opens Memory Care Centre in Hamilton
Hamilton's newest dementia care unit is designed to make life easier
Huge flower prints on the walls and contrast-colour toilet seats aren't just for looks at Hamilton's newest dementia care centre.
Ryman Healthcare Scoops Two International Awards
Nellie Melba Retirement Village and myRyman Life dementia model win top prizes in Singapore Read more
CANCER NEWS
Inequity in cancer care at every turn for Māori
Māori are more likely to get cancer, will get it younger, are diagnosed later, have poorer access to treatment, and are much more likely to die from cancer than non-Māori, because of inequity in the health system. Read more
CHILDREN AND YOUNG PEOPLE
'Grim' report released on state of NZ kids' health
An attempt to capture the current health of children has highlighted a grim picture of rising dental disease, skin infections and breathing problems. Read more
Our Truth, Tā Mātou Pono: How we've made Māori the face of child abuse and minimised the abuse of Pākehā children
Our Truth, Tā Mātou Pono is a Stuff project investigating the history of racism. Part one has focused on Stuff and its newspapers, and how we have portrayed Māori. National Correspondent Charlie Mitchell looks at how our organisation has portrayed child abuse.

COVID-19 / CORONAVIRUS
Covid-19: MIQ staff now required to wear masks when they can't socially distance
It comes after the New Zealand Nurses Organisation raised concerns about the health and wellbeing of nurses in MIQ facilities, "strongly encouraging ...
Further Guidance On N95 Masks For MIQ Workers
The Ministry of Health has provided updated guidance on the use of N95 masks for staff working in managed isolation and quarantine (MIQ) facilities.
Covid-19: How many border workers and health staff have been infected?
More than 200 health workers have been infected with Covid-19 during the course of the pandemic, with five cases in managed isolation and quarantine workers, data shows.
Covid-19: How NZ patients learn they have tested positive and what happens next
"We have your test results, and they have come back positive."
Those few words spoken over the phone by a contact tracer are how people first discover they have Covid-19.
Covid 19 coronavirus: Prime Minister Jacinda Ardern says vaccine likely in March
Prime Minister Jacinda Ardern says the timetable for a vaccination against Covid-19 in New Zealand was looking like a March date - but not everyone would get a jab at the same time.
She said details of the timing would take place later in the month.
Covid-19: Can governments mandate a vaccination? Balancing public health with human rights – and what the law says
Earlier in 2020, Australian Prime Minister Scott Morrison said he expected the Covid-19 vaccine to be mandatory. He later backtracked, noting the government "can't hold someone down and make them take it".
CovidCard a win for elderly, those without smartphones - Te Arawa kaumātua
A Covid-19 contact tracing card trialled by iwi volunteers has earned the thumbs-up for being convenient and to easy use, especially for those who are not tech savvy, a Te Arawa kaumātua says.
DHBS
Canterbury DHB wins international healthcare award
Canterbury health teams have been recognised in the prestigious international UNIVANTS of Healthcare Excellence Awards that recognise teams "who have achieved measurably better healthcare performance through unity and avant-garde thinking".
New Christchurch Hospital building gets additional $154m cash injection
Extra wards and urgent upgrades approved for Christchurch Hospital have been described as just a first step to improve "squalid" facilities.
New mental health facilities for Christchurch by end of 2022
Christchurch mental health services left stranded in an earthquake-damaged and derelict hospital building for nearly a decade will move to new buildings by November 2022.
Doctors' union warns West Coast poised to lose specialist care
Changes to the medical workforce on the West Coast will put patients at risk and cut their access to specialist care, the doctors' union says.
DIABETES
Managing diabetes without weapons
Diabetes is one of the biggest health issues New Zealand is grappling with.
More than a quarter of a million people live with some form of the illness, and the number is rising rapidly. Read more
HEALTH RESEARCH
Study To Get More Kiwis Participating In Clinical Trials And Reaping The Potential Health Benefits
A new study led by a national team of expert clinicians and health researchers will explore ways to increase the number of New Zealanders participating in clinical trials – particularly those living in rural communities and Māori and Pasifika – to ensure equitable access to the latest and most cutting-edge healthcare. Read more
MAORI HEALTH
'Bicultural approach needed' to address foetal alcohol spectrum disorder in Māori
Weaving Māori values in with those of western medicine will provide better outcomes for tangata whenua in the treatment of foetal alcohol spectrum disorder, researchers say. Read more
MENTAL HEALTH
Seclusion a last resort for mental health patients, Southern DHB says
The Southern District Health Board has managed to reduce the time mental health patients spend in seclusion by almost 50 per cent in the past four years.
Eating disorders treatment services overwhelmed as demand doubles
The mother of a teenager with anorexia and bulimia says children will die unless the government puts more money and resources into treatment for eating disorders.
ORGAN DONATIONS
New Zealand Blood Service welcomes Organ Donation New Zealand
New Zealand Blood Service (NZBS) welcomes Organ Donation New Zealand (ODNZ) to the Service from Monday, November 30, in a move to support and further develop the work of ODNZ and New Zealand hospital staff which has seen a substantial increase in organ and tissue donation in recent years.
PRIMARY HEALTH CARE
Doctors' union calls for 'bold' action from health minister on primary care services
The Association of Salaried Medical Specialists (ASMS) says people in lower socio-economic areas like south Auckland are crying out for better access to more affordable after hours primary health care services.
PUBLIC HEALTH
Measles vaccination drive stalling amid pandemic response
A campaign to vaccinate hundreds of thousands of young adults against the measles has barely made inroads, four months after its launch. Read more
RESPIRATORY
La Niña: Allergy, asthma sufferers warned as humid weather sparks pollen surge
People with asthma and allergies are being advised to be cautious this summer as La Niña weather patterns prompt a surge in pollen levels. Read more
SEXUAL HEALTH / SEXUALITY
High costs, long waits: Trans healthcare barriers across NZ remain
Access to gender affirming healthcare is relatively easy in some parts of the country, while in others it's out of reach. Susan Strongman and Murphy report.
STROKE
Auckland DHB Opens New Zealand's First Integrated Stroke And Rehabilitation Unit
Today Auckland DHB launched Taiao Ora, or Ward 51, at Auckland City Hospital, the first integrated stroke and rehabilitation unit in the country.
WORKFORCE
Urgent action needed to address hospital specialist shortage, doctors' union says
New Zealand's hospitals are struggling due to a shortage of specialists, and the Association of Salaried Medical Specialists says urgent action is needed to future-proof the workforce.
WORKPLACE
Government moves to pass a law to double sick leave from five days a year to 10
The Government will start the process of giving every New Zealander an extra five days of sick leave a year before Parliament adjourns for the summer break.
ARTICLES OF INTEREST
Nurses' experiences of delirium and how to identify delirium—A qualitative study.
Helgesen, AK, Adan, YH, Dybvik Bjørglund, C, et al.
Nurs Open. 2020; 00: 1– 6. https://doi.org/10.1002/nop2.691
Delirium is a serious, acute medical condition which places a heavy burden on the patient, his or her family and healthcare professionals. There have been only a limited number of studies to explore nurses' experiences of delirium and how delirium is identified in community care. The research questions of the study are as follows: "How do community care nurses' experience delirium?" and "How is delirium identified?".
Climate Change in Nursing Curriculum: The Time Is Now
Mazen El Ghaziri, PhD, RN; Brenna L. Morse, PhD, RN-BC, NSCN, CNE
Journal of Nursing Education. 2020;59(11):660
https://doi.org/10.3928/01484834-20201020-14
The globe is experiencing a climate change (CC) crisis with detrimental consequences to health conditions and health outcomes of populations across the life span. As nurse educators, it is imperative that we provide our students with opportunities to understand emerging needs of patient care, as well as how they may contribute to climate justice initiatives. To equip nursing students with the skills and knowledge to address the climate crisis along with its consequences across the life span, an activity was introduced as part of a Community Health and Health Policy course. In this course, senior-level nursing students are introduced to contemporary topics from community health science to population-based nursing practice.
The article below is not freely available but may be accessed through databases and libraries to which readers have access
Nursing handovers and patient safety: Findings from an umbrella review.
Bressan, V, Mio, M, Palese, A.
J Adv Nurs. 2020; 76: 927– 938. https://doi.org/10.1111/jan.14288
To summarise available reviews on nursing handover (NH) and patient safety (PS), providing a set of evidence‐based recommendations for clinical practice and research.
The above information has been collated for the College of Nurses Aotearoa (NZ) Inc by Linda Stopforth, SNIPS and is provided on a weekly basis. It is current as of 1 December 2020
If you have any feedback about content - what parts are most useful or what you would like added - please email admin@nurse.org.nz
For more up to date news and information follow SNIPS at:
Facebook: Snips Info
Twitter: @SnipsInfo