News bulletin 16 December
on 16 December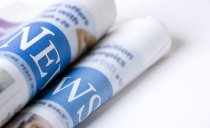 Welcome to the College of Nurses Aotearoa News Update.
No. 525, Wednesday 16 December 2020
Weekly news round-up of nursing and health information in New Zealand and internationally
NATIONAL NEWS
COVID-19 hijacks nurses' big year but also demonstrates their importance
Is COVID-19 a sufficient excuse for the Year of the Nurse being a bit of a damp squib? NO, says New Zealand Nurses Organisation president and ...
(Workplace subscription is needed to access this article)
Two jobs lost in nursing changes at Ashburton Hospital
The loss of two full-time nursing jobs at Ashburton Hospital is not a cost saving exercise but a structure change to limit duplication in roles, better ...
INTERNATIONAL NEWS
What seven ICU nurses want you to know about the battle against covid-19
They have been at this for almost a year. While politicians argued about masks, superspreader weddings made the news, a presidential election came and went, and at least 281,000 Americans died, nurses reported for work. The Post asked seven ICU nurses what it's been like to care for the sickest covid patients. This is what they want you to know.
Nurses question safety of California's 2-day ICU training program
Some San Francisco nurses are speaking out about a two-day intensive care unit training program California Gov. Gavin Newsom unveiled Dec. 7, reports local ABC affiliate KGO.
ICU nurses weigh in on pandemic toll: 4 things to know
For many nurses across the country, the nearly yearlong battle against COVID-19 has brought on some of the toughest times of their career and unimaginable strain. Seven intensive care unit nurses from hard hit areas spoke to The Washington Post about the toll it takes to care for the most critical COVID-19 patients.
'We don't have enough nurses to keep all our patients safe,' says RCN leader
A year after the prime minister pledged during the 2019 election campaign to add 50,000 nurses to the NHS, the Royal College of Nursing has accused ...
International Council of Nurses (ICN) Comments on World Health Organization (WHO) Report on Health Care Workforce During COVID-19
The WHO published a new report on the health care workforce during the COVID-19 pandemic, including data on the number of staff who have become infected and have died. Since May, ICN has called for this type of data to be collated and centrally held so that it can aid in the understanding of the virus and potentially save lives, in addition to acting as an official record of health care staff who have died from COVID-19.
GPs, nurses, pharmacists and retired people could be used to give Covid-19 vaccine
It is expected the report by the High Level Vaccine Taskforce will recommend all healthcare workers, including GPs, nurses and pharmacists be ...
CHILDREN AND YOUNG PEOPLE
Prime Minister confident at launch of new Whānau-centred young parents scheme, saying 'they've shown they work'
Prime Minister Jacinda Ardern has hailed the launch of the Tiaki Whānau pilot programme to support young parents, saying it's based on a long history of programmes "and they've shown they work".
Children's Commissioner: Child poverty progress 'wrecked' by Covid-19
MAKING ENDS MEET: As the sting of Covid-19 hits home, reporter Vicki Anderson and visual journalist Chris Skelton, offer a voice to those living and working on the frontlines of poverty.
250,000 estimated to have been abused in state and faith based care
It has been estimated that up to a quarter of a million children, young people and vulnerable adults were abused in state and faith-based care between 1950 and 2019.
COVID-19 / CORONAVIRUS
Covid-19: What needs to happen before the trans-Tasman bubble can inflate?
EXPLAINER: The trans-Tasman bubble is closer to inflating than it ever has been in the past year. But there are still a few creases to be ironed out before the first quarantine-free flight arrives from Australia.
DHBS
Generalist approach for ED approved
A controversial change in how Dunedin Hospital will treat emergency patients has been approved by the Southern District Health Board.
Babies harmed in medical care at Capital and Coast DHB, while unexpected deaths double
Serious adverse events at the Capital & Coast District Health Board nearly doubled to 61 in the year ended June.
EDUCATION
Dr Rose Pere, spiritual leader and academic, dies age 83
Tributes have been flowing for the late Dr Rose Pere as te ao Māori mourns a revered spiritual leader.
Samoan academic makes history at NZ's Otago University
A Samoan academic has become the first Pacific woman to be appointed in a professorial role at New Zealand's Otago University.
Auditor-General warns of potential $53m loss for polytechnics
The Auditor-General has warned that the national polytechnic could lose $53 million this year and double that amount next year.
Te Pūkenga polytechnic's expected $29m deficit nearly half of previous forecast
The national polytechnic Te Pukenga is expecting to end its first year of existence with a deficit of $29
HEALTH IN/EQUITY
New Studies Put Health Equity At Centre Of COVID-19 Pandemic Response
The Health Research Council of New Zealand (HRC) has today announced more than $6.3 million in funding for 11 new research studies designed to help ensure equitable health and wellbeing outcomes for all New Zealanders during the recovery from COVID-19 and future infectious disease threats.
HEALTH SYSTEM
Overstretched, underfunded and inequitable: incoming Health Minister Andrew Little warned system is under immense strain
The country's health system is overstretched, underfunded and inequitable with District Health Boards ending the financial year $874 million in the red.
HEALTH TECHNOLOGIES
Telehealth's time brought forward
Covid-19 forced GPs to quickly adapt to a situation where face-to-face visits were cancelled overnight. Mike Houlahan explores how lessons from lockdown are changing how doctors see their patients and having a lasting impact on healthcare in the South. Read more
MENTAL HEALTH
Police and health professionals will soon share more patient information regarding firearms licences
New changes coming into effect on Christmas Eve will see police and health practitioners share more information regarding patients who have access to firearms.
Mental health patients being secluded despite goal of ending practice by 2020
Mental health patients are still being locked in small sparse seclusion rooms despite district health boards being told to end the practice by the end of the year. Read more
PATIENT SAFETY
More than 600 failures in public hospitals for year ending June
The number of incidents where patients were unintentionally harmed in public hospitals has risen by more than 10 percent in a year.
Annual Summary Of Adverse Events Data From 2019/20 Released
The annual summary of adverse events data from 2019/20 has been released by the Health Quality & Safety Commission. Read more
PRIMARY HEALTH CARE
'We are all struggling': The 'crisis' in general practices leading to longer wait times, and difficulty finding a GP
A GP shortage across the country means having the comfort and continuity of care of your local doctor is a thing of the past for many New Zealanders, all while locum costs soar in rural areas. Bridie Witton and Piers Fuller report.
Auckland medical centre ends 24/7 service over safety issues, staff burnout
East and south Auckland's only private 24-hour medical clinic is scrapping its
overnight service after more than 20 years due to fears for staff and patient safety.
PUBLIC HEALTH
Let's get physical: Kiwis' exercise habits on dangerous decline
Successive governments have failed to prioritise physical activity, and New Zealanders' health and wellbeing continues to decline, a leading public health academic says.
WORKPLACE
The workplace challenges faced by older nurses and midwives
Older nurses and midwives experience a range of workplace challenges including physical difficulties, tiredness and fatigue, being treated differently, and lack of respect and opportunities, a new Australian study has revealed.
REPORTS AND NEW PUBLICATIONS
The courage to be kind: reflecting on the role of kindness in the healthcare response to COVID-19
This report draws on a series of reflective conversations, conducted between April and September 2020 with five medics working in different parts of NHS Scotland. The conversations reflected on what can be achieved when united by a common purpose, and when work is underpinned by relationships and collaboration.
ARTICLES OF INTEREST
The level of competence of graduating nursing students in 10 European countries—Comparison between countries.
Kajander‐Unkuri, S, Koskinen, S, Brugnolli, A, et al.
Nurs Open. 2020; 00: 1– 15. https://doi.org/10.1002/nop2.712
To analyse graduating nursing students' self‐assessed competence level in Europe at graduation, at the beginning of nursing career.
The above information has been collated for the College of Nurses Aotearoa (NZ) Inc by Linda Stopforth, SNIPS and is provided on a weekly basis. It is current as of 15 December 2020
If you have any feedback about content - what parts are most useful or what you would like added - please email admin@nurse.org.nz
For more up to date news and information follow SNIPS at:
Facebook: Snips Info
Twitter: @SnipsInfo