News bulletin 23 December
on 23 December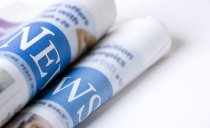 Welcome to the College of Nurses Aotearoa News Update.
No. 526, Wednesday 23 December 2020
Weekly news round-up of nursing and health information in New Zealand and internationally
NATIONAL NEWS
Ali Cooper knows what makes a good nurse.
After battling a serious disease and being told she had only a matter of months to live at one stage, she graduated from the Otago Polytechnic's School of Nursing on Friday and has landed her dream job.
Quake inspires nursing career for former CTV Building worker
The director of a language school where 64 students were killed in the CTV Building collapse has qualified as a nurse after the disaster initiated a radical career change.
Graeme Dodd has completed a two-year Master of Nursing Science from the University of Otago's Christchurch-based Centre for Postgraduate Nursing Study and graduates this weekend.
Union says Middlemore Hospital's emergency crisis part of a national problem
Staff shortages, overcrowding and poor access to GPs is to blame for a plea by Middlemore Hospital for non-urgent patients to avoid its emergency department, a nurses college says.
Minister says under-pressure emergency departments highlight need for major reform
The group is part of the New Zealand Nurses Organisation (NZNO) union. In a statement released on Monday the clinical director of Middlemore ...
Auckland DHB nurses say staff shortages putting patients and staff at risk
Staff shortages at Auckland District Health Board are putting lives in danger, fed-up nurses say.
A number of nurses from different departments, who did not want to be named due to fear of losing their jobs, have raised the problem with the New Zealand Nurses Organisation.
Abuse of hospital staff unacceptable says chief - HBDHB
Abuse of any kind unacceptable
Hawke's Bay DHB's chief executive Keriana Brooking says staff who work for the DHB, or in any other healthcare setting in Hawke's Bay, should not have to face abuse, intimidation or violence of any kind at work.
GenPro Calls Foul On Government's Funding Proposal For Primary Health Care Nurses
The General Practice Owners Association of Aotearoa New Zealand (GenPro), the national representative body for contracted providers running ...
Nurse suspended for engaging in sexual activity with detoxing patient
A nurse has been suspended for six months after engaging in sexual activity with a patient, hours after he had given her sleeping medication.
INTERNATIONAL NEWS
Nurse practitioners can reduce costs, improve patient safety in long-term care facilities
Countries worldwide face challenges meeting the growing needs for long-term care services because of high costs. A study led by researchers from McGill University and Université du Québec en Outaouais shows that introducing nurse practitioners can significantly reduce costs and improve patient safety.
COVID: Short on ICU nurses, Germany looks abroad
Soon, Charite also wants to bring Brazilian nurses to Germany. ... A recent report in the German newspaper Frankfurter Rundschau spoke of "nursing ...
Hospitals say staffing shortages creating 'dire need' for foreign nurses
Officials from nurse associations in North Carolina, Delaware and Texas told ABC News that due to the increased demand, hospitals are turning to ...
Nurses leaving the NHS – the consequences of COVID
In this episode of the Sky News Daily Podcast, host Jayne Secker speaks to Anthony Johnson, a nurse in London, about the effects the COVID-19 ...
California nurses push back against new nurse to patient ratios during Covid-19 pandemic
Gov. Newsom's administration is allowing waivers for hospitals to increase patient load in ICU units
AGED CARE AND ELDERLY
Dehydration in older people - a fluids situation
With long, hot summer days ahead, the importance of staying well-hydrated can't be overstated - especially among older people more prone to dehydration, says a Massey University health researcher.

CANCER NEWS
Overweight women waiting longer for gynaecological cancer diagnoses
Overweight women in South Auckland are having to wait longer than others for a diagnosis of gynaecological cancer.
Lung cancer: Fears Māori with lung cancer are being missed amid pandemic
Fears are growing that Māori with lung cancer aren't being picked up because instead of their symptoms being properly investigated, they are only being checked for Covid-19.
CHILDREN AND YOUNG PEOPLE
Young people with lived experience to shape healthcare - ProCare
ProCare, New Zealand's largest primary health organisation, has appointed its first Youth Advisory Group. The fourteen young people who make up the group will provide guidance to the organisation, based on lived experience, to help improve health outcomes for children and young people across Auckland. The group will also guide implementation of ProCare's Population Health Strategy. Read more
COVID-19 / CORONAVIRUS
Prepare for a short lockdown while on holiday, pack a 'Covid kit', Government warns
Holidaymakers in New Zealand are being asked to pack a "Covid kit" and stay put at their campgrounds if Covid-19 emerges during the summer break.
Epidemiologist Michael Baker: 'We will be bringing this virus into New Zealand'
New Zealand will see the new variant of Covid-19 from the UK here within the next few weeks, a top epidemiologist warns.
Face mask type used by DHBs not up to scratch
The Ministry of Health has told district health boards around the country to stop using a particular type of face mask after independent testing found they did not meet specifications.
Govt secures another two Covid-19 vaccines, PM says every New Zealander will be able to be vaccinated
The government has secured another two vaccines, enough for every New Zealander and its Pacific partners, Prime Minister Jacinda Ardern says.
Covid-19: Big challenge of vaccinating New Zealand is scale - microbiologist
The government making a deal to purchase two more brands of Covid-19 vaccines is proof of good progress, a clinical microbiologist says.
New Zealand to offer free Covid-19 vaccines to everyone from mid-2021
New Zealand will offer free Covid-19 vaccines to its entire population from the middle of 2021.
The Government said on Thursday it had secured enough vaccines for the whole of New Zealand, and was first planning to vaccinate border workers from the second quarter of 2021, and the rest of the country from mid-year.
New Zealand to purchase Covid-19 vaccines for Pacific Island neighbours, including Samoa and Tonga
New Zealand will purchase enough Covid-19 vaccines to cover its Pacific Island neighbours, including Samoa and Tonga. Read more
Coronavirus: Covid-19 vaccines will move from six warehouses to more than 1000 clinics
Covid-19 vaccine doses could be stored across nine freezers at temperatures colder than Antarctica before delivery to a thousand clinics across the country.
DHBS
Canterbury DHB's $360,000 spend on external reviews 'a huge waste of money'
Canterbury's cash-strapped health board has spent more than a quarter of a million dollars on external reviews into how it should manage its ballooning deficit.
Former health minister takes SDHB reins
Incoming Southern District Health Board chairman Pete Hodgson says he wants to move away from a Dunedin-centric approach to secondary care.
Southland surgeons offer one-day hip replacements
Surgeons from Southland Hospital are finding innovative ways to alleviate the hospital's chronic bed shortages.
'Successful training programme helps secure in-demand perfusionists' for Waikato DHB
Waikato DHB is future-proofing its training programme for a medical profession which is in extremely high demand, yet so unknown it once appeared as a question on 'Who Wants to be a Millionaire?'
Lack of access swells Southland ED numbers
Admissions to Southland Hospital's emergency department have swelled to be almost as high as Dunedin's — despite the Dunedin population being more than twice that of Invercargill
Lack of South Auckland abortion services 'unacceptable'
Local abortion services remain unavailable to people living in much of the sprawling South Auckland area - which has a population of close to 600,000 and encapsulates some of the most deprived suburbs of New Zealand - despite the issue being repeatedly raised for more than 12 years.
EMERGENCY HEALTH CARE
'Kiwis can access instant medical care with new Emergency Consult video service'
A small team of senior New Zealand emergency doctors have released a new video consultation service, which enables all New Zealanders to access immediate medical care regardless of where they are or what time it is.
Christchurch ED sees 'significant increase' in paracetamol overdoses during Covid-19 lockdown
More people presented to Christchurch Hospital's emergency department after overdosing on common painkillers during the five-week Covid-19 lockdown, study shows.
Auckland clinic's night closure could mean 'difference between life and death'
East Auckland MPs have launched a petition calling for funding to be reinstated for the only private 24/7 medical centre in the area as it prepares to close its doors overnight.
ETHICAL ISSUES
Issues remain with informed consent around hospital procedures
Controversy continues to dog how hospitals get permission to operate on patients.
Patient says gynaecological operation among 'masses of people' breached consent
An Auckland woman is furious her gynaecological operation went ahead in a theatre crowded with people she had not given permission to be there.
HEALTH SYSTEM
The doctor changing a 'messed-up system' from the inside
As a paediatrician, Dr Nina Scott got frustrated seeing the same children admitted again and again.
Eventually, she grew angry at herself for not being able to keep them out of hospital and started looking at how to change the system.
MAORI HEALTH
Dreams of tīpuna realised with Māori health academy
After finding immense success with its rangatahi hub, Te Puna Ora o Mataatua is looking to replicate the magic with its new adult health and medical academy.
MENTAL HEALTH
Waitematā DHB commits to changes after mental health unit deaths
A broad list of changes has been recommended to improve the function of the Waitematā District Health Board's He Puna Waiora inpatient mental health unit. Read more
OBESITY / SUGAR
World-first research uses gut bacteria to improve health of obese teenagers - study
New Zealand research has shown how gut bacteria from healthy, lean people can be used to improve the health of teenagers who are clinically obese.
ORGAN DONATIONS
Skin donations halted for two weeks in December after processing materials ran out
Skin donations had to be put on hold because the Blood Service ran out of processing materials this month.
PHARMACY
Kiwis going into debt to pay for drugs other countries fund
An internal stoush at the drug-buying agency Pharmac has blocked funding for a life-extending drug for bowel cancer patients, that's available in 52 other countries.
Pharmac to fund two new type-2 diabetes medicines, targeting Māori and Pacific patients
Kim Dennis will book an appointment with her doctor.
The 67-year-old with type-2 diabetes spent six years taking dulaglutide as part of a trial, but found her health deteriorated when the trial ended.
PRIMARY HEALTH CARE
Whānau Āwhina Plunket NZ Giving Free Hand Sanitiser To New Parents
Whānau Āwhina Plunket will include free Dettol Instant Hand Sanitiser 200 ml packs in around 50,000 Plunket New Parent Bags they give to families/caregivers* in a move to support good hand hygiene. Read more
Covid-19: 'Significant' disruption to primary healthcare caused by coronavirus
Covid-19 has resulted in a "significant" disruption to primary healthcare, an Auckland district health board says.
PUBLIC HEALTH
Scientists use Google searches, HealthLine and truancy to detect disease outbreaks
A new ESR study has found that internet searches, Healthline calls and school absenteeism data could alert health officials to a disease outbreak days ahead of other systems.
MINISTRY OF HEALTH REPORTS
New Zealand Aotearoa Pandemic Response Policy for Aged Residential Care
The purpose of the New Zealand Aotearoa Pandemic Response Policy for Aged Residential Care is to provide nationally consistent guidance for aged residential care (ARC) stakeholders to prepare for, prevent and respond to an epidemic or pandemic. Read more
ARTICLES OF INTEREST
Objective structural clinical examination for evaluating learning efficacy of Cultural Competence Cultivation Programme for nurses.
Lee, YH., Lin, SC., Wang, PY. et al.
BMC Nurs 19, 114 (2020). https://doi.org/10.1186/s12912-020-00500-3
Culture serves as an adhesive to bind the lives of people. There are no objective, useful tools to assess cultural competence and practice. In this study, we evaluated whether the cultural competence of nurses was strengthened through the Cultural Competence Cultivation Programme.
The above information has been collated for the College of Nurses Aotearoa (NZ) Inc by Linda Stopforth, SNIPS and is provided on a weekly basis. It is current as of 22 December 2020
If you have any feedback about content - what parts are most useful or what you would like added - please email admin@nurse.org.nz
For more up to date news and information follow SNIPS at:
Facebook: Snips Info
Twitter: @SnipsInfo