News bulletin 20 January
on 20 January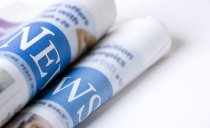 Welcome to the College of Nurses Aotearoa News Update.
No. 527, Wednesday 20 January 2021
Weekly news round-up of nursing and health information in New Zealand and internationally
NATIONAL NEWS
Careers event to registered nurse for BOP woman
A chance opportunity five years ago to attend a careers event with a friend opened the door for 21 year old Katelyn London to become a Registered Nurse.
Nurse's care of elderly resident in a high dependency unit
Deputy Health and Disability Commissioner Rose Wall today released a report finding a registered nurse in breach of the Code of Health and Disability Services Consumers' Rights (the Code) for failures in the care provided to a man in a high dependency unit (HDU).
INTERNATIONAL NEWS
Almost half of intensive care workers have turned to alcohol or had suicidal thoughts during the ...
The study, published in the Occupational Medicine journal, surveyed 709 healthcare workers from nine intensive care wards across England in June ...
CANCER NEWS
Three times more Māori women take cervical self-test than smear - study
A study supporting a national roll-out of cervical self-testing has presented its evidence, which reinforce previous researchers' findings it could save women's lives.
Cervical cancer is caused by the HPV virus and the self-test picks up the strains most likely to cause it.
Hundreds of pensioners with breast cancer overlooked for routine breast screening — Breast Cancer Foundation
Hundreds of pensioners with breast cancer have missed out on subsidised screening, with the Government blaming Covid-19 for delays in expanding the scheme to older women.
COVID-19 / CORONAVIRUS
UK nurse concerned about Kiwi Covid response
Much younger patients are becoming very ill very fast, says a New Zealand nurse working in Britain on the frontline of the response to the new UK variant of Covid-19.
Covid-19: Border workers could be vaccinated ahead of official roll-out in April
Border workers could be vaccinated against Covid-19 ahead of New Zealand's official roll-out starting in April.
Covid-19 response minister Chris Hipkins confirmed to Stuff on Saturday border workers could begin to get vaccinated as early as March.
Covid-19: How NZ is preparing for the biggest vaccine roll-out in history
"When will we get a vaccine for Covid-19?" It's been the question on everyone's lips for nearly a year. As an increasing number of countries has started immunising their citizens, Brittany Keogh investigates when and how the roll-out will happen in New Zealand.
Covid vaccination information could be added to app, Ministry of Health says
The Covid-19 tracer app could have a role to play in the country's vaccination plan, according to Ministry of Health documents.
Covid-19: NZ vaccine timeline remains the same in light of new variant strains
New Zealand does not have any plans to fast-track its Covid-19 vaccine roll-out in light of the highly infectious United Kingdom and South Africa strains caught at the border.
Warning of longer lockdown if new strains reach community
A level 4 lockdown longer than that in March last year would be needed to stamp out new strains of Covid-19 which had potential for "explosive exponential growth" if they entered the New Zealand community, scientists say.
Director-General of Health issues plea for people to use Covid-19 tracer app
New Zealanders are scanning QR codes with the Covid Tracer app at almost half the rate they were two months ago.
Virus-fighting antibodies linger on in NZ Covid-19 patients
Virus-fighting antibodies have been found in Kiwi Covid-19 patients up to eight months after they were infected - findings that could bode well for the coming vaccine roll-out.
Stop! Scanner time: Why use Covid-19 app at work or gym if I have a swipe card?
If you frequent a gym or work in an office, chances are you use a swipe card to get access – so should you still use the Covid-19 Tracer App to scan in?
Covid-19: New Zealanders will have to wait their turn for coronavirus vaccination, says Chris Hipkins
Covid-19 vaccinations should be available to the public by the middle of the year, according to Covid-19 Recovery Minister Chris Hipkins.
Ventilators in case of resurgence
Dunedin Hospital has dramatically increased its number of ventilators and has plans in place to deploy them throughout the building should a Covid-19 resurgence happen in the South.
Original articles on efficacy and safety of COVID 19 Vaccines
The New England Journal of Medicine has published articles recently on the important issue of safety and efficacy of vaccines being rolled out for COVID 19.
Efficacy and safety of the mRNA-1273 SARS-CoV-2 Vaccine by Lindsey R. Baden et al., for the COVE Study Group. December 30, 2020 DOI: 10.1056/NEJMoa2035389
And
Safety and Efficacy of the BNT162b2 mRNA Covid-19 Vaccine by Fernando P. Polack et al., for the C4591001 Clinical Trial Group. December 31, 2020 DOI: 10.1056/NEJMoa2034577 N Engl J Med 2020; 383:2603-2615.

The Covid-19 vaccine communication handbook
A team of renowned scientific experts has joined forces from across the world and created this guide to help fight the spread of misinformation about the Covid-19 vaccines. The handbook sets out the facts, highlighting how the vaccines are overwhelmingly safe and effective.
PUBLIC HEALTH
Just 20 per cent of DHBs meeting vaccination targets, NZ 'can't afford' to slip' – expert
As New Zealand waits for a Covid-19 vaccine, national childhood vaccination rates continue to lag below target.
The Ministry of Health target is for 95 per cent of 8-month-olds to have their primary course of immunisations – at 6 weeks, 3 months, and 5 months – on time. Read more
RESPIRATORY
Humid summer hurts asthma sufferers as health line records surge in calls
People with asthma are struggling this summer as the La Niña weather phenomenon leads to a spike in pollen levels.
SEXUAL HEALTH / SEXUALITY
Survey reveals higher risk of sexual violence for gay, lesbian or bisexual people
Gay, lesbian or bisexual people are more than twice as likely to suffer from sexual violence or family harm than their heterosexual counterparts.
DHBs use ethnicity for low-cost contraception criteria
Māori and Pacific women are among those targeted in a contraceptive initiative that has a researcher concerned women will be prevented from having babies "for their own good". Read more
SOCIAL HEALTH
Women are the primary victims of human trafficking. New Zealand's plan to stop slavery forgot them
A plan to combat human trafficking in New Zealand is focused on the exploitation of men, while ignoring the most vulnerable victims – women and girls.
SOUND AND VISION
CapTel decision 'pulls the rug out' for hearing-impaired Kiwis
Judy Tinnock will turn 90 in February, but it seems unlikely that her son will be able to call and wish her happy birthday.
That's because the CapTel telephone she needs to communicate is being decommissioned at the end of January. Captel phones relay conversations through a transcriber so that people with hearing difficulties can still receive calls.

TOBACCO, DRUGS AND ALCOHOL
Drinking culture in New Zealand putting 'lives at risk', worse than in Australia
Hazardous drinking rates jumped over the Covid-19 lockdown last year, says Alcohol Healthwatch executive director Dr Nicki Jackson.
ARTICLES OF INTEREST
An intervention to decrease burnout and increase retention of early career nurses: a mixed methods study of acceptability and feasibility.
Brook, J., Aitken, L.M., MacLaren, JA. et al.
BMC Nurs 20, 19 (2021). https://doi.org/10.1186/s12912-020-00524-9
To understand the experiences of nursing students and academic staff of an intervention to decrease burnout and increase retention of early career nurses, in order to identify acceptability and feasibility in a single centre.
Background
Internationally, retention of nurses is a persistent challenge but there is a dearth of knowledge about the perspectives of stakeholders regarding the acceptability and feasibility of interventions to resolve the issue. This study reports an intervention comprising of mindfulness, psychological skills training and cognitive realignment to prepare participants for early careers as nurses.

The article below is not freely available but may be accessed through databases and libraries to which readers have access

Promoting nursing students' transcultural self‐efficacy to care for Burmese refugees using a set of educational strategies
Young, J, Jerolimov, D, Ofner, S.
Nursing Forum. 2020; 1– 7. https://doi.org/10.1111/nuf.12541
Educators must respond to changing societal demographics with revised curricula that facilitate student transcultural self‐efficacy to care for diverse client populations.
The above information has been collated for the College of Nurses Aotearoa (NZ) Inc by Linda Stopforth, SNIPS and is provided on a weekly basis. It is current as of 19 January 2021
If you have any feedback about content - what parts are most useful or what you would like added - please email admin@nurse.org.nz
For more up to date news and information follow SNIPS at:
Facebook: Snips Info
Twitter: @SnipsInfo