News bulletin 24 February
on 24 February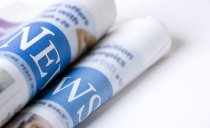 Welcome to the College of Nurses Aotearoa News Update.
No. 532, Wednesday 24 February 2021
Weekly news round-up of nursing and health information in New Zealand and internationally
NATIONAL NEWS
Nurse found at fault after failing to check on mental health patient who later died
A nurse's failure to perform proper nightly checks on a patient with schizophrenia who later died added up to a "severe departure" from the accepted level of care, an investigation has found.

Call for Nurses Organisation to release review into board's performance
The Māori head of the New Zealand Nursing Organisation says she's been the victim of incessant, targeted online abuse - including death threats - for ...
INTERNATIONAL NEWS
Covid-19: Record number of students apply for nursing (UK)
There were 60,130 applicants for nursing by the main 29 January ... And despite the news, it's actually made me want to go into hospital even more,
RDH managers look to extend theatre nurse shift to combat staff shortage (Aus)
ROYAL Darwin Hospital nurses are being stretched to their limits due to understaffing issues and an expanding elective surgery ...
Taskforce ignores role of nurses in frontline care, says ACN (Aus)
The Australian College of Nursing (ACN) says the final recommendations of the Medicare Benefits Schedule (MBS) Review Taskforce to government perpetuate the under-representation of nurses in the workforce and will do nothing to address ongoing challenges faced across the healthcare system.

Nursing home staff responses to pandemic reveal resilience, shortcomings: study
The ongoing health disaster of the past 12 months has exposed the crises facing nursing homes in Canada and the United States and the struggles of the staff working in them.
CANCER NEWS
Up to 800,000 Kiwis may have increased bowel cancer risk due to nitrates in water
Between 300,000 and 800,000 New Zealanders may be exposed to potentially harmful levels of nitrates in their drinking water, which may increase their chances of developing bowel cancer. Read more
CHILDREN AND YOUNG PEOPLE
EIT students to be offered Measles catch-up at orientation
EIT students taking part in orientation activities this week will also be offered on-the-spot Measles, Mumps and Rubella (MMR) immunisations to help with the nation's catch-up campaign. Read more
Govt to fund free period products for all school, kura students
All primary, intermediate, secondary school and kura students will have access to free period products from June this year. Read more
Children still living in poverty but number of whānau struggling to provide the basics drops - Stats NZ
There has been little annual change in the number of children living in poverty across most measures, but there has been a drop in the number of whānau struggling to provide the basics. Read more
COVID-19 / CORONAVIRUS
Covid-19 vaccinations underway in Auckland
Nurses Organisation professional nursing advisor Kate Weston said the vaccinators were ready to be first in line to receive their jabs today. "It's a very ...
Vaccinated border staff say they were thinking of their families and communities
Nurse and vaccinator Tracey Peterson acknowledged there was some vaccine hesitancy in the community and wanted to work to give people a good experience so the word would spread.
Covid-19: As the vaccine roll-out begins, NZ enters 'new phase' of managing virus
One of the country's top scientists is optimistic border restrictions could start easing within a few months, as the Covid-19 vaccination roll-out gets underway, but others are heeding caution. Read more
Covid-19: Ministry assures doctors last year's flu shot debacle won't happen with coronavirus vax
The Ministry of Health has assured doctors there will be no repeat of 2020's flu shot distribution debacle with the Covid-19 vaccine roll-out.
Māori health workers must be trained to give Covid-19 vaccine - providers
Māori health providers have urged the government to fund and train their workforce to administer the Covid-19 vaccine to secure coverage of their remote communities, and to overcome vaccine hesitancy.
Covid-19 vaccines: Pacific leaders hold fono on raising awareness
Pasifika health leaders are discussing how to best combat misinformation spreading and increase confidence in the Covid-19 vaccines. Read more
Covid-19: Nearly a quarter of Kiwis unlikely to take coronavirus vaccine, Ministry of Health research shows
Nearly a quarter of New Zealanders are unlikely to take a Covid-19 vaccine, a new survey shows, days before the nation's largest mass vaccination programme begins.
Here's why a surprising number of healthcare workers are rejecting COVID-19 vaccines despite having witnessed the immense suffering of the pandemic
COVID-19 vaccine hesitancy is above average for healthcare workers.
Insider spoke with three healthcare workers about some of the reasons.
Experts told Insider having "trusted messengers" in local communities would help tackle the problem.
COVID vaccine consent for aged-care residents: it's ethically tricky, but there are ways to get it right
The much anticipated rollout of the Pfizer-BioNTech COVID-19 vaccine will begin in Australia on Monday.
The first groups to receive the jab will be quarantine and border workers, frontline health-care workers, aged-care and disability-care workers, and aged-care and disability-care residents.
Pfizer vaccine highly effective after 1st dose, can be stored at higher temperature, study finds
Pfizer and BioNTech's COVID-19 vaccine was 85 percent effective after a single dose in a peer-reviewed study, and the drugmakers said it doesn't need to be stored at ultralow temperatures, The Wall Street Journal reported Feb. 19. Read more
DHBS
Hawke's Bay ICU training accreditation withdrawn due to infrastructure challenges
Hawke's Bay DHB is working with the College of Intensive Care Medicine of Australia and New Zealand after receiving notice from the College that it has withdrawn training accreditation to Hawke's Bay Hospital's Intensive Care Unit.
Hutt Hospital maternity ward to triple in size in $9.4m maternity upgrade
Women who have miscarried will no longer sit next to those who are still pregnant, and sick babies and their families will be socially distanced following a multi-million dollar refit of maternity facilities at Hutt Hospital.
New operating theatre opens in Queen Mary Maternity Unit
A new Operating Theatre and Post Anaesthetic Care Unit (PACU) at Queen Mary Maternity Unit at Dunedin Hospital was officially opened with a blessing on Monday.
Wellington hospitals 'at tipping point' and face delaying surgeries
Wellington's hospitals are "at tipping point" and are facing the reality of delaying surgeries again as those at the coalface call for extra beds and operating theatres.
'Fatigue, burnout' as DHBs stretched to the limit, union warns
A union for doctors and dentists is warning all DHBs are at a tipping point, caused by entrenched short staffing, and underfunding.
EDUCATION
Whitireia Offers Nursing Diploma As Government Covers Student Costs
It will come as no surprise to hear that New Zealand has a shortage of nurses, with a particular need for nurses of Māori and Pacific descent. In efforts ...
HEALTH IN/EQUITY
Ethnicity changes the odds for babies with heart defects
There's no shortage of evidence pointing to poorer health outcomes for Māori and Pacific people in Aotearoa. Even for babies with heart defects, ethnicity changes the odds. Here, Dr Simone Watkins, a Sāmoan doctor and PhD student at the Liggins Institute, outlines the problem.
MAORI HEALTH
Free X-rays, fast diagnoses the aim of Māori health provider's $15m plans
Tureiti Moxon has a $15-million plan she hopes can save lives by providing affordable diagnoses before people are "nearly dead".
MENTAL HEALTH
Psychiatrists Essential In Suicide Prevention Says Taskforce
At a time of increasing public interest and government focus on the reduction of suicide, the Royal Australian and New Zealand College of Psychiatrists (RANZCP) taskforce on suicide prevention has released a new position statement. Read more
Ministry of Health accused of 'gagging' Mental Health Foundation
The Mental Health Foundation claims the Ministry of Health is trying to "gag" it.
Foundation CEO Shaun Robinson claims he was told by an official that the foundation wasn't allowed to criticise the Government since it accepted government money. However, the Ministry of Health says the official concerned has a different recollection of the conversation.
Youth mental health funding boost of $10m 'small start' amid 'tsunami of need'
Koiauruterangi Fraser says taking part in a kaupapa Māori adventure therapy programme helped give him confidence to pursue basketball more seriously.
MIDWIFERY / MATERNITY
Midwives at breaking point at Wellington Capital and Coast DHB
... the Ministry of Health, Meras and the DHB leaders and the NZNO [New Zealand Nurses Organisation] to create a sustainable midwifery workforce.".
PASIFIKA HEALTH
Changing the lives of Pacific youth - Waitemata DHB
WaitematÄ DHB's community alcohol and drug service (CADS) is leading the way with a specialised programme for pacific youth who experience alcohol and/or drug issues.
Health leaders discuss immunisation with Pacific community
Getting vaccinated against COVID-19 will prevent you from becoming extremely ill with the virus, while outbreaks of measles, mumps and the flu can be prevented with mass vaccination. Read more
RESPIRATORY
New NZ COPD Guidelines 'timely for those most at risk from COVID-19'
The first-ever New Zealand COPD (Chronic Obstructive Pulmonary Disease) Guidelines have been published in the New Zealand Medical Journal today, providing a national framework for diagnosis and management of COPD in a New Zealand context. Read more
REPORTS AND NEW PUBLICATIONS
National Academics Release Strategies for Building COVID-19 Vaccine Confidence
According to a new rapid expert consultation report from the National Academies of Sciences, Engineering, and Medicine, "Decision-makers leading COVID-19 vaccine rollouts need to begin communicating with the public immediately if they have not already — emphasizing public support for vaccinations, leveraging celebrity and community champion endorsements, and focusing on those who are skeptical or hesitant of the vaccines rather than firmly opposed — to ensure demand and promote uptake." In addition, "Special efforts to reach the most vulnerable, namely Black, Latino, and Native American communities that have experienced far higher COVID-19 mortality rates, are critical." The consultation notes that community engagement is crucial to overcoming mistrust and provides several strategies that decision-makers at all levels can adopt to build confidence in COVID-19 vaccines.
ARTICLES OF INTEREST
Indigenous perspectives on concepts and determinants of flourishing in a health and well-being context: a scoping review protocol
Nelson V, Derrett S, Wyeth E
BMJ Open 2021;11:e045893. doi: 10.1136/bmjopen-2020-045893
Introduction Indigenous people, including Māori in New Zealand, face many inequities in health and the determinants of health. Historically, the analysis and reporting of Indigenous health in the literature has usually taken a western medical view, often with a descriptive and deficit-oriented approach—ignoring the holistic nature of Indigenous health. This project takes a nondeficit approach and is interested in the factors that support the health and well-being of Indigenous people, including Māori. Flourishing is a recent and increasingly used term within the well-being literature; however, concepts, theories and determinants related to Indigenous flourishing are largely unknown. This scoping review aims to identify, describe and synthesise the nature and extent of the current empirical literature related to concepts, theories and determinants of Indigenous flourishing, in health and well-being contexts.
The article below is not freely available but may be accessed through databases and libraries to which readers have access
Understanding the general practice nursing workforce in New Zealand: an overview of characteristics 2015–19.
Hewitt Sarah L., Sheridan Nicolette F., Hoare Karen, Mills Jane E. (2021)
Australian Journal of Primary Health 27, 22-29.
Limited knowledge about the nursing workforce in New Zealand general practice inhibits the optimal use of nurses in this increasingly complex setting. Using workforce survey data published biennially by the Nursing Council of New Zealand, this study describes the characteristics of nurses in general practice and contrasts them with the greater nursing workforce, including consideration of changes in the profiles between 2015 and 2019. The findings suggest the general practice nursing workforce is older, less diverse, more predominately New Zealand trained and very much more likely to work part-time than other nurses. There is evidence that nurses in general practice are increasingly primary health care focused, as they take on expanded roles and responsibilities. However, ambiguity about terminology and the inability to track individuals in the data are limitations of this study. Therefore, it was not possible to identify and describe cohorts of nurses in general practice by important characteristics, such as prescribing authority, regionality and rurality. A greater national focus on defining and tracking this pivotal workforce is called for to overcome role confusion and better facilitate the use of nursing scopes of practice.
The above information has been collated for the College of Nurses Aotearoa (NZ) Inc by Linda Stopforth, SNIPS and is provided on a weekly basis. It is current as of 23 February 2021
If you have any feedback about content - what parts are most useful or what you would like added - please email admin@nurse.org.nz
For more up to date news and information follow SNIPS at:
Facebook: Snips Info
Twitter: @SnipsInfo