News Bulletin
on 16 November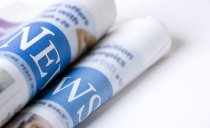 From NZ media this week 

60% of nurses burn out and quit
Six out of 10 New Zealand nurses have quit jobs because they are burnt out or because they face unmanageable moral issues.
http://www.stuff.co.nz/national/health/5956323/60-of-nurses-burn-out-and-quit  
CORRECTION TO ABOVE ARTICLE
Members will have noticed recent press releases  in national media and picked up by our news clip service stating that  60% of nurses burn out and quit.  Dr Martin Woods  as the researcher concerned has provided us with the following  important correction. The actual survey itself was a small pilot study on moral distress in nursing involving approximately 30 registered nurses, of whom only 50% actually returned the completed survey. The figure '6 out of 10' was in fact merely the actual number who replied that they had left a nursing position because of a moral issue. This in itself was a surprising result, amongst others of interest, because it seemed to indicate a potentially serious issue. However, this particular finding was presented in the press (Sunday Star Times, November 13, p.A8) as '60% of nurses burnout and quit', which was misleading, and attempts have subsequently been made to correct this anomaly. Yet the article did at least refer to the study as a pilot one only, noted at least a few indicators of potential concern, and indicated that the main survey results (a national survey of nurses in NZ) would be more reliable. Hence, the results of the pilot study cannot be generalized or viewed as indicative of a major problem in nursing at this time. Nevertheless, it is pertinent to note that if the trends seen in the pilot study are repeated in the results of the main study, then these findings would indeed be of considerable concern to the nursing profession. The main study findings should be available next year, probably around March or April.


Research confirms the realities for health workers
Latest research released from Massey University showing that six out of 10 New Zealand nurses have quit jobs because they are burnt out or because they face unmanageable distress is no surprise to unions representing health professionals.http://bit.ly/uq7dQ5  

Nurses tot up `working for free'
Registered nurses working within the Waikato District Health Board have been invited to log all their unpaid minutes of work as part of a national campaign organised by the New Zealand Nurses Organisation.http://www.stuff.co.nz/waikato-times/news/5965004/Nurses-tot-up-working-for-free 

Auckland nurse admits drug addiction
An Auckland nurse admitted her battle with drug addiction after charges were laid against her for ordering hundreds of prescription pills for patients who didn't need them.
http://www.stuff.co.nz/auckland/local-news/5955230/Auckland-nurse-admits-drug-addiction 


Southern Nursing Strategy Focus of Regional Forum

A gathering of primary health care nurses this weekend will see debate and discussion about a future strategy for the profession in the wake of the amalgamation of the Otago and Southland District Health Boards and the advent of only one Primary Health Organisation (PHO) across both regions. Southern DHB and Southern PHO representatives will also be present and involved in the dialogue.
http://bit.ly/uWuPc5
Hospital gets tough after nurse punched

A nurse was punched in the chest and a doctor was racially abused by patients at Tauranga Hospital's emergency department - prompting a new hardline stance backed by the Government.
http://www.nzherald.co.nz/nz/news/article.cfm?c_id=1&objectid=10764727
Pregnant woman given potentially harmful pills

The Health Practitioners' Disciplinary Tribunal has fined a disgraced Northland nurse giving a pregnant woman a potentially harmful double dose of medication without authority.
http://www.nzherald.co.nz/nz/news/article.cfm?c_id=1&objectid=10765061
Brief mental health intervention programme assists patients and GPs
A big difference to the mental health of New Zealanders could be achieved by introducing a promising brief guided self-help intervention programme administered by GPs.
http://bit.ly/v1ylUr
Health research 'waste of time'
Maori health advocate Colleen Tuuta has taken another swipe at the Whanau Ora programme.
On Thursday the Taranaki hospital advisory committee was told further research into the health needs of Maori in Taranaki was under way
http://bit.ly/vnJtvM


International media
Victorian nurses close one in three hospital beds

Victorian nurses are closing one in three public hospital beds, in a dramatic escalation of their pay dispute with the State Government. The dispute has become increasingly bitter since the revelation in state cabinet documents of a plan to cut the nursing budget, and replace some nurses with less qualified assistants
http://www.abc.net.au/am/content/2011/s3363273.htm
Hospital Safety Climate Linked To Both Patient And Nurse Injuries

A safe working environment for nurses is also a safe environment for the patients in their care, according to a new study led by public health researchers at Drexel University. Researchers, led by Dr. Jennifer Taylor, an assistant professor in Drexel's School of Public Health, found that safety climate was associated with both patient and nurse injuries, suggesting that patient and nurse safety may be linked outcomes. The study was published online in BMJ Quality and Safety in October.

http://mnt.to/l/42Qb
Nurses In Nursing Home Settings Find It Very Difficulty To Report  Errors

Nurses have an obligation to disclose an error when one occurs. While errors should be avoided as much as possible, the reality is the health care delivery system is not and will never be perfect; errors and adverse events are an inevitable part of care.

http://mnt.to/l/42Pd
Nurses' strike over pensions edges closer

Royal College of Nursing threatens to call strike ballot in January if government does not begin 'credible' negotiations
http://www.guardian.co.uk/society/2011/nov/10/nurses-strike-pension-closer
Experienced nurses flocking to scarce degree courses

Registered nurses are queuing up to take degrees amid fears that the move to an all-graduate workforce could leave them unqualified to secure jobs or be effective mentors.
http://bit.ly/v6ekRR
Bed management 'cannot be aided by predicting admission at A&E'

Triage nurses cannot predict whether patients attending accident and emergency require admission with sufficient accuracy so as to aid bed management, researchers from Southampton University Hospitals NHS Trust have noted
http://www.nursingtimes.net/5037551.article?referrer=e3

Survey finds no letup in violence against ED nurses
The latest release of an ongoing national survey of more than 7,000 ED nurses found that rates of physical violence and verbal abuse against nurses did not decrease between May 2009 and January 2011.
http://news.nurse.com/article/20111108/NATIONAL02/111140021/1003

GPs warned about unregistered nurses
GPs are being urged to double-check their nurses' registration paperwork in light of the recent arrest of a woman who was held for allegedly pretending she was qualified.
http://www.nursingtimes.net/5037738.article?referrer=e1


Election 2011

Labour's health policy promises subsidies for dental care

A Labour government would introduce subsidies for straightforward
adult's dental care, "as resources allow".
http://www.nzherald.co.nz/politics/news/article.cfm?c_id=280&objectid=10764686

Key hints at asset sale cash for hospitals
Prime Minister John Key continued to splash asset sale cash around on the campaign trail today saying he would soon announce a portion of the $5 billion to $7 billion raised would go towards improving hospitals.
http://www.nzherald.co.nz/nz/news/article.cfm?c_id=1&objectid=10765059

Key vows to trim back surgery waiting times
National is promising a reduction in waiting times for elective surgery patients if it wins a second term in government.
http://www.nzherald.co.nz/politics/news/article.cfm?c_id=280&objectid=10765230

Health and education top concerns
More than one-third of voters say health and education are the most important issues for them this election, well ahead of wages and taxes.
http://www.nzherald.co.nz/nz/news/article.cfm?c_id=1&objectid=10765466

Election 2011: Ryall takes fight over preventive health to Labour
National's health chief, Tony Ryall, is taking the fight to Labour on preventive health services.
http://www.nzherald.co.nz/nz/news/article.cfm?c_id=1&objectid=10765856

Health and wellness


Reducing stress at work

In this difficult economy, many of us are finding it harder than ever to cope with stress in the workplace. Regardless of occupation, seniority, or salary level, we're spending more and more of our work days feeling frazzled and out of control, instead of alert and relaxed.
Articles of interest

Quality of Nursing Home Care: Perceptions of Physicians, Psychologists, and Nurse Practitioners

Journal of Nursing Care Quality:
Physicians, psychologists, and nurse practitioners rated the quality of nursing home care and the importance and feasibility of improvement strategies. Overall care was rated better than care of residents, followed by treatment of staff. Physicians rated care highest and nurse practitioners rated it lowest. In terms of suggestions for quality improvement, improving treatment of frontline staff and of families was rated as most important overall. We found differences across professional groups in recommended improvements, a finding that suggests the importance of interdisciplinary communication and developing an integrated viewpoint in optimizing care for older persons.
Patient Safety Issues in Advanced Practice Nursing Students' Care Settings
Journal of Nursing Care Quality:
The purpose of this project was to identify and characterize patient safety issues across advanced practice nursing (APN) care settings including ambulatory care visits. A total of 162 registered nurses enrolled in an APN education program completed an online survey. Respondents reported patient safety issues related to diagnosis or management and treatment in almost half of 489 encounters. The most common issues were clinician communication problems with patients, which occurred during 42.4% of encounters. Adoption of information technology may be a pathway for improving patient safety issues in APN practice settings.
http://bit.ly/sI8rpN
Nurses' Perceptions of Error Reporting and Disclosure in Nursing Homes

Journal of Nursing Care Quality:
Nurses have an obligation to disclose an error when one occurs. This study explored 1180 nurses' perceptions of error disclosure in the nursing home setting. Nurse respondents found disclosure to be a difficult process. Registered nurse respondents and nurses who had prior experience disclosing a serious error were more likely to disclose a serious error. The study has implications to improve nursing education, policy, and patient safety culture in the nursing home setting.
To access article click here, then select the pdf button on the right hand side.
http://bit.ly/sn8Oqz
The above information has been collated for the College of Nurses Aotearoa (NZ) Inc by Linda Stopforth, SNIPS and is provided on a weekly basis.  It is current as at Tuesday 15 November 2011