News bulletin 14 April
on 14 April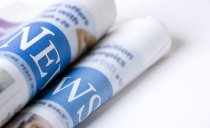 Welcome to the College of Nurses Aotearoa News Update.
No. 539, Wednesday 14 April 2021
Weekly news round-up of nursing and health information in New Zealand and internationally
NATIONAL NEWS
Canterbury nurse turns to social media to dodge Covid-19 vaccine waste
A Christchurch nurse used social media to help save more than 1000 doses of the Covid-19 vaccine from going to waste after a mysterious over-supply of the precious commodity.

NZ has more doctors and nurses per bed than the OECD average - report
New Zealand has 1.22 doctors and 3.8 nurses per bed compared to the Organisation for Economic Co-operation and Development (OECD) average of 0.75 doctors and 1.8 nurses per bed, a new health report says.
The spotlight on anti-Asian attacks in America is spilling over to New Zealand, and has highlighted the fact that such sentiments lurk beneath the surface here too
It was an experience that, among many other things, got me thinking about what it must be like being Asian and working on the frontlines of health.
What do you do when the very people you're supposed to care for are the ones being racist towards you?
'Unregulated' Covid-19 vaccinators a stop-gap for underinvestment in nurses - union
The largest nurses union has raised concerns about non-clinical staff giving Covid-19 vaccinations, saying it stems from a long-standing failure by the Ministry of Health to recruit more Māori nurses.
Nurses find first DHB collective agreement offer completely unacceptable
The nearly 30,000 district health board (DHB) members of the New Zealand Nurses Organisation (NZNO) have received the first DHB offer in their ...
Health data system fragmented, leaving clinicians and patients in the dark - IT experts
The Ministry of Health wants to change the way people's medical records are shared nationwide, with IT health experts growing frustrated in the meantime.
INTERNATIONAL NEWS
How UPMC Williamsport cut CAUTI rates with a nurse-led initiative
A nurse-led effort at UPMC Williamsport (Pa.) hospital quickly reduced catheter-associated urinary tract infections in the intensive care unit, spurring the organization to implement the program hospitalwide, according to a study published in Critical Care Nurse. Read more

CANCER NEWS
Self-testing kits for HPV cervical screening could help save lives, so why aren't we using them?
A chorus of advocates, medical professionals and wāhine are calling for cervical screening to be better. Here's a look at how HPV screening and self-testing kits could help save lives. Read more

Lives being saved by bowel screening - CDHB
Twenty people have had cancers confirmed and many others have had pre-cancerous lesions removed since the National Bowel Screening Programme started in Canterbury. Read more

COVID-19 / CORONAVIRUS
Covid-19 vaccinations: All New Zealand DHBs now operating vaccine programmes - Bloomfield
Director-General of Health Ashley Bloomfield says all New Zealand's district health boards are now operating vaccination programmes, and vaccine numbers are likely to increase further.

Daily Covid-19 vaccination rates need to rise - Health minister
Health Minister Andrew Little is hoping Covid-19 vaccination numbers will increase to about 10,000 a day by the end of the month

Covid-19: Pasifika, Māori vaccination rates concerning, expert says
Covid-19: Nurses union calls for Govt to establish vaccine programme for Pasifika ... University of Auckland senior health lecturer Rhys Jones (Ngāti ...

Covid-19: Govt sets up scientist group to advise on vaccine rollout, border changes
The government has established a new scientific advisory group to advise it on crucial Covid-19 decisions, including any changes at the border and the ongoing vaccine rollout.

Major infrastructure needs at Māori providers and funding only 'a drop in the bucket' - health leader
Māori health leaders have welcomed the news non-clinical workers will be trained to administer the Covid-19 vaccine, but there are still concerns funding won't cover IT upgrades desperately needed.

Health Ministry's handling of vaccines rollout a shambles - rest home boss
"Shambolic" is how one rest home boss is describing the Covid-19 and influenza vaccines rollout.

Covid-19: Nearly 300,000 vaccines in storage, but under half of trained vaccinators active
Fewer than half of Kiwi vaccinators who have completed training to administer the Covid-19 jab are active in the Government's programme.

Covid-19: Government plans to hire army of coronavirus vaccinators
Nearly 2000 people have completed their training to become Covid-19 vaccinators, with the Government hoping to draw on thousands more as it prepares to roll out the largest vaccination campaign in our country's history.

Covid-19 vaccination rollout: DHBs face 'hard work' setting up large clinics
New Zealand's Covid-19 vaccination rollout needs to scale up and the next few months will be challenging for the health system, an immunisation expert says.
Training on way so kaimahi can handle Covid-19 vaccinations
The Director-General of Health has confirmed Māori health workers will be trained to administer the Covid-19 vaccine.
Covid-19: Marae considered as temporary vaccine centres for remote communities
Māori health providers are considering using marae as temporary Covid-19 vaccination centres to help reach the most vulnerable, rural communities.
DHBS
Bed blocks may get worse, Southern DHB boss fears
Southern hospitals will run into significant risks this winter if the Southern District Health Board can't solve the "mystery" of its growing patient numbers, chief executive Chris Fleming says.

DHBs' pay offer lacking and will put patients at risk — Christchurch Hospital nurses
Christchurch nurses say if district health boards don't start acknowledging the value and worth of their knowledge and experience, patients will be put at risk because staffing shortages will continue.

Starship Hospital launches $15m fundraising campaign amid 'critical' ICU occupancy
The national children's hospital is launching its "most vital fundraising campaign in history" to raise $15 million amid critical bed shortages in its paediatric ICU every other day.

Nurses reject new DHB pay offer as attention turns towards Australia
Are we about lose more of our nursing workforce to Australia? The Nurses Organisation has rejected another DHB pay offer, saying it fails to ... that the pay rate in Australia can be as much as 20 percent higher than in New Zealand.

All District Health Boards: NZNO MECA bargaining
DHB spokesperson Dale Oliff says nurses and midwives are essential to the COVID-19 health response keeping New Zealanders safe and helping the ...

HEALTH IN/EQUITY
The battle for gender-inclusive language in healthcare
Hospitals should be a place of welcome and healing. But for gender-diverse people and their families, going to the hospital can feel like walking into a linguistic minefield.

HEALTH TECHNOLOGIES
NZ could be a global digital health leader because of Covid - report
The covid pandemic is an opportunity to make New Zealand a world-class digital health technology exemplar, a new report says
MENTAL HEALTH
Mental Health Amendment Bill passes first reading - Little
The Government has taken a significant step towards delivering on its commitment to improve the legislation around mental health as recommended by He Ara Oranga - the report of the Government Inquiry into Mental Health and Addiction, Health Minister Andrew Little says.
Mental Health Crisis Hub a reality for Hawke's Bay
Creating a place where people can go when they are experiencing mental health distress, but don't need emergency department care, is becoming a reality in Hawke's Bay following the announcement of a mental health crisis hub today.

Loneliness: Disabled people, unemployed people, young people and sole parents are groups most affected
Loneliness – an unmet need for social connection – has always been a feeling people have experienced at some point in their lives. Read more

Nowhere to go for high needs patients stuck in Waikato DHB mental health ward
Thirty people were effectively living in Waikato mental health inpatient wards at the end of 2020.
Their high or complex needs made it hard to find other places to live, so they were "in limbo", a review commissioned by Waikato DHB said.

Mental health acute units went over capacity several times - Waikato Hospital review
Acute patients in mental health and addiction services at Waikato Hospital have outnumbered beds available on a number of occasions, a review has found. Read more
MIDWIFERY / MATERNITY
A woman was asked to change her own pad hours after surgery. Where's the $35m maternity plan?
Year after year, babies are being born into a dangerously under-resourced maternity system. With hospital wards nationwide short 200 midwives and women having to fight for basic care, the minister previously in charge of the sector questions the political will to fix the problem. National Correspondent Michelle Duff investigates.

PRIMARY HEALTH CARE
Flu jab roll-out to start for over 65s as GPs have to fund, source needles
The country's influenza vaccine roll-out will begin for over 65s only from Wednesday, as manufacturing issues have resulted in a month-long delay to the wider schedule.

PUBLIC HEALTH
Parkinson's rates on the rise, but new research hopes to slow the symptoms
A scientist researching a way to stall Parkinson's disease says the rate of New Zealanders getting it is on the rise.

South Auckland's syphilis rise: 'It's not a new problem, but it's getting worse'
Parliament's health select committee has raised concerns about the growth of syphilis in South Auckland and the need for extra funding for primary and sexual health services to stop its spread.

TOBACCO, DRUGS AND ALCOHOL
Coalition calls for health-based approach to drug use in open letter to Govt
More than 25 health and social service organisations have banded together to call on the Government to repeal the country's drug laws, to drop penalties for use and to treat the use of drugs as a health issue.

Health Minister Andrew Little rules out drug law overhaul
Health Minister Andrew Little has shot down calls for a swift overhaul of drug laws, saying any major change would first have to go back to a referendum.

ARTICLES OF INTEREST
The articles below are not freely available but may be accessed through databases and libraries to which readers have access
Interactive Learning for Nurses Through Gamification,
Garrison, Elisabeth; Colin, Sharon; Lemberger, Olivia; Lugod, Maureen
JONA: The Journal of Nursing Administration: February 2021 - Volume 51 - Issue 2 - p 95-100 doi: 10.1097/NNA.0000000000000976
OBJECTIVE
The nursing professional development department purchased technology to create an innovative structure to engage nurses in educational offerings. The purpose of this study is to examine the effect of incorporating gamification on knowledge acquisition.
BACKGROUND
Nursing administrators should support the use of gamification to improve the nurses' acquisition of knowledge. The clinical educators traditionally utilize lecture-based educational offerings preventing students from active participation. Gamification promotes learner engagement, critical thinking, and enjoyment.
Managing capability in specialist nursing practice.
Avery P, Cleaver N (2021) Nursing Management.
doi: 10.7748/nm.2021.e1963
Raising concerns over another nurse's clinical practice and capability presents significant challenges, particularly in specialist clinical nursing roles. However, the support provided to nurses who raise such concerns is not always optimal. While compassionate leadership in healthcare has been stated as a priority to develop safer workplaces for staff, it must be balanced against the need to manage staff undergoing capability management processes. This article discusses how enhanced training and support for both line managers and staff can improve the capability management processes.

The above information has been collated for the College of Nurses Aotearoa (NZ) Inc by Linda Stopforth, SNIPS and is provided on a weekly basis. It is current as of 13 April 2021

If you have any feedback about content - what parts are most useful or what you would like added - please email admin@nurse.org.nz

For more up to date news and information follow SNIPS at:
Facebook: Snips Info
Twitter: @SnipsInfo