News bulletin 23 November 2011
on 23 November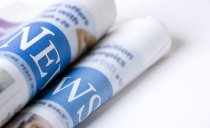 Welcome to the College of Nurses – News Update.
No. 81 – 23 November 2011 

From NZ media this week 

Three nurses making a difference
Three clinical nurse specialists are making a difference for complex patients on inpatient waitlists at Waikato Hospital by ensuring their journeys through the hospital system are that much easier.
http://bit.ly/u0WZ1m 
Sadness at degree's shelving
The country's first wänanga nursing degree is being shelved indefinitely after its first six graduates sit state finals this month.

http://www.nursingreview.co.nz/pages/section/article.php?s=News&idArticle=22635

Practice-focused nursing curriculum blazing national trail
A cutting-edge Taranaki nursing curriculum is breaking national ground.

http://bit.ly/t0HFhn
Whangarei ICU nurse sleeps on job

A Whangarei Hospital intensive care nurse has been disciplined for serious misconduct after falling asleep while on duty.

http://www.nzherald.co.nz/nz/news/article.cfm?c_id=1&objectid=10766387
Celebrating the end of Nursing State Finals
UCOL Wairarapa Nursing students are celebrating the end of their Nursing State Finals, after completing the three year Bachelor of Nursing degree.

http://bit.ly/sa9f5l
Right place, right time

A new programme to help deploy nursing staff to areas of the hospital where their skills are most needed will ensure a better level of care for patients, a nursing representative in Blenheim has said.

http://www.stuff.co.nz/marlborough-express/news/5979152/Right-place-right-time
Health Promotion Agency Establishment Board announced

Health Minister Tony Ryall has announced the members of the Health Promotion Agency Establishment Board.

http://bit.ly/ubkn34
Revealing the gap between NZ's rich and poor

The richest 1 per cent of NZ's population owns three times more than the combined cash and assets of the poorest 50 per cent.

http://bit.ly/tEa6l3
"Health bosses and government need to get real over exploitation of health professionals"

"Health bosses and government need to get real over the exploitation of health professionals," said Mr Ian Powell, Executive Director of the Association of Salaried Medical Specialists, today. Mr Powell was commenting on the concerns raised by the Nurses Organisation and Public Service Association about the recent survey which reported that 60% of nurses who quit do so because of burn-out or because they face unmanageable distress.

http://bit.ly/vHiEWD
NZRGPN calls for greater primary health care focus

The next government needs to focus its attention on primary care within the health system, as there is clear evidence in rural communities that a good primary care system is essential to address health needs, according to the New Zealand Rural General Practice Network.

http://bit.ly/uldsvs

Suicide-in-elderly-highest-in-10-years
The number of elderly New Zealanders killing themselves has surged 11 per cent to a 10-year high, fuelled by mounting health and economic worries.

http://www.stuff.co.nz/national/health/5999947/Suicide-in-elderly-highest-in-10-years


ole of the doctor reviewed

A consensus statement on the role of the doctor in New Zealand advocates partnership with patients rather than the "doctor knows best" approach.
http://www.odt.co.nz/news/dunedin/187115/role-doctor-reviewed
Canterbury health system threats forecast

Next winter and the threat of widespread illnesses loom as the "biggest worry" for Canterbury's health system, which is still in full recovery mode after the February 22 earthquake.

http://bit.ly/v1aMmO
Tariana Turia: Cultural competency in the health sector

I'd like to thank Mauri Ora Associates for organising this hui and providing us all with a vital opportunity to extend our thinking and our actions around cultural competency in delivering health services.

http://bit.ly/v3ImPO
University of Otago research shows spirituality important in healthcare

A University of Otago study has offered a working definition of spirituality to help healthcare professionals better understand its importance for those faced with illness and death in an age when fatal illnesses are often prolonged.

http://bit.ly/tlCKhF
Māori Health Leadership Scholarships – Open for Applications

Scholarships aimed at supporting Māori into careers in the health workforce –the Henry Rongomau Bennett Leadership in Māori Health scholarships – are now open for applications. The closing date is 20 January 2012.

http://bit.ly/sOetce
Shock look at NZ's child poverty

More than 100 New Zealand children who died last year would probably have survived had they lived in Japan, Sweden or the Czech Republic, a new documentary shows.

http://www.stuff.co.nz/national/politics/6002311/Shock-look-at-NZs-child-poverty
South Auckland kids' skin infections soar
 
Untreated skin infections are landing South Auckland children in hospital at almost double the rate of other Kiwi kids

http://bit.ly/sOipyl
Doctors tackle violence against children

New Zealand's leading paediatricians will meet in Auckland this week to tackle the issue of the high level of violence against Kiwi children.

http://bit.ly/tbx57J
Programme uncovers violence in homes
 
Family violence screening programmes at both Wanganui Hospital and among some general practices in the district have uncovered an undisclosed number of women who..

http://bit.ly/vfIBba
International media
Nurses' 'lack of trust in diagnosis' presents barrier to organ donation

A survey of Swedish intensive care unit nurses has uncovered attitudes which present barriers to organ donation.

http://www.nursingtimes.net/5037888.article?referrer=e1
Healthcare assistant regulation plans 'too weak' (UK)

Plans for a voluntary system of registration for health care assistants have been attacked as being too weak to significantly improve patient safety.

http://www.nursingtimes.net/5037819.article?referrer=e10
Commissioning leaders admit uncertainty about nurse role (UK)
GP commissioners have admitted continuing uncertainty about the role of nurses on clinical commissioning groups.

http://www.nursingtimes.net/5037821.article?referrer=e1
International recognition for nurse research centre (Aus)

ACT centre joins elite group of research facilities recognised by the International Council of Nurses.

http://bit.ly/sBjanh
New Pilot Helps Practice Nurses Deal With Men (Aus)

A new programme may be used to help practice nurses feel more confident about identifying the major conditions affecting men. The pilot programme, developed by Andrology Australia in consultation with a practice nurse reference group, was recently held for 18 practice nurses in Melbourne.

http://bit.ly/thnQWc
Student nurses urged to be entrepreneurs

Nursing students should embrace the entrepreneurism afforded in the Health and Social Care Bill, as they are "great at leading change", the deputy chief nursing officer has said.

http://www.nursingtimes.net/5038024.article?referrer=e1
Reports online
UK: All Babies Count: Prevention and Protection for Vulnerable Babies

November 10, 2011 22:58

Source: National Society for the Prevention of Cruelty to Children(UK)
From Press Release:
Babies are eight times more likely to be killed than any other age group in childhood. And factors such as domestic violence, mental health problems, and drink and drug dependency among parents are known to be important risk factors for abuse and neglect. Two thirds of serious case reviews for infant fatalities or serious cases of abuse involve one or more of these problems. And over half the contacts to the NSPCC Helpline involve concerns about children in families with these issues.
Whilst of course not all families with these issues neglect or harm their babies these types of family factors are important markers of risk. New figures published today show that over 198,000 in the UK (one in four) (168,000 in England) are at high risk because they are born into homes with domestic violence, mental health problems, or drink and drug dependency. The NSPCC's report shows that in the UK (note: there is some overlap in the figures below):
•
144,000 babies under one are living with a parent who has mental health problems.
•
109,000 babies have a parent with drug or alcohol problems.
•
39,000 babies are living in a home where there is domestic violence.

http://bit.ly/uYCvN7
Articles of interest

Check your ego at the door
Nursing Management:
November 2011 - Volume 42 - Issue 11 - p 6

Calling all leaders: It isn't about you, it's about the team! Far too often leaders display narcissistic personality characteristics—because they believe success is totally dependent on them—and forget about the team of individuals who make valuable contributions to achieving the goal. Leaders need to be aware that success can only be accomplished if their team members are consistently respected, appreciated, and acknowledged for their skills and talents.

http://bit.ly/uasBlw
 

The impact of patient literacy on healthcare practices

Nursing Management:
November 2011 - Volume 42 - Issue 11 - p 24–29

As the profession of nursing continues racing toward greater technological complexity, nurses are providing care for patients at even higher levels of acuity, yet the true essence of the profession continues to be measured in basic accomplishments. Nursing "basics" necessitate an intricate balance between highly technical skills and comforting care; emotional support and effective communication; and active listening and successful patient teaching. Ask any nurse and you'll hear that many daunting challenges lie in those important yet mundane tasks.

http://bit.ly/vivNz1
The above information has been collated for the College of Nurses Aotearoa (NZ) Inc by Linda Stopforth, SNIPS and is provided on a weekly basis.

 

It is current as at Wednesday 23 November 2011
If you have any feedback about content - what parts are most useful or what you would like added - please email
admin@nurse.org.nz
Facebook:
Snips Info
twitter:

@SnipsInfo