News bulletin 26 May
on 26 May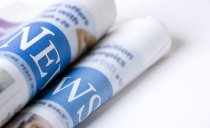 Welcome to the College of Nurses Aotearoa News Update.
No. 545, Wednesday 26 May 2021
Weekly news round-up of nursing and health information in New Zealand and internationally
NATIONAL NEWS
Nursing leaders fear mega-polytech will try to change nursing education
Proposals by Te Pūkenga – the new Crown entity overseeing the country's 16 polytechs – have the potential to "fracture" nursing education in New ...
How much more nurses can earn in Australia than in New Zealand
The nurses have been pushing for 17 percent hikes, saying without them staff will head across the Tasman, now that the borders between New Zealand ...
Important Intake Of Internationally Qualified Nurses Arrives At NMIT
The nurses are only able to come in to the country as they enter under New Zealand's critical health workers border exemption. Dr Mary-Ann ...
Hawke's Bay DHB calls for volunteers following nurses strike announcement
The Hawke's Bay District Health Board is calling for volunteers following the New Zealand Nurses Organisation (NZNO) decision to strike.
Hospice nurses working to keep terminally ill patients in their own homes
Laurie Cole helped out at Taranaki Hospice for 20 years and now the Hospice nurses are helping him.
Christchurch neonatal intensive care unit under strain with baby surge
The unit has had to put on additional nurses to cover the higher occupancy rate, ... New Zealand College of Midwives chief executive Alison Eddy said ...
INTERNATIONAL NEWS
Invest in nurses to fight the pandemic, rebuild shattered health
Nurses around the world are in crisis, whether they are in the eye of the COVID-19 storm in India, the exhausted ranks of Britain's workforce, ...
Pandemic has made shortage of health care workers even worse, say experts
"Nurse shortages are a long-standing issue, but because of COVID, it is ... Ernest Grant, president of the American Nurses Association, told ABC News. "Nurses and other health workers are overworked and they are exhausted from ...
CANCER NEWS
Māori to be focus of lung cancer screening trial
Māori will be the focus of this country's first trial of screening for lung cancer. Read more
CHILDREN AND YOUNG PEOPLE
Half of children studied sleeping in bedrooms that are too cold, study says
A study of more than 2000 New Zealand children has found nearly half are sleeping in bedrooms that are too cold.
COVID-19 / CORONAVIRUS
Budget 2021: Covid-19 vaccine programme revealed to cost $1.4 billion
The Government has revealed that its Covid-19 vaccine programme will cost $1.4 billion, in a pre-Budget announcement by Minister for Covid-19 response Chris Hipkins.
How prepared for the vaccine rollout are the DHBs?
With the Covid-19 vaccine rollout about to go up a gear, data reporter Felippe Rodrigues looks at how ready DHBs around the country are with vaccinators for the huge task ahead.
Covid-19: Vaccine couriers to transport unused doses between sites based on demand when roll-out ramps up
When Covid-19 vaccinations ramp up towards the end of the year, drivers will be ferrying unused doses from one site to another
Patience required for people waiting on Covid vaccine
Rolling out the Covid vaccine to everyone is going to take some time, warn medical professionals, who are aware many are wondering when their time will come.
Covid-19: New Zealand 'highly vulnerable' to a large outbreak - experts
New Zealand is "highly vulnerable to a large outbreak" of Covid-19, experts warn, urging vigilance as the Australian travel bubble, more contagious variants of the virus and cold winter months pose threats.
DHBS
Waikato DHB confident it can restore computer system without paying ransom
Waikato District Health Board says it believes it can get its computer system back up and running without having to pay a ransom after cyber hackers got into the system on Tuesday.
Waikato DHB makes plans to catch up on elective surgery postponed due to cyber attack
Patients on elective surgery waiting lists in Waikato can expect more delays the longer a cyber attack on the region's public hospitals takes to resolve.
Hospital hack shows importance of staff training - Accenture
The ransomware attack at Waikato District Health Board shows why staff training is needed to identify and report suspect emails that can contain cyber threats.
EMERGENCY HEALTH CARE
Air ambulance funding sees faster response times
A funding boost for air ambulance services has slashed the response times overall by almost 30 per cent in just a few years, according to the Ministry of Health.
MAORI HEALTH
A new course from He Ako Hiringa aims to improve clinical outcomes for older Māori
New Zealand Doctor Online
Suitable for all clinicians, Medicines and older Māori is a free course that comprises four short videos, a self-reflection guide, downloadable posters, and other relevant links and resources.
PUBLIC HEALTH
Leading Rheumatic Fever Advocates Implore Government To Act On Promise To Establish National Register For Patient Care
Pū Manawa Aotearoa, a recently formed network of health practitioners, researchers, and non-government organisations, is calling on the Government for urgent action on rheumatic fever in New Zealand. This country stands out from most other high-income nations – where rheumatic fever and rheumatic heart disease are now largely eliminated – with health data proving disease levels remain stubbornly high.
TOBACCO, DRUGS AND ALCOHOL
Lack of understanding may hinder Smokefree 2025 goal - Otago study
A lack of understanding about the aims of New Zealand's Smokefree 2025 goal - 10 years after it was announced - could be an obstacle in making the target a reality, a recent University of Otago-led study shows.
WOMENS' HEALTH
Select Auckland clinics to offer HPV self-tests for Māori, Pasifika women from June
Māori and Pasifika Aucklanders will be able to self-test for human papillomavirus (HPV) at a select number of health clinics from June.
REPORTS AND NEW PUBLICATIONS
More Than Just a Jab: Evaluation of the Māori Influenza Vaccination Programme as part of the COVID-19 Māori Health Response
The More Than Just a Jab Māori Influenza Vaccination Programme (MIVP) evaluation was prepared for the Ministry of Health by Research Evaluation Consultancy Ltd to understand the impact of the MIVP on Māori influenza rates and equity. Read more
ONLINE JOURNALS
Issue 91
In this issue, we feature a paper highlighting the need for adequate resourcing to allow Māori providers to deliver effective healthcare in local communities.
ARTICLES OF INTEREST
Internationally trained nurses and host nurses' perceptions of safety culture, work-life-balance, burnout, and job demand during workplace integration: a cross-sectional study.
Roth, C., Berger, S., Krug, K. et al.
BMC Nurs 20, 77 (2021). https://doi.org/10.1186/s12912-021-00581-8
The shortage of qualified nurses is a problem of growing concern in many countries. Recruitment of internationally trained nurses has been used to address this shortage, but successful integration in the workplace is complex and resource intensive. For effective recruitment and retention, it is important to identify why nurses migrate and if their expectations are met to ensure their successful integration and promote a satisfying work climate for the entire nursing team. The aim of this study was to examine the perceptions of safety culture, work-life-balance, burnout and job demand of internationally trained nurses and associated host nurses in German hospitals.
The articles below are not freely available but may be accessed through databases and libraries to which readers have access
The role of doctoral‐educated nurses in the clinical setting: Findings from a scoping review.
Dobrowolska, B., Chruściel, P., Markiewicz, R. and Palese, A. (2021),
J Clin Nurs. https://doi.org/10.1111/jocn.15810
Aims and objectives
To map and summarise published studies on the career opportunities and roles of doctoral‐educated (PhD and DNP) nurses in the clinical setting; to collate actions as proposed in the literature to promote career opportunities and roles for PhD and DNP nurses in the clinical setting.
Background
To improve healthcare outcomes and strengthen leadership in nursing practice, there is the need to place nurses with a doctorate in clinical settings. However, available evidence has never been summarised to map the state of the science in this field.
The impact of intersectionality on nursing leadership, empowerment and culture: A case study exploring nurses and managers' perceptions in an acute care hospital in Aotearoa, New Zealand.
Aspinall, C., Jacobs, S. and Frey, R. (2021),
J Clin Nurs. https://doi.org/10.1111/jocn.15745
Aim
This study determines whether the culture within an acute care hospital empowers 'all' nurses to be leaders by exploring intersectionality and nursing leadership in the context of the social environment.
Background
Nurses practice leadership in their day‐to‐day activities as clinical leaders alongside traditional roles of management and leadership. However, some nurses do not acknowledge nursing work as leadership activity, nor is it seen so by others where hierarchical leadership approaches remain prevalent. Social constructs of gender and race are barriers to accessing formal leadership positions for some, while dominant power structures such as class diminish the value of bedside nursing work. Unexplored is the impact of the intersection of these and other social identities on nurses being leaders
The above information has been collated for the College of Nurses Aotearoa (NZ) Inc by Linda Stopforth, SNIPS and is provided on a weekly basis. It is current as of 25 May 2021
If you have any feedback about content - what parts are most useful or what you would like added - please email admin@nurse.org.nz
For more up to date news and information follow SNIPS at:
Facebook: Snips Info
Twitter: @SnipsInfo