News bulletin 16 June
on 16 June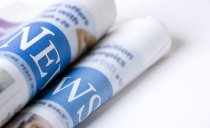 Welcome to the College of Nurses Aotearoa News Update.
No. 547, Wednesday 16 June 2021
Weekly news round-up of nursing and health information in New Zealand and internationally
NATIONAL NEWS
Fears for nurses safety over new Dunedin hospital parking plans
The Government had essentially conceded the point concerning Christchurch Hospital, for which 1000 new parks were being created, he said. New ...
Unreasonable restraint of patient in secure unit
Deputy Health and Disability Commissioner Rose Wall today released a report finding a nurse in breach of the Code of Health and Disability Services Consumers' Rights (the Code) for his care of a man residing in a secure facility.
Simmonds proposes bridging course for Southland nurse shortage
A bridging course has been proposed to help ease the shortage of aged residential care nurses in Southland.
Promises on nursing staffing hollow
There was much hullabaloo about the safer staffing accord signed by the district health boards and the New Zealand Nurses Organisation (NZNO) ...
Christchurch Hospital beds empty due to lack of nurses - doctor
Beds at Christchurch Hospital are sitting empty because there are not enough nurses to manage them.
High turnover of nurses in Wellington's emergency department worries union
Twenty of Wellington's emergency department nurses – a fifth of the team – have quit in the past three months, and seven nurses across the hospital have left for Australia in the past three weeks in search of better wages and conditions.
Nurses strike: 'I try to cry at home, I go to work afraid'
Jill Mortimer has nurses approach her in tears and, often, she just wants to cry with them.
Instead, she ducks off to the toilet where she weeps then pulls herself together to head back into the Whangārei Hospital's hectic emergency department.
Nurses' strike: Rotorua nurses 'worry' about potential mistakes due to short-staffing
A Rotorua nurse says nurses are terrified about mistakes in patient care due to short staffing and under-resourcing.
INTERNATIONAL NEWS
NHS trusts hiring non-nurses for nursing roles, union warns
NHS trusts are recruiting people without the right qualifications to act as registered nurses, despite the risk to patients, the Royal College of Nursing ...
Lifespan program to bring nurses into research
PROVIDENCE — The importance of nursing in health care has arguably never been greater than during the COVID-19 pandemic. Against that backdrop, Lifespan has launched a $1-million initiative that will bring nurses deeper into research that is aimed at improving the health of Rhode Islanders.
Philippines Bars Nurses From Working Abroad as Limit Is Reached
The Philippine government suspended the sending abroad of nurses, and their assistants and aides because the annual limit of 5,000 healthcare ...''
Filipino American nurses, reflecting on disproportionate Covid toll, look ahead
A paper published in the journal Gender, Work & Organization found that Filipino nurses are more likely than white nurses to work in wings like ...
Covid-denier and anti-vaxxer nurse struck off register by NMC
A nurse who denies the existence of Covid-19 and discourages people from getting vaccinated has been struck off the nursing register.
AGED CARE AND ELDERLY
Aged care nursing shortage in Southland 'a serious situation'
Southland aged care facilities are experiencing the worst nursing shortage in the country, forcing clinical care managers to pick up shifts, turn down residents, or have nurses work extra hours. Read more
COVID-19 / CORONAVIRUS
Canterbury Researchers Join Effort To Disinfect And Reuse PPE
Laboratory testing to find out whether masks and other protective gear used against Covid-19 can be safely disinfected and potentially reused is under way at the University of Canterbury (UC).
Covid-19 Vaccine Invitations To Be Issued To All Over 65s In Auckland Region This Week
Four new community vaccination centres announced today to support vaccine rollout
This blog post updates an earlier post on Long-COVID and reports that estimates of prevalence are still wide at about 15 to 65% of those initially infected with the pandemic virus, SARS-CoV-2. As things stand now across the world, we do not yet have systems in place to diagnose and manage the massive burden of the disease that is Long-COVID. An elimination strategy that includes, but is not limited to, widespread vaccination is not only crucial to reduce the acute case load and high mortality associated with infection with SARS-CoV-2 but is also key to minimising the damage that Long-COVID is otherwise certain to create for individuals, whanau, communities, and nations. This is a "long-read" post – and so readers short on time are welcome to jump to the Conclusions Section.
DENTAL CARE
Thousands of Kiwi children requiring general anaesthetic for rotten teeth removal
Clearance.
The word brings to mind everything-must-go sales. Or clear-felling land.
But in the world of dentistry "clearance" has a very different meaning. Read more
Watch: Children's dental care - Getting to the roots of a nationwide health problem
Why are children as young as two having all their teeth taken out? Frank Film gets to the roots of our national crisis in dental health. Read more
Backlog of nearly 2000 Auckland children waiting for urgent dental treatment
Auckland's public dental service has failed to clear a backlog of nearly 2000 children waiting for urgent dental treatment, many of them in pain.
DHBs
'Tired' and 'exhausted': Nurses in Blenheim say hospital is running on thin resources
When registered nurse Amanda Hessell, 27, moved from Auckland to Blenheim, she was surprised by how thinly resourced Wairau Hospital was.
Taupō Hospital asking for friends to volunteer at inpatient ward
Success breeds success.
The volunteer contribution at Taupō Hospital's emergency department has been so successful the hospital is hoping to expand the service to its inpatient ward.
Dangerous mould found in leaky mental health units
Black mould has been detected in four Auckland mental health units with weathertightness problems. The fungus could reach unsafe levels 'at any moment', the DHB has warned. Read more
Christchurch Hospital implosion: long delays, staff shortages, overcrowded wards
Christchurch Hospital is crumbling under pressure, with thousands of patients waiting longer than four months for appointments and surgeries, and exhausted nurses scrambling to care for dozens more sick babies than there are cots.
One month after cyber attack, 'very limited' internet connectivity at Waikato DHB
Four weeks after a cyber attack that stripped Waikato DHB of its IT systems, the internet remains all but off-limits.
EDUCATION
$1b health precinct envisioned
The University of Otago has revealed a more than $1billion vision for a health precinct it says offers a once-in-a-generation chance to reshape Dunedin's city centre.
MENTAL HEALTH
Karen Orsborn Appointed As Mental Health And Wellbeing Commission Chief Executive
The Chair of the Commission Board, Hayden Wano, has today announced the appointment of its new Tumu Whakarae-Chief Executive for the Mental Health and Wellbeing Commission.
Mental heath calls to Whanau Awhina Plunket 'already higher than total figure in 2020'
New figures reveal rise in parents seeking mental health support
Just five months into 2021, calls to WhÄnau Äwhina Plunket from parents seeking mental health support have already exceeded those received in all of 2020, which was already up 22% on 2019 levels.
Police mental health and addiction referrals soar in Counties Manukau
Police in South Auckland say they are under pressure dealing with ... College of Emergency Nurses NZ chairperson Sandy Richardson said the ...
New Zealand's first 'new wave' mental health unit
New Zealand's first 'new wave' mental health unit ... Tutagalevao, a former mental health nurse, says the team is still figuring out how to get the best ...
Mental health units should provide more than 'meds and beds'
Helen Garrick, chair of the mental health nurses section of the New Zealand ... Madeline Reid, who received care in an Auckland inpatient unit for ...
'Everyone is quite clear our system is broken'
New guidelines from the World Health Organization calling for an end to compulsory and "coercive" treatment for mental illness should be a wake-up call for New Zealand, mental health experts say.
PRIMARY HEALTH CARE
New training to combat issues with painful IUD fittings
"New Zealand needs more GPs, doctors and nurses to be trained in inserting IUDs. Ibuprofen is recommended to reduce the pain and discomfort of ...
PUBLIC HEALTH
'Extraordinary' lack of seasonal flu in New Zealand, ESR virologist says
Every year the seasonal flu arrives, often just in time for winter. But right now, influenza doesn't appear to be circulating in the community.
WORKPLACE
COVID-19: Dealing with misleading or false vaccine information in your workplace
Getting vaccinated is a personal choice, but if you want to support your employees to make informed decisions, make sure they know where to find the facts.
ARTICLES OF INTEREST
'Culture of fear' in NZ health system
Two-thirds of nurses surveyed have witnessed unsafe nursing practice by their peers, new research suggests – double the rate of some international findings.
The article below is not freely available but may be accessed through databases and libraries to which readers have access
Australian nurses' suggestions for the management of violence in the workplace: 'The people who make the policy are not the people on the floor'.
Dafny, H.A. and Muller, A. (2021),
Journal of Nursing Management. Accepted Author Manuscript. https://doi.org/10.1111/jonm.13378
Aim(s)
To ascertain nurses' perceptions about, and suggestions for, management solutions to workplace violence perpetrated by patients.
Background
Violence towards nurses from patients in the workplace is high in Australia. There is a need for good management responses, and experienced nurses can provide logistical suggestions about effective strategies.
The above information has been collated for the College of Nurses Aotearoa (NZ) Inc by Linda Stopforth, SNIPS and is provided on a weekly basis. It is current as of 15 June 2021
If you have any feedback about content - what parts are most useful or what you would like added - please email admin@nurse.org.nz
For more up to date news and information follow SNIPS at:
Facebook: Snips Info
Twitter: @SnipsInfo