News bulletin 21 December 2011
on 21 December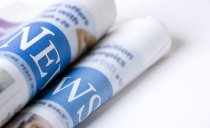 Welcome to the College of Nurses – News Update No. 85
–  21 December 2011 

From NZ media this week

 Balancing act for nursing resources
An initiative at Northland District Health Board to better allocate nursing resource across the hospital most requiring their skills is set to increase job satisfaction for local nursing staff who say the job is "too exhausting".
http://bit.ly/tU9f8U 
 Retiring nurse sees changes in caring
Ruth Porteous has said goodbye to a long, yet rewarding, nursing career in DunedinThe 63-year-old started her nursing training at Dunedin Hospital in 1965.
http://www.odt.co.nz/news/dunedin/191227/retiring-nurse-sees-changes-caring
Dismissed nurse contests ERA ruling

An experienced Christchurch mental-health nurse who slapped a patient's cheek after she spat in his face wants his job back.
http://www.stuff.co.nz/the-press/news/6154284/Dismissed-nurse-contests-ERA-ruling

Nurses group seeks change
A group of community nurses say they are not adequately represented at the Southern District Health Board, and are pushing for change.
http://www.odt.co.nz/news/dunedin/191241/nurses-group-seeks-change
Drink-driving nurse off road

A mental health nurse who was two times over the the legal alcohol limit when he crashed his car through a fence and into a tree has lost his licence for six months.

http://www.northernadvocate.co.nz/news/drink-driving-nurse-off-road/1212326/

Nurses welcome Housing Affordability report
The New Zealand Nurses Organisation supports the findings of the Productivity Commission's Housing Affordability report that was released today. The report concludes that home ownership is now beyond the reach of increasing numbers of New Zealanders. The report says that more new and affordable houses must be built.
http://bit.ly/s8QFph 

Nurses aided by 4WD club
The Nelson 4 Wheel Drive Club has been helping get nurses out to patients and health staff in to the hospital due to access difficulties around the region.
http://www.stuff.co.nz/nelson-mail/news/6156198/Nurses-aided-by-4WD-club 

Plan for doctors to share medical records
The privacy commissioner is backing a $38 million plan in which patient information would be shared between every clinician in the lower North Island.
http://bit.ly/ux7xv4 

More than 800 health workers quit in year
More than 800 Christchurch health workers have resigned this year, a survey shows.
http://bit.ly/ruNtoT 

DHB blames staff for failure to meet target
A failure by bosses at Waikato Hospital to cut emergency department waiting times, jeopardising millions of dollars of Government funding, has been blamed on a lack of staff cohesion.
http://www.nzherald.co.nz/nz/news/article.cfm?c_id=1&objectid=10773501 

Plunket to spend $12m on bringing records into digital era
New system required to manage records of 100,000 children and their families
http://bit.ly/tSA8w0 

International media 

Survey finds progress, challenges in RN safety
Patient lifting equipment and needles with safety devices are more prevalent today than 10 years ago in healthcare facilities, contributing to a safer overall work environment for RNs, according to a new survey by the American Nurses Association.
http://news.nurse.com/article/20111215/NATIONAL02/112190010/1003 

NSWNA: Returning Nurses Face "Indirect Discrimination"
New South Wales (NSW) nurses who have left the profession to raise families are facing difficulty in returning. NSW Nurses' Association (NSWNA) general secretary Brett Holmes blamed the introduction of new standards under national registration, specifically recency of practice, pushing to the margins returning nurses who had left five to 10 years ago.
http://bit.ly/uyr3Ar 

Major report calls for better nurse training in dementia care
A "significant improvement" is needed in the way hospitals deliver care to people with dementia, according to a major national report
http://mail.nursingtimes.net/a/hBO6z$mB7gYBnB8VhXWNshWWRz3/new1 

NHS expected to have 50 'branch' chief nurses
There will be around 50 regional senior nurses running branches of the new NHS Commissioning Board, Nursing Times understands.
http://www.nursingtimes.net/5039055.article?referrer=e26 

Good Health Depends on More Than Great Doctors and Fine Hospitals
Better health requires improved education, more access to nutritious food and greater economic opportunities, new county rankings show
http://bit.ly/sNWrFq 

New 'productive' tool launched to help practice nurses streamline care
Practice nurses are being urged to take control of improving efficiency in their work environment, under the latest programme in the "productive" series.
http://www.nursingtimes.net/5039338.article?referrer=e1 

Poverty and poor health: a correlation?
What exactly is poverty?It has been defined by the United Nation as:"lack of income and productive resources to ensure sustainable livelihoods; hunger and malnutrition; ill health; limited access to education and basic services; increased morbidity and mortality from illness, homelessness and inadequate housing; unsafe environment and social discrimination and exclusion".
http://www.nursingtimes.net/5039148.article?referrer=e26

Community nurses need to convince GPs of case management value
Community matrons and other nurses working in case management need to target their services better in order to improve outcomes and persuade GPs of their worth, according to a report.
http://www.nursingtimes.net/5038745.article?referrer=e1 

Minister unmoved by nurses' action
Tasmania's health minister has told the nurses union today's planned industrial action will make no difference to her health cuts policy.
http://bit.ly/soVlgm 

Public health news

Workplaces asked to help fight diseases
Employers are being enlisted to help fight two disease outbreaks.
http://bit.ly/udfgI0 

Review of breast screening programme
A series of resignations at the Ministry of Health has sparked an independent review of the national breast cancer screening programme.
http://bit.ly/rB1mQs 

Injury and death lurk at home
Home is meant to be a haven – yet 60 working-age people die every year from poisoning, falls, burns and other accidental household injuries, research shows.
http://www.stuff.co.nz/national/health/6148517/Injury-and-death-lurk-at-home 

New Zealand's obesity rates climb
New Zealanders are not getting slimmer, with 63 per cent now overweight or obese
http://www.nzherald.co.nz/nz/news/article.cfm?c_id=1&objectid=10773892 

Online resources 

A Process for Rapid Learning: Sharing Experience When Things Go Wrong in Out of Hours Services.
Retford, Notts, UK: NHS Alliance; 2011.
This publication discusses an initiative to monitor errors and near misses in after-hours care in the United Kingdom and reviews lessons learned during its first year of implementation
http://bit.ly/tyXo9S 

Medications at Transitions and Clinical Handoffs (MATCH) Toolkit for Medication Reconciliation.
Gleason KM, Brake H, Agramonte V, Perfetti C. Rockville, MD: Agency for Healthcare Research and Quality; December 2011. AHRQ Publication No. 11(12)-0059.
This toolkit, based on lessons learned from facilities that have implemented the Medications at Transitions and Clinical Handoffs (MATCH) initiative, provides strategies to implement and improve medication
http://www.ahrq.gov/qual/match/match.pdf  

Articles of interest 
The nurse administrator on the ethics committee: A collaborative approach
Nursing Management: December 2011 - Volume 42 - Issue 12 - p 52–54We all know that nurse administrators should be helping to promote core ethical principles in nursing practice. After all, the American Nurses Association (ANA) Code of Ethics for Nurses places ethical concerns right at the center of nursing practice throughout its nine provisions
http://bit.ly/sU1Ffy
Grade 1 Pressure Ulcers: We Only See What We Know

Advances in Skin & Wound Care: December 2011 - Volume 24 - Issue 12 - p 544The long-held clinical beliefs about grade 1 PrUs have been the source of review, criticism, and discourse for more than a generation. For many of us who have been taught that PrUs follow a certain trajectory, which can be visualized and furthermore be graded, the article by Sibbald et al gives us a powerful reason to think about how we formulate our clinical beliefs.
http://bit.ly/tweaYB
Reports online
Mātiro Whakamua:
Looking over the horizon

In the report Whānau Yesterday, Today, Tomorrow Colleen Tuuta wrote a chapter based on interviews with a stunning group of Māori leaders. The chapter identified themes that were woven through the interviews, and discussed these. Whānau Yesterday, Today, Tomorrow also included a number of detailed case studies which meant that it was not possible to include fuller explorations of the women's kōrero.
The women interviewed were: Ngaropi Cameron; Naida Glavish; Barbara Greer; Areta Koopu; Dame Dr Katerina Mataira; Moe Milne; Dr Rangimarie Rose Pere; Mereana Pitman; Dr Papaarangi Reid; Dr Khyla Russell; Dame Dr Iritana Tāwhiwhirangi.
This report is part of the suite of work produced by the Families Commission to resource the Whänau Strategic Framework 2009–2012.

http://bit.ly/rC4A1c
The above information has been collated for the College of Nurses Aotearoa (NZ) Inc by Linda Stopforth, SNIPS and is provided on a weekly basis.
It is current as at Tuesday 21 December 2011 
If you have any feedback about content - what parts are most useful or what you would like added - please email
admin@nurse.org.nz
Facebook:
Snips Info
 
t
witter:
@SnipsInfo