News bulletin 4 August
on 4 August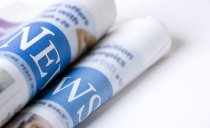 Welcome to the College of Nurses Aotearoa News Update.
No. 554, Wednesday 4 August 2021
Weekly news round-up of nursing and health information in New Zealand and internationally
NATIONAL NEWS
Wintec Health Services now home to two registered nurse prescribers
As a nurse-led practice, Wintec Health Services nurses triage all patients, provide comprehensive health assessments and often provide medicines ...
Emergency care improvements relieve Palmerston North Hospital stress
Palmerston North Hospital's Emergency Department nurses have lifted their threat to take their worries about the overworked department to WorkSafe.
Nurse practitioner Lucy McLaren [centre] says the work of a nurse can get taken for granted, but mainly because of people's lack of knowledge about the role.
Nurses reject government's latest pay offer, strikes back on the table
Nurses have rejected the latest offer with the DHBs, with strikes planned for August and September now back on the table.
DHBs Surprised By Nurses 'No' Vote
District Health Boards say the New Zealand Nurses Organisation and its members have turned their backs on a settlement package of safe staffing and patient initiatives plus pay rises worth more than $400 million.
Health Minister Andrew Little responding to the New Zealand Nurses Organisation's rejection of the ...
I was advised last night that the result of the ballot of Tōpūtanga Tapuhi Kaitiaki o Aotearoa New Zealand Nurses Organisation members have rejected ...
Health Minister Behaves Badly Towards Nurses
Arguably Minister of Health Andrew Little is the MP in the New Zealand Parliament with the greatest experience and knowledge of collective ...
New Zealand Nurses Organisation issues strike notice as safety negotiations break down
(Video first published June 2021). Nurses will stop working for eight hours next month as negotiations to improve patient safety in hospitals breaks down.
Nursing union, DHBs at odds over impact of Employment Court action
The nurses union says the district health boards' decision to take them to court over planned strike action is a tactic in a high-stress situation that won't help the relationship.
Nurse fears 'tragedy' will happen due to understaffing
Nurses are coming to work scared and vulnerable, fearing something bad will happen to their patients because of dire staff shortages, a Christchurch Hospital nurse says.
Nurses want 'concrete progress' on safe staffing - union
The gaps are greater and stress is higher," the New Zealand Nurses Organisation (NZNO) manager of industrial services Glenda Alexander said.
Fed-up Christchurch ED nurses issue notice to their bosses
Christchurch emergency department (ED) nurses have joined their ... leaked to 1 NEWS revealed the notice and show the depth of the crisis in nursing. ... they will end up dying," New Zealand Nurses' Organisation (NZNO) industry ...
Health boards resisting penalty payments for nurses in under-staffed wards, union says
The New Zealand Nursing Organisation (NZNO) had agreed not to proceed ... Amid the rejection of the pay offer, emergency department nurses at ...
The Southern District Health Board is placing patients at risk of harm due to a shortage of nurses on its wards.
Board apologises to man who suffered after surgery
Nursing shortages were responsible for substandard care which left him in pain and with a post-operative infection, Dunedin man Stephen Watt says.
Southland nurse: We need more staff and hospital beds
The first thing Lucy Prinsloo thinks of when she wakes up in the morning is whether she'll have enough beds to care for all her patients that day. Read more
Independent review says SDHB needs to be more accountable
Consultant Jane Lawless' chief recommendation is that the board stop staffing shifts with fewer nurses that the programme predicts it will need – a ...
ED staff take legal action on work conditions
Fears patients could die waiting for treatment in Dunedin Hospital's beleaguered emergency department have prompted staff to take legal action demanding urgent improvement.
Staff feeling unsafe at mental health emergency department leaving in droves
Staff working in the mental health emergency team in Christchurch are leaving in droves, with some saying it's because they do not feel safe there.
Wellington emergency department posing 'significant risk to patient safety', doctors warn
"Better pay will make nursing more attractive, but it is not clear how the DHBs will be held accountable if they do not provide safe staffing. Nurses don't ...
Critics slam latest Healthcare New Zealand restructure
The restructure meant nurses would have to do less administration, and clients would have the security of being seen more regularly by a clinical ...
INTERNATIONAL NEWS
Scots warning as one in five respiratory nurses experience anxiety and depression
The research published in the British Medial Journal concluded: "Support for staff is essential both throughout the pandemic and afterwards, and it is ...
Future of Nursing Report Calls for Greater Health Equity, Diversity
2020 was one of the most challenging years for nurses in generations.
The COVID-19 pandemic exposed serious inequities in the nation's healthcare system, with front-line healthcare workers often lacking the necessary PPE and other equipment to safely and effectively do their jobs. And the social justice movement that followed the death of George Floyd shined a spotlight on the structural racism that still exists in the workplace and society at large.
Nurse practitioners excluded from contributing to COVID-19 vaccination rollout
Despite pushing to contribute to Australia's COVID-19 vaccination rollout, nurse practitioners, the country's most experienced nurses, say they continue to be excluded.
As at the end of last year, there were more than 42,000 nurses registered with ... And as at 2019, there were about 5,500 nurses not in active practice. ... the challenges of nursing in Singapore, published in the Asia-Pacific Journal of ...
Unemployed Kenyan nurses given chance to work in the UK under new Kenya-UK health ...
Unemployed nurses and health workers from Kenya will have the chance to work in the UK as part of a new scheme requested by the Government of ...
AGED CARE AND ELDERLY
Recruitment for Aged Care Commissioner to start - Ayesha Verrall
Recruitment for an Aged Care Commissioner will start next month, to ensure greater oversight of New Zealand's aged care sector.
"This sector is responsible for supporting a large and often vulnerable population. While most people are able to access quality care, there have been cases where that care has fallen short, and this is an opportunity to identify areas for improvement," said Minister for Seniors and Associate Minister of Health Dr Ayesha Verrall.
Retirement village slammed for not providing better care to resident after fatal fall
Three nurses at a retirement village have been slammed for the poor care given to a man who died from a brain bleed after he fell and hit his head ...
CANCER NEWS
The cancer lottery: Too many DHBs taking too long to treat urgent cases
Fast cancer diagnosis and treatment can be the difference between life and death. But since 2018 the national average for treating the most urgent suspected cases within two months has dipped below 90 per cent, after it was axed as a health target. Will the latest health reforms solve the problem? Bridie Witton reports. Read more
Government's bowel cancer programme the 'budget version' says Bowel Cancer New Zealand
The nation-wide screening programme has picked up more than 1000 people with bowel cancer in the past four years, but Bowel Cancer New Zealand says thousands more will have been missed because of its narrow age range. Read more
Woman with terminal cancer waited 30 hours for hospital bed in Wellington, doctor claims
Sometimes one nurse could be left to triage more than 40 people, the doctor said. Wellington Regional Hospital's ED has been close to full capacity for ...
Papatūānuku-inspired breast screening unit launches in Tāmaki
Access to breast screening has been boosted for wāhine living in the Auckland and Waitemata district health boards' regions. Read more
CHILDREN AND YOUNG PEOPLE
University of Auckland leads international study researching early childhood brain development
An International consortium led by Professor Sir Peter Gluckman of the University of Auckland has been awarded a multi-million-dollar, multi-year contract as part of a program aimed at providing major breakthroughs to predict critical aspects of children's brain development. Read more
COVID-19 / CORONAVIRUS
Seven Strategies Essential For Handling A Pandemic
International researchers have conducted a review of the published scientific evidence on early infection control, and identified seven strategies that they say are essential for stopping not just COVID-19, but any future pandemic.
Covid-19: How would Aotearoa cope with a Delta outbreak?
New Zealand has so far escaped an outbreak of the Covid-19 Delta variant. But as it takes off across the Tasman, can our luck hold? And are we ready if it does strike? Rachel Thomas investigates
Concern mass vaccination event a no-go for vulnerable people
There are concerns the country's first ever mass vaccination event did not attract vulnerable and vaccine-hesitant groups.
Covid-19: Delta variant appears to be as transmissible as chickenpox - CDC internal report
The delta variant of the coronavirus appears to cause more severe illness than earlier variants and spreads as easily as chickenpox, according to an internal federal health document that argues officials must "acknowledge the war has changed".
Emphasize personal health benefits of COVID-19 vaccination, experts say
Several forms of public messages can increase vaccination intentions, but messaging that emphasizes personal health benefits has the largest impact.
DHBs
Waikato DHB ends contract with independent complaints service after three decades
A free and confidential service which has supported people with a complaint about health providers for more than 30 years has ended in the Waikato after the district health board cut funding.
DISABILITIES
Failings in MoH stewardship of High and Complex Framework - Chief Ombudsman
The Ministry of Health needs to urgently improve its oversight of services for people with an intellectual disability and high and complex needs, says Chief Ombudsman Peter Boshier.
END OF LIFE CARE
Statutory body established for New Zealand's assisted dying service
Implementation of the End of Life Choice Act 2019 (the Act) is well under way, in preparation for when assisted dying becomes legally available in New Zealand from 7 November this year.
MAORI HEALTH
Research looks into Māori diabetes and cancer links
Māori are twice as likely to develop cancer as non-Māori. Data also shows Māori adults were about 1.5 times as likely as non-Māori adults to have been diagnosed with diabetes after the age of 25 in 2013/14; that is, the self-reported prevalence of type 2 diabetes for Māori was about 50% higher than that for non-Māori.
MENTAL HEALTH
Māori mental health service to roll out in Rotorua and Taupō
A new kaupapa Māori primary mental health and addiction service is set to roll out across Rotorua and Taupō.
Poutama Ora would be the first point of contact for people experiencing mild to moderate mental distress or addiction issues.
PASIFIKA HEALTH
Pasifika Researchers Collaborate In First Cross-sectoral Pacific Child Wellbeing Study
The team of experienced researchers from various disciplines and institutions throughout New Zealand, include Dr Rae Si'ilata, Director of Va'atele Read more
PUBLIC HEALTH
Government's hepatitis C plan aims to eliminate virus by 2030
More free syringes for drug users and a registry is part of a $2.2 million plan to eliminate hepatitis C by 2030, the Government has announced.
RURAL HEALTH
Plea for more government funds to push health careers to rural teenagers
The Rural General Practice Network is calling on the government to continue funding a programme promoting health careers to rural high school pupils.
SEXUAL HEALTH / SEXUALITY
New Research Shows Providing Contraception Is More Complex Today Than It Was A Decade Ago
Te Whāriki Takapou and Family Planning New Zealand welcome new research exploring how contraceptive provision has changed among Family Planning clients over the past decade. Family Planning employees and the Chief Executive of Te Whāriki Takapou are among the authors of the research.
REPORTS AND NEW PUBLICATIONS
Well Child Tamariki Ora Review Report
Well Child Tamariki Ora (WCTO) is New Zealand's key programme for supporting the health, development and wellbeing of tamariki from birth to five years.
In 2019, the Ministry began a process to review the Well Child Tamariki Ora programme to ensure it was delivering the best possible outcomes it could for all tamariki and their whānau. The review was commissioned as part of the health and disability sector's response to the Government's 2019 Child and Youth Wellbeing Strategy and sought to analyse the programme's sustainability and equity.
The review was informed by sector engagement hui; provider interviews; online surveys; consumer insight reviews; rapid evidence reviews; analysis of success and outcomes data; reviews of local and international research; and reviews of key policy settings.
This review report identifies that changes are needed to the design, delivery and resourcing of WCTO to achieve equity and to fully support tamariki and whānau who are Māori, Pacific, living with disabilities, in state care, and/or have high needs.
ARTICLES OF INTEREST
Accessing primary healthcare during COVID-19: health messaging during lockdown,
Denise Blake, Jessica Thompson, Kerry Chamberlain & Kathryn McGuigan (2021)
Kōtuitui: New Zealand Journal of Social Sciences Online, DOI: 10.1080/1177083X.2021.1950780
Accessing healthcare during a disaster matters for the well-being of people and communities. This article explores healthcare messaging about General Practitioner (GP) services for non-COVID-19 health concerns during the Level 4 lockdown in Te Papaioea (Palmerston North), Aotearoa New Zealand. Messaging from Government, media and local GP clinics were analysed to understand how people were advised to seek care for non-COVID-19 health concerns. We found inconsistencies in these communications, ranging from messages to not attend healthcare services because of possible COVID-19 surges, to messages with vague, or lack of, information. Government messages did include advice for seeking general healthcare, but this was largely rendered invisible due to the focus on 'staying home, saving lives'. Media messaging was similarly influenced by these Government directives. Few GP clinics had websites, and few provided information about accessing general healthcare services. Clinics also lacked up-to-date telephone messages about seeking healthcare for non-COVID-19 symptoms and illnesses. All three sources neglected the cultural, social and contextual diversity of the local audience. We recommend that communication during disasters should be clear, concise and consistent. Further, GPs should be supported to have websites and telecommunication platforms. All communications should be inclusive and aim to reach diverse audiences.
PROFESSIONAL DEVELOPMENT
Indigenous Nurses Aotearoa Conference 2021 draws significant speakers
This year Te Rūnanga o Tōpūtanga Tapuhi Kaitiaki o Aotearoa are hosting their first Indigenous Nurses Aotearoa Conference (INAC) in person since 2019. It is being held at Te Papa Tongarewa on 13 and 14 August.
The above information has been collated for the College of Nurses Aotearoa (NZ) Inc by Linda Stopforth, SNIPS and is provided on a weekly basis. It is current as of 3 August 2021
If you have any feedback about content - what parts are most useful or what you would like added - please email admin@nurse.org.nz
For more up to date news and information follow SNIPS at:
Facebook: Snips Info
Twitter: @SnipsInfo