News bulletin 15 September
on 15 September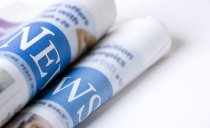 Welcome to the College of Nurses Aotearoa News Update.
No. 560, Wednesday 15 September 2021
Weekly news round-up of nursing and health information in New Zealand and internationally
NATIONAL NEWS
Pandemic draws nurse back | Otago Daily Times Online News
After nearly 20 years, Anna Perkins was nervous about returning to nursing.
But last year's Covid-19 outbreak solidified her desire to retrain, and give back.
EIT Trailblazing in COVID-19 vaccination response | Voxy.co.nz
EIT's School of Nursing is playing a role at the frontline of the COVID-19 response after becoming one of the first tertiary providers in the ...
Health board misses safe staffing deadline | Otago Daily Times Online News
The Southern District Health Board, like 14 other DHBs, has failed to meet the deadline to implement safe staffing requirements.
Nurses elect president who resigned in protest | RNZ News
A board member who resigned in protest has been elected as the new leader of the Nurses' Organisation. No caption. Photo: 123RF.
Chance encounter: A clinical nurse specialist and the patient that changed his life | Stuff.co.nz
How efficient is New Zealand's emergency rural health service? ***. Carol* has lived and worked in Dunedin her whole life. She started nursing at just ...
Nurses forced to deal with unmasked visitors alone | RNZ News
Nurses at Auckland City Hospital are having to police visitors who are breaking bubble rules and not wearing their masks around the wards when ...
Nurses take Auckland DHB to task over visitor policy - NZ Herald
The New Zealand Nurses Organisation (NZNO) is taking health authorities to task for what it calls a "free for all" visitor policy at Auckland ...
Covid-19: Employment Relations Authority orders urgent mediation between nurses' union ...
The New Zealand Nurses Organisation (NZNO) has complained to the Employment Relations Authority about Auckland District Health Board's (ADHB) ...
Auckland DHB changes visitor policy after nurses' union takes legal action
Auckland District Health Board has revised its "relaxed" visitor policy after a nurses' union took legal action against it over concerns for staff safety.
INTERNATIONAL NEWS
Covid-19 vaccines now compulsory for 100 million Americans | Stuff.co.nz
US Army Captain Corrine Brown, a critical care nurse, administers an anti-viral medication to a Covid-19 positive patient at Kootenai Health ...
Most nurses are vaccinated – so why do people think health workers - The Guardian
Many registered nurses see vaccination as their 'moral responsibility' and want everyone else to get theirs too
As Covid Cases Rise, So Do Hospital-Related Infections
A decade of work helped limit the spread of dangerous pathogens in medical settings. Overcrowding from Covid care is allowing infections to rise again.
Nursing: a profession under "enormous stress"
Nursing, already under pressure, is reaching breaking point due to the pressures of COVID-19 and a disjointed healthcare system, including the acute, primary and aged care sectors. We must act now to protect our nurses and healthcare; the time has come for a national reckoning on nursing in Australia.
Emoji are proposed as a powerful way for patients and doctors to communicate
Emoji could particularly enhance interaction with young children, people with disabilities, and patients who speak other languages, a physician and others argue in a new commentary. The opportunity exists for medical societies and physician committees to proactively shape emoji that best represent their fields, then work with the standards-setting body for emoji to get them approved and put into practice.
Statue celebrating the NHS's Windrush nurses unveiled in London | NHS | The Guardian
A statue commemorating the 40,000 Windrush and Commonwealth midwives and nurses who have answered the call to work for the NHS has been unveiled ...
AGED CARE AND ELDERLY
Covid 19 coronavirus Delta outbreak: New Zealand losing migrant rest home staff to Canada ...
Of an estimated 1000 nursing roles to fill across the country, more than 350 positions have been offered to migrant nurses who are stuck ...
CHILDREN AND YOUNG PEOPLE
Oranga Tamariki admits children sometimes kept in hospital longer than needed
Oranga Tamariki has admitted that it sometimes asks District Health Boards to keep children at hospitals longer than they are clinically required while they try to find them a suitable placement. Read more
Can a 12-year-old give consent for the Covid-19 vaccine?
Everyone in New Zealand is entitled to the highest attainable standard of health as a human right. This includes access to vaccination.
People as young as 12 are eligible for the Pfizer vaccine both here and overseas, with trials underway to ensure its safety for even younger children. Read more
CLIMATE CHANGE
Changing weather heightens risk of stroke - AUT
Global warming not only produces hotter summers and extreme weather events but also colder winters, especially in more temperate zones. These changes affect human physiology and have the potential to acutely influence the occurrence of cardiovascular diseases such as stroke.
Over 200 health journals call on world leaders to address 'catastrophic harm to health' from climate change
Over 200 health journals across the world have come together to simultaneously publish an editorial calling on world leaders to take emergency action to limit global temperature increases, halt the destruction of nature, and protect health.
COVID-19 / CORONAVIRUS
Doctors must be vaccinated for patient safety – NZMA - Community Scoop
Press Release – New Zealand Medical Association. No doctor should be involved in patient care unless they are vaccinated against COVID-19.
Unions united in call for mandatory Covid-19 tests for all hospital patients in Auckland
Unions representing the country's doctors and nurses are calling for patients entering Auckland hospitals to be tested for Covid-19.
Rates of Maori and Pasifika vaccination improving, but still more to be done - ProCare
The percentage of Maori and Pasifika who have received a first does of the Pfizer COVID-19 vaccination has increased significantly over the last few weeks, but there is still more to do to reach vaccination equity according to ProCare, New Zealand's largest network of primary healthcare professionals.
Covid-19: Mr Whippy-style vaccination bus to roll in Auckland
Mobile vaccination buses, in the style of beloved Mr Whippy ice-cream vans, will be used to deliver Covid-19 jabs to people who haven't been able to access them, the prime minister has announced.
We know how to boost vaccine rates, just give us the resources, Māori health providers say
The government has been heavily criticised for low vaccination rates amongst Māori, considered a vulnerable group to the health impacts of Covid-19. Prior to the current outbreak, Māori health experts and providers warned the government to prioritise Māori but were ignored. Pou Tiaki reporter Maxine Jacobs investigates.
Travellers to New Zealand 'a serious threat' to another Delta outbreak
Scientists have shot down calls from New Zealanders overseas who want fewer border restrictions, warning such action right now would risk another Delta outbreak.
Workplace Covid-19 vaccination roll-out cops flak for being too slow and favouring larger workplaces
The workplace vaccination roll-out is under fire for being too little, too late, and there are calls to improve the service before booster shots are needed.
Covid-19: Businesses advertising a fully vaccinated workforce to attract customers will need staff consent to publicise their jab status
Businesses keen to advertise that all staff members are fully vaccinated will have to be careful not to breach privacy rules.
Vaccines are a legal minefield for employers
OPINION: Air New Zealand became the first mover on company vaccine mandates last week as it proposed a plan to make the Covid-19 jab compulsory for roughly 4000 staff. In taking the decision, the airline starts a difficult conversation for employers across the country.
Covid-19: How hospitals care for coronavirus patients in negative pressure isolation rooms ...
Covid-19: Auckland district health boards request ICU staff from other ... care for four patients, ICU nurses care for just one patient each.
CULTURAL SAFETY
Guidelines for Caring for Muslim Women Who Wear a Hijab
Physicians at several medical universities and hospitals in Michigan published recommendations in the British Journal of Dermatology for dermatologists caring for Muslim women who wear a hijab, a head-covering that leaves only the face exposed. By educating dermatologists, the study authors aimed to remove cultural barriers that may impede quality healthcare for Muslim women.
DHBs
'We're doing the best we can': Middlemore exec on 'demanding' and 'difficult' period
The hospital serving south Auckland has been in headlines of late after a string of patients walked through the front doors not knowing they had Covid-19, leading to what has been a "demanding" and "difficult" time, a hospital executive says.
MAORI HEALTH
Rongoā: The traditional Māori healing system growing in popularity
It didn't just help Anaru Hodges get over a sore back from gardening, it helped get his whole physical body and mind in shape.
That was the effect of rongoā, the traditional healing system of Māori that encompasses herbal remedies, physical therapies and spiritual healing.
MIDWIFERY / MATERNITY
SDHB takes steps to avoid a 'collapse' of southern maternity units | Stuff.co.nz
A midwifery outreach service has been set up in Dunedin, where there are a low number of LMCs and Registered Nurses will be recruited to support ...
RESPIRATORY
New respiratory disease report 'highlights back-to-school asthma risk and inequity' for Pasifika and Maori
A new report on New Zealand's respiratory health shows that huge inequity persists in terms of asthma and other respiratory disease. 'The Impact of Respiratory Disease in New Zealand: 2020 update', commissioned by the Asthma and Respiratory Foundation (ARFNZ) and authored by Dr Lucy Telfar-Barnard and Jane Zhang, finds: Read more
ARTICLES OF INTEREST
Usability and value of a digital learning resource in nursing education across European countries: a cross-sectional exploration.
Urstad, K.H., Navarro-Illana, E., Oftedal, B. et al.
BMC Nurs 20, 161 (2021). https://doi.org/10.1186/s12912-021-00681-5
Higher education is responsible for providing education that meets international benchmarks relevant to the needs of the international community. Due to the increase of digital tools in higher education, the possibility of sharing learning resources across nations has expanded. In the current project, a Norwegian university invited universities in Spain and the United Kingdom to adapt and translate e-learning resources originally developed for Norwegian nursing students for use within their respective Bachelor in Nursing programmes.
The above information has been collated for the College of Nurses Aotearoa (NZ) Inc by Linda Stopforth, SNIPS and is provided on a weekly basis. It is current as of 14 September 2021
If you have any feedback about content - what parts are most useful or what you would like added - please email admin@nurse.org.nz
For more up to date news and information follow SNIPS at:
Facebook: Snips Info
Twitter: @SnipsInfo