News bulletin 25 January 2012
on 25 January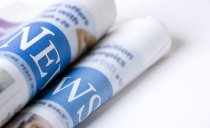 Welcome to the College of Nurses – News Update.
No. 89 –  25 January 2012
From NZ media this week


Help on way for obese children
Obesity has a new enemy in Taranaki.
The Taranaki District Health Board and Sport Taranaki have combined to create a pilot programme to combat the more than 2000 overweight children in the province.
http://bit.ly/xnsTf2
CYF shuts down trust's free lunches for pupils
A Maori trust that has been feeding hungry children for four years has been forced to stop by Government bureaucrats, because the lunches were not part of its contract.
http://www.nzherald.co.nz/nz/news/article.cfm?c_id=1&objectid=10780696
Changes to Government health targets
The Government's six national health targets are being updated in the key preventive health areas of immunisation and cardiovascular disease (CVD), and for cancer patients receiving chemotherapy.
http://www.beehive.govt.nz/release/changes-government-health-targets
Emphasis on health targets flawed
The new health targets announced today will assist in controlling chronic and preventable diseases, but the Government needs to broaden its focus.
http://bit.ly/xQEENc
Meningococcal vaccine campaign breakthrough
international research that drew on New Zealand's ground-breaking meningococcal B vaccine campaign is being hailed as a possible breakthrough in the fight against the deadly disease.
http://bit.ly/AEnYRT
International media

Nursing still a growing field (USA)
But big changes are coming soon in Florida hospitals
http://bit.ly/zsPdjE
Aussie cancer patients to get health care online (Aus)
A new telehealth program will enable cancer patients to regularly consult their doctor even if they are hundreds of kilometres away.
http://bit.ly/wofpKu
Nurse-led MS services are a 'win-win', MPs told
Neurology experts have praised a nurse-led multiple sclerosis service to an influential MPs committee, and called for stronger clinical leadership in the Department of Health.
http://www.nursingtimes.net/5040441.article?referrer=e1
Nurse Retention Survey: Various Factors Influence Three Age Groups
A large-scale study published January 2012 in the Journal of Advanced Nursing has shown that nurses of different ages deem various work factors as an important basis for staying in the profession, a finding that organisations can build upon to attract workforce for the long term.
http://bit.ly/yDrzkx
Most Nurses in Primary Health Care Enjoy the Work
Despite the fact that most primary healthcare nurses find the profession rewarding, many say they will still be looking for new employment in the coming year. A recent study shows that most primary healthcare nurses intend to stay in the sector but feel that finding the right employer, workplace and conditions is essential.
http://bit.ly/wh8kUr
Doctors and nurses seek royal medical colleges' support to fight NHS reforms
Britain's royal medical colleges will come under intense pressure this week to join the growing clamour from doctors, nurses and MPs for the Government to drop its NHS reforms.
http://ind.pn/zFv7PJ
Nurses should not take all the blame for poor nutrition
All health professionals should share responsibility for patient nutrition, rather than the blame falling solely on nursing, according to a leading patient safety nurse.
http://www.nursingtimes.net/5040500.article?referrer=e1
'Attachment to healing' influences nursing staff rentention
Staff retention of hospital nurses is influenced by age, although no single factor can be pinpointed, according to a study.
http://www.nursingtimes.net/5040352.article?referrer=e1
Public health issues

Ban smoking across Auckland: health chiefs
Health bosses want the Auckland Council to ban smoking in all public outdoor areas in the city in a bid to stop children picking up the habit. The proposed ban would include the city centre, parks, playgrounds, sports grounds…
http://www.nzherald.co.nz/nz/news/article.cfm?c_id=1&objectid=10779688
Action to beat fever
A STRATEGY to eradicate rheumatic fever is being launched in Gisborne on Monday
http://www.gisborneherald.co.nz/article/?id=26231
Articles of interest

Type 2 diabetes: Growing to epic proportions
Nursing Management
January 2012
Volume 43 Number 1 
Pages 20 – 25
Diabetes can be characterized as a prevailing, incapacitating, and deadly disease. According to the 2011 National Diabetes Fact Sheet, 25.8 million children and adults in the United States have diabetes-8.3% of the population-with 7 million people undiagnosed. Data further reveal that 1.9 million new cases of diabetes were diagnosed in people age 20 and older in 2010.
http://www.nursingcenter.com/library/JournalArticle.asp?Article_ID=1288920
Nurses' perceptions of nurse-led healthy lifestyle clinics
Bob Marshall, Sue Floyd, Rachel Forrest
Journal of primary healthcare
InTRODUCTIOn: nineteen nurse-Led Healthy Lifestyle Clinics (nLHLCs) were implemented and targeted Maori, Pacific and people living in high deprivation areas. The general focus of the clinics was on lifestyle issues and much of the nursing was educative and preventative care. The aim of this project was to assess nurses' experiences and opinions of their participation in the clinics.
http://bit.ly/AySUen
What nursing shortage? Surge of young RNs closes deficit, report says
A sharp uptick in the number of young registered nurses entering the profession means that concerns about a U.S. nursing shortage may be a thing of the past, according to a new report in Health Affairs.Between 2002 and 2009, the number of young registered nurses (between 23 and 26 years old) entering the field grew [...]
http://bit.ly/skfpOc
Is E-mail Communication a Feasible Method to Interview Young People With Mental Health Problems?
TOPIC: E-mail interviewing—not to be confused with "online surveying"—shows promise for researchers working with adolescent mental health populations as a data collection method.
http://onlinelibrary.wiley.com/doi/10.1111/j.1744-6171.2010.00257.x/full
New publications
Research for Evidence-Based Practice in Healthcare, 2nd Edition
This is an essential, accessible introduction to the practicalities of research and evidence-based practice aimed at all pre-registration nursing and health care students. It places research and evidence in the context of clinical practice, introduces the main methodological approaches in qualitative and quantitative research and describes the processes of research appraisal, dissemination and implementation.
The new edition of Research for Evidence-Based Practice in Healthcare has been updated to include information for a broader health care audience, it engages students with the research and evidence agenda, demonstrates the relevance of research and evidence to nursing practice, and provides them with the skills needed to explore these areas in greater detail.
Special features:
·         A practical guide to research methods and evidence-based practice
·         New edition of a successful student textbook
·         Includes a glossary of common research terms,
·         Provides case studies, key points, further reading, and activities throughout
·         Accompanying website with links to further reading
ISBN: 978-1-4443-3112-7
Paperback
304 pages
October 2010, Wiley-Blackwell
AUD $39.95 / NZD $47.99
http://au.wiley.com/WileyCDA/WileyTitle/productCd-1444331124.html
The above information has been collated for the College of Nurses Aotearoa (NZ) Inc by Linda Stopforth, SNIPS and is provided on a weekly basis.  It is current as at Tuesday  24 January 2011
If you have any feedback about content - what parts are most useful or what you would like added - please email admin@nurse.org.nz
Facebook:  Snips Info
twitter: @SnipsInfo