News bulletin 8 February 2012
on 8 February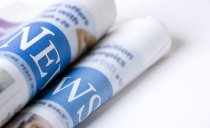 From NZ media this week 

A-nurse-whos-all-heart
Listening to Christine Orchard talk about how much she loves her job gives you the warm fuzzies.
http://bit.ly/wYC9yj 

Graduate mum proud to set example
Philippa Whitehead has completed her nursing degree in a bid to push forward in her career - and she even beat her daughter to a tertiary qualification.
http://bit.ly/zcZhLt 

Surgeons paid over $6000 for a day
ome Auckland surgeons are being paid more than $6000 for a day's work at a public hospital. 
http://www.nzherald.co.nz/nz/news/article.cfm?c_id=1&objectid=10783345 

Sacked Waiariki nurse awarded more money
A former nursing school director, sacked amid allegations she filed dishonest expense claims, has been awarded an additional $11,270 in costs.
http://bit.ly/z6f8We 

Nurse suspended for inappropriate texts
A former nurse has been suspended after sending inappropriate texts to mental health patients.
http://bit.ly/yLy7c7 

Fifth degree for Auckland
he entry of Massey University into the Auckland nursing degree market will not overstretch the region's clinical placements, says Massey and its partner Waitemata District Health Board.
http://bit.ly/Ad2TBv 

Nursing-students-starring-role
He gets recognised in the street thanks to his part in a television campaign but nursing student Netane Takau is only focused on one thing – finishing his degree and using it for good.

http://bit.ly/zCtWKw
Ethics changes may be threat to patients, say critics

The health of patients who take part in treatment trials may be put in danger by Government changes to ethics committees, says a group of academics.

http://www.nzherald.co.nz/nz/news/article.cfm?c_id=1&objectid=10783678
Sticky socks get patients back on feet

Putting non-slip socks on the feet of unsteady patients has helped to cut serious falls by more than half at the Counties Manukau District Health Board.

http://www.nzherald.co.nz/nz/news/article.cfm?c_id=1&objectid=10782571
International media
Nurse researchers find disparities in pain treatment (US)
Pain is generally undertreated in the United States, but low-income and minority patients are even less likely to receive guideline-recommended pain treatment in virtually all healthcare settings, according to the authors of a new paper from the University of Pennsylvania School of Nursing

http://news.nurse.com/article/20120202/NATIONAL02/101300034
Birmingham trust takes nurse training online (UK)

A Midlands hospital trust has pioneered a new online training system for nurses which it believes could free up thousands of hours of time for patient care as well as saving money on agency staff.

http://mail.nursingtimes.net/a/hBPK7X$B7gYBnB8VhXWNshWWR9S/new2
Specialist nurses can contribute to 'all elements' of care

Specialist nurses can contribute to "all elements" of continuity of care for patients with long-term neurological conditions, according to York University researchers in the Journal of Advanced Nursing.

http://bit.ly/w0dLz1
How one hospital system changed hand hygiene compliance

Hand hygiene is easier said than done. Sentara Healthcare, a nonprofit health system that includes 10 acute care hospitals and covers 2 million residents in Virginia and North Carolina, knew that all too well before it launched a system-wide testing and implementation project that increased hand hygiene compliance from about 77 percent to 95 percent


 
http://bit.ly/xioeFu
Hospital Errors Reduced by 66% via E-Prescription Systems
A new Australia-First study has shown that electronic prescribing technology could reduce by as much as 66% the mistakes hospitals make in prescribing medicines.

http://bit.ly/zTyVTX
Terms of nursing regulator review to be set amid concern over quality of care (UK)

hecks found 'significant weaknesses' in the work of the Nursing and Midwifery Council (NMC) as complaints rose 41% in a year

http://bit.ly/zjB18S
Details emerge of 'wide ranging' NMC review

hether the Nursing and Midwifery Council should be run by a nurse in future will be one of the questions considered by the "wide-ranging" review of the regulator's structure, financial management and leadership.

http://www.nursingtimes.net/5040815.article?referrer=e1
IOM: Chronic conditions a public health 'crisis' (US)

Despite existing national initiatives to help patients with chronic illnesses, the Institute of Medicine (IOM) indicated in a report yesterday the industry still isn't doing enough for patients in what it calls a matter of public health.

http://bit.ly/AuJTSM
New system cuts arrival-to-procedure time in pediatric ER at Children's Mercy (US)

Implementation of a new pediatric emergency nursing triage procedure significantly reduces arrival-to-triage times to less than 10 minutes for most patients, according to a study published in the January issue of the Journal of Emergency Nursing

http://bit.ly/ylf2mm
Mandatory overtime caps for nurses having effect (US)

State-mandated caps on nurses' mandatory overtime hours have been effective in reducing overtime hours for new RNs, according to a study

http://news.nurse.com/article/20120130/NATIONAL02/101300032
Health organizations increasingly hiring chief nursing information officers

While the rise of chief medical information officers has gotten the spotlight recently, chief

nursing i

nformation officers also are becoming more common.
 
http://bit.ly/xuQIeT
CNIO position on the rise (US)

OAK BROOK, IL – Chief Nursing Information Officer (CNIO) is a fairly new title, but it is growing in popularity and more and more organizations are recruiting for the position, according to Linda Hodges, vice president and leader of information technology search practice at executive search firm Witt/Kieffer.

http://www.healthcareitnews.com/news/cnio-position-rise?topic=24
Feeling Strain When Violent Patients Need Care

I didn't know much about the patient — just that he'd showed up on my floor the previous evening after some confusion about whether his room was ready. When I went into his room that morning, he was still asleep. I gently roused him while his doctor, who had followed me in, explained that he needed to do a physical exam.

http://well.blogs.nytimes.com/2012/01/30/feeling-strain-when-violent-patients-need-care/
Too many nurse leaders in 'quasi-medical' roles, says prominent doc (UK)

Nursing lacks adequate role models because so many senior nurses end up in management and "quasi-medical" roles, a prominent doctor involved in nursing education has told MPs.

http://www.nursingtimes.net/5040765.article?referrer=e1
Telehealth is not threat to district nurses, says QNI (Aus)

The Queen's Nursing Institute has launched a new drive to encourage district nurses to make the best use of new communications technology such as telehealth systems.

http://www.nursingtimes.net/5040758.article?referrer=e1
Qualifying exam, poor English to blame' (Malaysia)

KUCHING: Failure to sit for or pass the qualifying exam with the Malaysian Nursing Board (MNB), and poor English language proficiency could account for 8,000 nursing graduates in Malaysia being unemployed.

http://bit.ly/yt7et1
Health and wellness
Help Me Make it Through the Night (Shift) (Registraton – free – needed to access this item)

Few nurses seem to really love working the night shift. Sure, we all know nurses who thrive on the night shift or who choose it for personal reasons. Some prefer to work when the ambience is quieter, there are no visitors, rules are less strictly enforced, and interruptions are fewer.

http://www.medscape.com/viewarticle/757050?src=mp&spon=17
Overtime work as a predictor of major depressive episode: a 5-year follow-up of the whitehall II study
Virtanen, M., et al.

PL0S One.


The research found that people working more than 11 hours a day were more than twice as likely to have a major depressive episode than those who work 7-8 hours a day.

http://bit.ly/wG0JhH
Public health
UM: Masks, Handwashing Could Drastically Slow Pandemic Flu

Observing hand hygiene and wearing surgical masks can reduce the transmission of flu-like symptoms by up to 75%, according to a study from the University of Michigan. The findings indicate nonpharmaceutical measures can be useful in community-based pandemic preparedness efforts, a researcher said

http://cbsloc.al/xCQA9L
Mounting cost of coping with mental illness

Mental health is becoming a significant issue for New Zealanders.

http://bit.ly/xTFQlJ

Auckland men unaware they have HIV: study
One in five HIV positive gay or bisexual men in Auckland is unaware they have the disease, new research shows.

http://bit.ly/wG4kh7
Death linked with HIV stigma

An HIV support organisation says people are scared to get tested for the virus because of the stigma and discrimination attached to it.

http://www.stuff.co.nz/national/health/6358621/Death-linked-with-HIV-stigma
Articles of interest
Implementation of the nurse practitioner role within a Victorian healthcare network: an organisational perspective
HE AUSTRALIAN JOURNAL OF ADVANCED NURSING
VOLUME 29 NUMBER 1

This paper presents a discussion of the development of a framework to implement and sustain the nurse practitioner (NP) role within one health service designed to strengthen the capacity of the health system and which could be readily transferable to other health services.

http://www.ajan.com.au/Vol29/29-1_Wintle.pdf
Legal coercion: the elephant in the recovery room

In a specially commissioned article for SRN, international mental health leader with lived experience, Mary O'Hagan, critically challenges the use of legal coercion in a world where the recovery approach and human rights are accepted norms. Why not let us know what you think about this challenging but important subject by commenting on the article.

http://bit.ly/wjTUvN
Powerful

Nurses can create change
For Beverly Malone, RN, PhD, FAAN, the empowerment of nurses is much more than an esoteric theory to help RNs feel better about themselves; it's requisite for the delivery of quality patient care.

http://news.nurse.com/article/20120123/NATIONAL01/101230024

A culture change in aged care: The Eden Alternative™
HE AUSTRALIAN JOURNAL OF ADVANCED NURSING
VOLUME 29 NUMBER 1
The purpose of this article is to provide an overview of the values that The Eden Alternative™ represents. The benefits, challenges and potential risks, associated with implementing this model for culture change will also be discussed.

http://www.ajan.com.au/Vol29/29-1_Brownie.pdf
How to make information more alive for nurses working in mental health

Nurses use information routinely. Clinical notes, progress plans, and basic service user demographic information are used on a daily basis. There is also, to be sure, a great deal of other information collected in the sector. We could mention

PRIMHD

(programme for the integration of mental health data) information, individual DHB PMS (patient management systems) information, KPI information (key performance indicator) and so on. However I would have to concede much of this can seem far removed from the clinical work nurses are employed to do. Consequently much of this information is currently dead information for many nurses.

http://bit.ly/xoujuF
Conferences and professional development
The National Youth Consumer Participation workshop
which we will be holding at the Tamaki Campus on the 12th April 2012.
The programme will include presentations from Youth Consumer Advisors from around New Zealand. This workshop is specifically for people working in Child and Adolescent Mental Health and Alcohol and Other Drug services.  This also includes Eating Disorder and Cultural Provider Services.
If you have a passion for youth consumer inclusive initiatives and want to be the driver or champion for Youth Consumer Participation in your service then this event is for you.

http://bit.ly/xURc33
Online resources
Fact Sheet: Public Health Contributions to Preventing Violence
Looking to prevent violence and not just react after the fact? This UNITY fact sheet highlights how public health adds value to any effort to address violence and complements criminal justice approaches.

http://preventioninstitute.org/component/jlibrary/article/id-321/127.html
The above information has been collated for the College of Nurses Aotearoa (NZ) Inc by Linda Stopforth, SNIPS,and is provided on a weekly basis.

 

It is current as at Tuesday 31 January 2011
If you have any feedback about content - what parts are most useful or what you would like added - please email
admin@nurse.org.nz
Facebook:
Snips Info
 
T
witter:

@SnipsInfo