News bulletin 15 December
on 15 December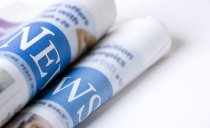 Welcome to the College of Nurses Aotearoa News Update.
No. 573, Wednesday 15 December 2021
Weekly news round-up of nursing and health information in New Zealand and internationally
New Zealand news
Worried Auckland Nurses Say Health System Anything But Okay | Scoop News
Scoop
Press Release: New Zealand Nurses Organisation. Nurses and other health workers at Auckland Metro district health boards (DHBs) say they are ...
Sarah Barker | NZ Nurses Organisation - Waatea News: Māori Radio Station
Waatea News
Nurses and other health workers at Auckland Metro district health boards say they are concerned that the picture of a robust health system painted by Wellington health officials is a far cry from the reality they face each day on the frontline.
Sticky tape, plastic wrap and string: Senior nurses warn that HB Hospital ED is on the verge of disaster
All nine senior emergency department nurses at Hawke's Bay Hospital have sent their managers a three-page letter warning that the department is hopelessly unprepared for Covid and staff are leaving in droves.
Auckland nurse says notion hospitals could cope with Covid-19 surge 'utter nonsense' | Stuff.co.nz
Stuff.co.nz
Officials say hospitals could manage a Covid surge should one happen, but nurses in Auckland fear otherwise, saying it could be "mayhem".
Hospitals under pressure | Otago Daily Times Online News
Otago Daily Times
Last month, the New Zealand Nurses Organisation pointed out that each of ... had to be closed most days in October because of nursing shortages.
GUEST BLOG: Ian Powell – Who should one believe over hospital safety concerns? | The Daily Blog
The Daily Blog
It has only started to respond to addressing nursing shortages in public hospitals because of an assertive public exposure campaign by the New Zealand ...
Scholarships awarded to top EIT Bachelor of Nursing students | Voxy.co.nz
Voxy.co.nz
EIT nursing students have excelled with a number of them being awarded scholarships to help them finish their studies through EIT's School of ...
Nurses take fight over staffing levels to Parliament | RNZ
RNZ
Nurses and others in the union movement will take their fight for safe staffing levels in the aged care sector to Parliament today.
They say existing regulations have not been safe for years, and have not kept pace with the requirements of caring for older people with complex needs.
Staffing still a struggle: DHB | Otago Daily Times Online News
Otago Daily Times
Nurse shortages continue to hinder the Southern District Health Board's ... initiative between the nurses' union and DHBs — the New Zealand Nurses ...
Nurses still struggling to return to New Zealand despite MIQ slots for healthcare workers | RNZ News
RNZ
New Zealand nurse Rachel Fraher caught a ride on a yacht to return from Australia. Photo: Supplied. There are critical nursing shortages all over ...
My Sunday: Emergency department nurse Diane McCulloch | Stuff.co.nz
Stuff.co.nz
Auckland nurse Diane McCulloch says nurses are like eggs; hard on the outside and all soft and gooey on the inside.
'You're Awesome': ED nurse missed hugging his family during Covid-19 outbreak
Joshua Scott is a graduate emergency department nurse at Waitākere Hospital.
What's the best thing about your job?
It's the people. People truly do make the place what it is. I am incredibly lucky to work with a team that are caring, resourceful, incredibly intelligent and great teachers. I've been in multiple wards and departments across hospitals in Auckland, but my colleagues here are all absolute gold.
Dunedin nurse referred to Nursing Council over online threats to attack vaccination buses - RNZ
RNZ
The vaccine would be one-third of the dose of that administered to those 12 and older, of which more than 7.8 million doses have been given in New ...
Covid 19 Delta outbreak: Dunedin nurse apologises for online threats to attack vaccination ...
NZ Herald
The vaccine has been deemed safe and effective by the vast majority of experts, in New Zealand and globally. Covid. While the risk of serious Covid-19 ...
International news
An on-site makerspace leads to quick solution experimentation and implementation.
Pacific nurses in the desert: Kiribati brain drain is outback Australia's gain - The Guardian
The Guardian
A Pacific labour scheme has been transformative for Kiribati families but the brain drain has hit the country's hospitals hard.
Government to lure doctors and nurses to rural, regional and remote areas by slashing ... - ABC
ABC
Government to lure doctors and nurses to rural, regional and remote ...
6 ways to prevent a mass exodus of health workers
Most Australians are counting down to a festive season with newfound freedom surrounded by family and friends.
What is team-based nursing? A breakdown of the model that sparked nurses' opposition at Southlake
Toronto Star
Nurses at Southlake Regional Health Centre in Newmarket are embroiled in a dispute with their employer over a newly proposed staffing model in ...
Global shortage of nurses set to grow as pandemic enters third year - group | Reuters
Reuters
The numbers of nurses around the world are falling further just as the Omicron ... it could be an exodus of people," Catton told a news briefing.
Prepare for a shortage of nurses - The Economic Times
The Economic Times
The importance of nursing and nurses is only slated to grow, ... Colleges that train nurses, midwives, lab technicians, ... Read More News on.
The US doesn't have enough faculty to train the next generation of nurses
Despite a national nursing shortage in the United States, over 80,000 qualified applications were not accepted at U.S. nursing schools in 2020, according to the American Association of Colleges of Nursing.
Nurses declare nationwide strike Wednesday over violence against medical staff | The Times of Israel
The Times of Israel
Doctors and nurses strike outside a Hadassah hospital in Jerusalem, ... Do you rely on The Times of Israel for accurate and insightful news on ...
Aged care / Aging population
DHBs snapping up aged care staff, health bosses say | Stuff.co.nz
Stuff.co.nz
Presbyterian Support Southland chief executive officer Michael Parker says the organisation has lost 33 nurses in the region since July 2020, ...
Unions call for mandated safe staffing in aged care - NZNO | Voxy.co.nz
Voxy.co.nz
A delegation of New Zealand Nurses Organisation (NZNO) and E tū members working in the aged care will deliver a parliamentary petition and open ...
Climate
MetService to issue 'heat alerts' this summer to protect health
How hot is too hot?
That's the question a team of researchers are tackling in a new pilot project to develop New Zealand's first-ever early warning system for extreme heat.
Covid-19
Covid-19 NZ: What Auckland opening means for the rest of the country
Aucklanders will be able to leave the city en masse on Wednesday. What does that mean for the rest of New Zealand? Keith Lynch explains.
Auckland's border restrictions change mean people will finally be allowed to leave the country's biggest city after more than 100 days.
Rapid antigen testing: What you need to know
As regional boundaries lift from 15 December, some unvaccinated domestic travellers will have to get rapid antigen tests as part of the Covid-19 Protection Framework requirements.
Iwi mobile clinics focus on reaching unvaccinated Māori in Whanganui
Iwi providers throughout the Whanganui region are stepping up mobile Covid-19 vaccination units to reach as many whānau leading into the holiday period
Health workers urge people get vaccinated to keep hospitals free
Vaccination is your biggest defence this summer - that is the message from two health professionals working in Auckland city hospital's Intensive Care Unit and Covid-19 ward.
Covid 19: Omicron wave driven by 'young, healthy, vaccinated' population
The Omicron epidemic is being driven by young, vaccinated people, according to mounting data from countries as diverse as the UK, Denmark and South Africa.
The new variant has now been detected in more than 60 countries, including 24 in Europe, with a similar pattern of infection and characteristics being reported across the globe.
Vaccines and previous infection could offer some 'stronger than basic' protection to Omicron, early study suggests
Posted: 12 Dec 2021 05:53 AM PST
One of the earliest, peer-reviewed studies looking into the Omicron variant of COVID-19 suggests that people previously infected with COVID, and those vaccinated, will have some, 'stronger than basic' defence against this new strain of concern.
DHBs
Health Ministry data deal aims to protect hospitals from cyber attacks
The Health Ministry has made a $45 million-a-year data deal to help protect hospitals from cyber attacks.
Healthcare workers reject DHB pay offer | RNZ News
RNZ
Allied, public health, scientific and technical healthcare workers have turned down the latest pay offer from district health boards.
Education
A Thousand Learners Get A Job Boost At Nearly Zero Cost | Scoop News
Scoop
The Government's Targeted Training and Apprenticeships Fund (TTAF) has had a big impact in the lower North Island, with learners and local employers reaping the benefits. 980 learners at UCOL alone have learned or are currently learning a wide range of skills covered fees-free through TTAF.
Maternity and midwifery
No lack of eager midwifery students at Ara despite nationwide shortage - NZ Herald
NZ Herald
Despite a shortage of midwives nationwide, there's no ... Covid-19 coronavirus: Nearly 120 Wellington nurses .
Southern District Health Board reveals extent of midwifery shortage
Southland Hospital is struggling to recruit into 13.9 full time equivalent midwife vacancies while Dunedin Hospital needs 17.2 FTE.
Midwives keep quitting MidCentral Health despite retention efforts
Palmerston North Hospital's maternity unit will be critically short of midwives through until the end of January.
Mental health
'Terrible gaps' in mental health system for youth and children
Many district health boards have longer waitlists for youth and children seeking outpatient mental health services than adults. The Mental Health Foundation says it's an "absolute crisis" and the Children's Commissioner says it's a breach of their rights.
Obesity
Govt's 'studious neglect' of obesity leaves us among worst in OECD - nutrition experts
Public health experts are accusing the Government of neglecting the burden of obesity, as a new report details the massive costs we're wearing as a result. And as half of Māori now have a BMI of 30 or higher, a nutritionist says the inaction amounts to a breach of Crown obligations under the Treaty of Waitangi.
Tobacco, Drugs and alcohol
NZ Medical Association Thrilled About Bold Smokefree 2025 Action Plan | Scoop News
Scoop
"The Smokefree generation policy will be a defining moment in New Zealand's respiratory health." The NZ Medical Association has been leading advocacy ...
Reports and Journals online
Pharmac Review: interim report
Government of New Zealand
8 Dec 2021 | Report | Government, Health
Pharmac was established in 1993 and is responsible for purchasing publicly funded medicines for New Zealanders, including those prescribed by GPs or administered in hospitals.
This is the first independent report into Pharmac since it was established more than 25 years ago. The review panel was asked to consider how well Pharmac performed against what it was asked to do and whether its performance could be improved. It was also asked to look at timeliness of decision-making, transparency, and equity of outcomes, particularly for Māori, Pacific people, disabled people, and those with rare disorders.
While the interim report does not make recommendations, it signals the areas of main concern and where the panel is now doing more work.
Smokefree Aotearoa 2025 Action Plan
The Smokefree Aotearoa 2025 Action Plan was launched on Thursday 9 December 2021.
Articles of interest
Redesigning healthcare: Global insights for nurses
According to The Future of Nursing 2020–2030: Charting a Path to Achieve Health Equity, the COVID-19 pandemic has revealed and amplified significant gaps in the U.S. healthcare system, including race-related health disparities and lack of access to primary healthcare. However, these problems existed before the pandemic. They're the outcome of a system that fails to address social determinants of health (SDOH) and health equity.
Reducing healthcare violence using community policing-based security strategies
Takeaways:
Community policing-based security strategies in healthcare organizations focus on trust, training, and technology and treat each unit or floor as a unique neighborhood, where security engages with patients, staff, and visitors.
Nurse educators, security, and law enforcement can work together to develop and deliver scenario-based training specifically designed for the healthcare environment.
Trust is the first pillar of security, and is critical to effectively implement security technology strategies.
The above information has been collated for the College of Nurses Aotearoa (NZ) Inc by Linda Stopforth, SNIPS and is provided on a weekly basis. It is current as of 14 December
If you have any feedback about content - what parts are most useful or what you would like added - please email admin@nurse.org.nz
For more up to date news and information follow SNIPS at:
Facebook: Snips Info
Twitter: @SnipsInfo