News Bulletin Break in Service.
on 5 March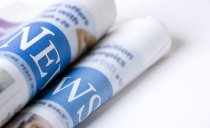 Just to let you all know that from 3-24 March, Linda Stopforth who kindly collates our wonderful weekly media News Bulletin will be back working over in Nepal.
Unfortunately the lack of electricity and probably reliable internet will cause a few problems with providing the News Bulletin for the next couple of weeks.
We wish Linda well in her valuable work and hope to have an update for you on her work over there soon.
Normal News Bulletin service will resume from Wed 28 March.