News bulletin 13 April
on 13 April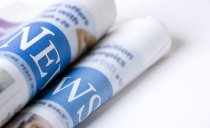 Welcome to the College of Nurses Aotearoa News Update.
No. 588, Wednesday 13 April 2022

Weekly news round-up of nursing and health information in New Zealand and internationally
New Zealand news
Nursing students ready to pitch right in | Otago Daily Times Online News
Experience working at the chalk-face of the Covid-19 pandemic while getting paid for it — what could be better for a student nurse?
'Breaking point': Nurse on staff shortages in Dunedin | Otago Daily Times Online News
A nurse who worked a late shift at Dunedin hospital last night says the work is exhausting.
Anne Daniels, head of the Nurses' Organisation, works casual shifts at Dunedin's emergency department.
Nurse Jenny says it's time for recognition | Otago Daily Times Online News
It is time the public got behind nurses and supported better pay and working conditions for them, Jenny McGee says.
The nurse who is credited with helping save the life of British Prime Minister Boris Johnson, when he spent time in intensive care with Covid-19, is home in New Zealand taking a break.
Historic pay settlement leaves some nurses feeling betrayed - 1News
On Friday, district health boards and the New Zealand Nurses Organisation revealed an equity settlement had been reached – acknowledging nurses are underpaid because the role has traditionally been held by women.
Nurses feel lied to after promised back pay left out of equity offer | Newshub
Nurses say they have been left blindsided and feel lied to over the latest pay equity offer which doesn't include the full back pay initially promised.
NZNO Initiates Legal Review Of Pay Equity Settlement And Process - Scoop NZ
The New Zealand Nurses Organisation, Tōpūtanga Tapuhi Kaitiaki o Aotearoa (NZNO) says it will initiate a full legal review of the Pay Equity ...
Nurses left feeling 'invisible' and 'undervalued' by pay settlement | Stuff.co.nz
District health boards and the New Zealand Nurses Organisation have announced a historic pay equity settlement, but nurses are "disappointed", ...
Threats, slaps, kicking: Report highlights extent of violence against health workers | Stuff.co.nz
Violence against hospital workers is a widespread problem, but there's been little effort to address it, a nurses' union says.
International news
Multiple Sclerosis: Plea for more nurses to help 25000 Aussies with chronic disease - 9News
Plea for more nurses to help 25,000 Aussies with chronic disease ...
However around a third of the 25,000 Aussies with MS have to face diagnosis without an MS nurse's support.
America needs more doctors and nurses to survive the next pandemic - Vox
When Covid-19 first hit the US health care system, the biggest concerns about responding to the crisis were about physical infrastructure: Would hospitals have enough ventilators or physical space to care for a surge of patients? But the shortfalls that limited the American response were ultimately about the country's human infrastructure: There were not enough nurses in hospitals, not enough staff in long-term care facilities, not enough public health workers.
RaDonda Vaught verdict showed jurors didn't fully understand role of nurses | Opinion
Just as doctors and nurses make mistakes, so do jurors. This injustice needs to be corrected.
Samoa extends state of emergency another four weeks | RNZ News
The Samoa Government has extended a state of emergency through to 8th May.
It had been due to finish on Monday.
Cancer issues
Honoured haematologist and HIV pioneer fears he won't see action from 'glacial' Pharmac in his lifetime
Dr Ken Romeril is thin of leg and of hair. After being made an MNZM for almost 50 years of service to haemotology, cancer now has him pinned to the canvas.
Children and young people
Plunket to cut parenting programmes due to lack of funding
Plunket will cut its parenting programmes because it cannot afford to keep running them.
Climate
Healthcare Workers Ask Government To Make NZ Health System Climate Ready And ... - Scoop
OraTaiao NZ Climate & Health Council; the New Zealand Medical Association; the New Zealand Nursing Organisation; the College of Nurses; ...
Covid-19
Initiative 'helping offer new opportunities' for Maori and Pasifika healthcare workers
Over the past year, Aotearoa has been through a vaccination drive like never before. Retired staff came back to the workforce, teams of doctors, nurses and other health professionals have worked long hours in clinics and in drive-through vaccination centres to help ensure kiwis are protected from COVID-19.
Covid-19: Vaccine protects Māori, Pasifika just as well - study
One of the first studies of its kind has found that Māori and Pasifika, while at higher risk from Covid-19, are reassuringly no less protected by the vaccine than other groups. Read more
Omicron outbreak: Surge in aged care deaths; 164 facilities battling cases - NZ Herald
Nearly 170 aged care residents have died after catching Covid-19.
Figures released to the Herald on Sunday also reveal that, as of Thursday, there were 447 active cases in 164 aged care facilities across New Zealand.
Covid 19 Omicron outbreak: Whanganui DHB bus Waka Hauora goes to communities - NZ Herald
The colourful Waka Hauora Health Bus has been touring rural Whanganui communities to help distribute rapid antigen tests (RATs).
Nurse Jenny's unforgettable memories of Covid-19 pandemic in London hospital
Jenny McGee will never forget patients dying with Covid-19 saying their final goodbyes to loved ones on a video call.
Pulse oximeters did not change outcomes for patients in COVID-19 monitoring program
Using a pulse oximeter to measure oxygen levels is no better than just regularly asking patients with COVID-19 if they are short of breath, according to new research at the Perelman School of Medicine of the University of Pennsylvania. Pulse oximeters have often been applied because of concerns that patients might not notice their blood oxygen levels sliding dangerously. But people in Penn Medicine's COVID Watch program—which uses automated text messages to keep tabs on patients recovering at home—had the same outcomes whether they used oxygen-measuring devices or not. Findings from this work were published in the New England Journal of Medicine
DHBs
Auckland District Health Board workers at critical risk from fatigue - report | RNZ News
Workers at Auckland District Health Board (DHB) have been classed as being at critical risk from fatigue.
Waikato Hospital staff redeployed as 180 off due to Covid-19 | Stuff.co.nz
"The impact of Covid-19 in our workplace is felt equally across our staff – nurses, doctors, allied services. As with all industries working ...
Staff levels critical - Wairarapa Times-Age
Wairarapa DHB staff face relentless pressure with almost 100 off work due to covid as chronic staff shortages bite.
Disability
Disability Providers Need Funding To Match Care Assistants' Pay Boost - Scoop NZ
The significant pay increases set to be awarded to nurses and care assistants working for DHBs will need to be matched with government funding for ...
More guidance needed for health providers on learning disability competency and sex education, say advocates
Expressing sexuality and decision-making around it for people with learning disabilities is "complex", says lawyer and disability advocate Dr Huhana Hickey.
Health system
Pasifika providers say a one-size-fits-all Health NZ won't work
Pacific health leaders are standing firm on their challenge to Aotearoa's new health authority to ensure it is not a one-size-fits all system.
Mental health
More support needed for Asian mental health
Demand for mental health support amongst Asian New Zealanders has soared since the beginning of the pandemic, but the community remains underserved. One provider, Asian Family Services, is trying to meet the demands of the Asian population, but says its funding is limited and is managing a three week long waitlist.
How poverty impacts mental health: 'You just feel worthless'
Zoe* hasn't smoked meth for a couple of weeks, but today she's considering it.
The 17-year-old is sitting on the back step of the central Auckland hostel that's been her home for the past three months. She stretches the baggy ends of her sweatpants over her bare feet, tightens the drawstring of her hoodie around her pale face.
Mental Health And Addiction Community Workforce Side-lined By DHB Nurses Pay Equity Deal
Community-based mental health, addiction support workers and clinical staff are struggling to understand why they won't be receiving the same pay rise as their DHB Nursing and mental health assistant counterparts.
Pasifika health
8,700 more Pacific peoples need treatment to prevent gout each year - Pharmac
Pharmac has released the Pacific peoples health - Gout data insights report today. The report shows that, while the prevalence of gout in Pacific peoples continues to climb, access to preventive gout medicine remains inequitable. Read more
Primary health care
New Zealand's urgent need for GPs
The Detail - Many family doctors will be hitting retirement age over the next decade and not enough GPs are being trained to replace them.
Public health
'Legacy of mistrust': Dunedin Study links vaccine hesitancy with bad childhood experiences
People's differing life histories should be taken in account so as to not scorn or belittle those now opposed to vaccines, the Dunedin Study director says.
Expert advice sought on long-term health challenges
Expressions of interest open today for a new Public Health Advisory Committee of up to seven members who will tackle existing and future health issues affecting New Zealanders.
Professional development
Webinar to explore the impact of aged residential care and older Māori
Date: Thursday 5 May
Time: 12–1pm
Join Drs Joanna Hikaka and Ngaire Kerse from the University of Auckland for a high-level summary of the report they produced for the Commission last year, Older Māori and aged residential care in Aotearoa | Ngā kaumātua me te mahi tauwhiro i Aotearoa, and a discussion about positive examples of care provision that have incorporated Māori leadership, Māori workforces and Māori values.
Their report was the first of its kind to better understand, raise awareness of and start discussion about the quality of care for Māori in aged residential care (ARC). It described how fewer Māori than non-Māori enter ARC, that there is a lack of kaupapa Māori aged care services and that, for many, ARC is a second choice to staying at home and being cared for by whānau.
This interactive webinar is particularly relevant for those working in the ARC sector and within Māori health. It aims to support participants to reflect on their own practices and think through steps they could make to better support Māori in ARC. Participants will have an opportunity to ask questions during the session. Register here.
New books
Experiences of Health Workers in the COVID-19 Pandemic
In Their Own Words
By Marie Bismark, Karen Willis Sophie Lewis Natasha Smallwood
Copyright Year 2022
Experiences of Health Workers in the COVID-19 Pandemic shares the stories of frontline health workers—told in their own words—during the second wave of COVID-19 in Australia. The book records the complex emotions healthcare workers experienced as the pandemic unfolded, and the challenges they faced in caring for themselves, their families, and their patients. The book shares their insights on what we can learn from the pandemic to strengthen our health system and prepare for future crises.
The book draws on over 9,000 responses to a survey examining the psychological, occupational, and social impact of the COVID-19 pandemic on frontline health workers. Survey participants came from all areas of the health sector, from intensive care doctors to hospital cleaners to aged care nurses, and from large metropolitan hospitals to rural primary care practices. The authors organise these free-text responses thematically, creating a shared narrative of health workers experiences. Each chapter is prefaced by a brief commentary that provides context and introduces the t themes that emerged from the survey.
This title is being stocked by Unity Books
Reports and Journals online
Infectious Diseases Research Review
Issue 27
In this issue I have included three testing technology papers, in the spirit of scanning for new developments. COVID-19 has accelerated beyond all expectations the role of rapid, point of care and self-testing. The public has voted with its feet, wanting timely results.
Other highlights in this review include:
Intervention for reducing antibiotics for UTIs in nursing homes
Single- vs. multisite sampling for blood cultures
Prevalence, characteristics and outcomes of ED-discharged sepsis patients
Articles of interest
Barriers and facilitators to nurse-led advance care planning and palliative care practice change in primary healthcare: a qualitative study.
Nagarajan Srivalli V., Lewis Virginia, Halcomb Elizabeth, Rhee Joel, Morton Rachael L., Mitchell Geoffrey K., Tieman Jennifer, Phillips Jane L., Detering Karen, Gavin Jennifer, Clayton Josephine M. (2022)
Australian Journal of Primary Health 28, 151-157.
Primary care settings are ideal for initiating advance care planning (ACP) conversations and assessing palliative and supportive care needs. However, time constraints and a lack of confidence to sensitively and efficiently initiate such discussions are noted barriers. The Advance Project implemented a national multicomponent training package to support Australian general practice nurses (GPNs) to work with GPs to initiate ACP and palliative care conversations in their practice. This paper reports on semistructured interviews conducted with 20 GPNs to explore barriers and facilitators to implementing the Advance Project model. Participants identified a range of factors that affected implementation, including lack of time, limited support from colleagues, lack of knowledge about systems and funding processes in general practice and a need for better alignment of the Advance Project resources and practices with general practice information management platforms. Barriers related to professional roles, particularly the lack of clarity and/or limitations in the scope of practice of GPNs, highlighted the importance of defining and supporting the roles that different primary health practice staff could play to support implementation of the model. The findings underline the need for complementary training in the Advance Project model for GPs and practice managers to enable a team-based approach to implementation.
Just for fun
Medical version of "Wordle" delivers fun for a cause
A new medical-focused adaption of the online word game Wordle aims to deliver a dose of 'levity' for health professionals throughout a challenging time for the profession, according to one of the game's co-creators.
The above information has been collated for the College of Nurses Aotearoa (NZ) Inc by Linda Stopforth, SNIPS and is provided on a weekly basis. It is current as of 12 April
If you have any feedback about content - what parts are most useful or what you would like added - please email admin@nurse.org.nz
For more up to date news and information follow SNIPS at:
Facebook: Snips Info
Twitter: @SnipsInfo