News bulletin 18 May
on 18 May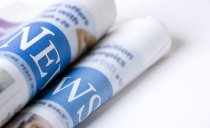 Welcome to the College of Nurses Aotearoa News Update.
No. 593, Wednesday 18 May 2022

Weekly news round-up of nursing and health information in New Zealand and internationally
New Zealand news
Time to empower nurses to take on positions of power and influence | Newsroom
Nurses are now working unsustainably. Every New Zealander should be concerned because our working conditions are your healthcare conditions
International Nurses Day: Thanks to Hawke's Bay nurses - NZ Herald
Hawke's Bay District Health Board's chief nurse wasn't sure if she would remain in nursing her whole career.
International Nurses Day: Northland nurses share favourite career moments - NZ Herald
They care for patients like no other clinical staff; they work tirelessly day and night and they are the backbone of any hospital and health practice: nurses.
Southern Cross Celebrates Superstar Team On International Nurses' Day | Scoop News
Two nursing team members who feature in a Southern Cross Healthcare campaign talked about their experience. Kevin Velasco at the Auckland Surgical ...
HONOURING OUR NURSES - The Gisborne Herald
Today is International Nurses Day.
There are over 500 nurses and healthcare assistants in Tairawhiti and today they are honoured and recognised for how important they are to the community.
A healthy lesson for Taranaki youngsters on International Nurses' Day | Stuff.co.nz
Children at three Taranaki primary schools got a lesson in health care on International Nurses' Day.
Nurses from the Taranaki District Health Board visited schools in New Plymouth, north Taranaki, and Hāwera on Thursday morning to talk about their work.
NZNO promises to 'go hard' for nursing with new campaign | New Zealand Doctor
The New Zealand Nurses Organisation Tōpūtanga Tapuhi Kaitiaki o Aotearoa (NZNO) says it will be launching a new campaign tomorrow through which it ...
Nurses rule out more strike action despite taking pay dispute back to Employment Relations Authority
Nurses have voted to take a historic pay equity offer back to the Employment Relations Authority amid concerns the current proposal doesn't include full back pay.
New Zealand Nurses Organisation says its 'flabbergasted' sector left off fast tracked residence list
Daniels, who is an emergency department nurse, said it had made nursing tough. "The mental, emotional and physical toll that it takes for nurses to ...
Call For Minister To Reconsider Fast-track Residence Pathway For Nurses - Scoop NZ
Whānau Āwhina Plunket and Family Planning New Zealand call on Immigration Minister to reconsider fast-tracked residence pathway
Anne Daniels and Alison Eddy: The decisions that have been made have been made in a bit ...
Nurses and midwives are dismayed that the Government's treating their professions as second best in its immigration reset.
American nurse quits 'profit-driven' US system for a life in NZ
American theatre nurse Birgitte Mack, 50, has never been to New Zealand. But she has quit her job at a busy Denver hospital, sold her home and will arrive in Napier with her family on Sunday.
Nurses backpay parity call | Otago Daily Times Online News
Dunedin New Zealand Nurses Organisation members take part in a national launch yesterday of a campaign to highlight the nursing shortage crisis ...
Pay equity settlement reached for district health board administration, clerical workers | Newshub
It means thousands of employees at New Zealand's 20 DHBs who work in the ... Nurses to consider legal action in historic pay equity settlement.
If nurses are essential, why make them wait? | Stuff.co.nz
OPINION: Migrant doctors are fast-tracked for residency, but not nurses.
'The system is so stretched' - Nurses, doctors say border changes not enough | RNZ News
A second list, the 'work to residence pathway', allows occupations listed to apply for residence, but only after being in New Zealand for two years.
Thousands of nursing vacancies set to test hospitals over winter - union
One of the heads of the Nurses Union says New Zealand's public health system is short 4000 nurses heading into winter.
International news
Nurses take to streets ahead of RaDonda Vaught sentencing
Nurses from across the country are heading to Washington, D.C., and Nashville, Tenn., this week to march for better working conditions and to show support for RaDonda Vaught.
Ms. Vaught, 38, was convicted of criminally negligent homicide and abuse of an impaired adult for a fatal medication error she made in December 2017 after overriding an electronic medical cabinet as a nurse at Vanderbilt University Medical Center in Nashville. Her case has spurred a national outcry from nurses who argue the ruling sets a dangerous precedent for the profession and will discourage nurses from speaking up about errors.
Nurses march on capital demanding reforms to protect themselves and patients - ABC News
Thousands of nurses from around the country marched to the White House and past the U.S. Capitol Thursday demanding reforms to the health care industry they claim has been putting their lives in danger and prioritizing profits over the care of patients.
Ex-nurse sentenced to probation in patient medication death - ABC News
A former Tennessee nurse whose medication error killed a patient has been sentenced to three years of probation.
Overworked and underpaid during COVID, nurses quitting in droves: report - Toronto Sun
The statistics on stress and depression in the survey are staggering.
CDU recognises the long history of nursing in the Northern Territory
A new book written by Charles Darwin University's (CDU) Nursing Museum Honorary Curator offers a valuable and unique insight into the rich history of nursing in the Northern Territory.
Aged care / Aging population
Squeezed to 'absolute desperation' | Otago Daily Times Online News
Otago and Southland's aged residential care is in a desperate position because of staffing shortages and the region's elderly will suffer as a result, operators say.
Rest homes say nurses should be on fast-tracked residency list | RNZ News
Turner wants the government to put nurses on the fast-tracked occupation list. "Anything that New Zealand can offer that that makes us more ...
Aged care sectors lashes out at Government over immigration reset | Newshub
Nurses were left off the new fast-tracked pathway to residency. ... "Anything that New Zealand can offer that that makes us more appealing is ...
Budget 2022: Aged care providers want better funding for their nurses | Stuff.co.nz
Kerikeri Retirement Village values its nurses - such as registered nurse Stacey Alexander, right, helping Lorraine Robson.
Family 'shocked' rest home is offering $500 to families who find them a nurse to hire - NZ Herald
A nationwide shortage of nurses has led one rest home to offer residents and their families a $500 gift card if they can find them a nurse to ...
Cancer issues
'The future of breast screening is on a knife-edge', MPs hear at Pink Ribbon Breakfast in Parliament today
More than 100 people attended a Pink Ribbon Breakfast in Parliament's Grand Hall this morning, where Breast Cancer Foundation NZ made a plea to Government, one week before the Budget, to save the future of breast screening in New Zealand.
More Pasifika women in Auckland being found with rare form of breast cancer
Pacific Island women are being encouraged to get their breasts checked regularly after new research found a rare form of breast cancer is starting to show up more often in young Pasifika women. Read more
Epworth Eastern lets kids 'drive' into the OT
Epworth Eastern, Victoria, is using a remote-controlled four-wheel drive to make children comfortable before surgery.
Young patients can often develop pre-surgical anxiety due to being in an unfamiliar environment, surrounded by strangers wearing face masks, shields and surgical gowns. Pre-operative anxiety has also been shown to increase post-operative confusion.
Children and young people
Teens to get dedicated unit under new Health NZ authority | RNZ News
Teens are going to get their own dedicated unit in the massive shake up of the health system so they do not fall between the cracks of adult and child health.
Covid-19
Ministry defends exemption process after stood down nurse goes unpaid for several weeks
The Ministry of Health believes it is not to blame for processing delays involving a Rangiora intensive care nurse, who was stood down for several weeks unpaid after catching Covid-19
Covid-19 briefing: 'Half of actual cases are being reported' - Dr Ashley Bloomfield
Thousands of new cases of Covid-19 are being reported every day in New Zealand, but this is likely to be half of the number of actual cases, Dr Ashley Bloomfield says.
Covid-19: Updated Vaccine Pass available soon as current ones due to expire shortly
Updated versions of the Covid-19 My Vaccine Pass will soon be available, as current passes are set to expire in the coming weeks.
DHBs
'My entire life is a struggle' - Patient says DHB halved medication
A mental health patient says the Southern DHB's decision, which was made without her consultation, has upended her life.
Parents resort to petitioning Starship for 'better care of their children' | Voxy.co.nz
Concerned parents are sending a petition with a strong message to Starship Hospital: they are tired of waiting for basic, standard-of-care treatment of their children with Crohn's disease and ulcerative colitis (Inflammatory Bowel Disease or "IBD"). Specifically, they are tired of waiting for the hospital to hire a paediatric IBD Clinical Specialist Nurse, whose role would significantly decrease the chances of their children ending up in the hospital and under the surgeon's knife.
Leave cancelled, staff under pressure as Canterbury DHB sees high Covid-19 cases
Canterbury District Health Board is still grappling with high numbers of Omicron cases weeks after it thought it would be over the worst.
Wellington hospital staff shortages at 'critical levels' in midwifery, nursing, allied health | Stuff.co.nz
Half the midwifery positions at Wellington and Hutt Valley hospitals are vacant and the gaps are putting safe care in jeopardy, board members have heard.
Southern DHB boss asked someone else to write his email congratulating nurses, then recalled it
NZ Herald
An email sent by the Southern DHB chief executive acknowledging the hard work of staff on International Nurses Day is at the centre of controversy ...
Diabetes
Webinar: Practical management for patients with diabetes
Presented by Helen Snell
This webinar is presented by nurse practitioner Helen Snell and has the following learning objectives:
List delays and barriers to insulin initiation and intensification
Identify the potential for errors in insulin use by patients and healthcare providers
Describe insulin delivery devices and correct technique when administering insulin
Describe common complications associated with insulin use
Health system
The health system is letting us down every day; can it be fixed?
Opinion: Barely a day goes by without a media report of someone somewhere in New Zealand being let down by the public health system.
It seems to have got to the point of stating the obvious. The health system is in a hole, but not because of the Covid pandemic. Before Covid, public hospital bed occupancy rates were hitting record levels and wards were operating at levels exceeding clinical safety standards.
Injury
People with concussions wait 60 days on average for help, says brain expert
People with head trauma wait an average of 60 days before seeing a concussion clinic, but a brain injury expert has been working to help change this.
Maternity and midwifery
Wellington hospital staff shortages at 'critical levels' in midwifery, nursing, allied health
Half the midwifery positions at Wellington and Hutt Valley hospitals are vacant and the gaps are putting safe care in jeopardy, board members have heard.
Mental health
Budget 2022: Government announces more funding for specialist mental health and addiction services
The government has set out its next steps to upgrade New Zealand's specialist mental health and addiction services.
Speaking in Christchurch, Health Minister Andrew Little said Thursday's budget will include a $100m investment in mental health over four years, including:
Primary health care
Up to 8-week wait for doctor's appointment in Dunedin | Otago Daily Times Online News
It is taking up to eight weeks for some Dunedin people to get an appointment with their doctor.
The city has more GPs than many areas but Covid is putting already stretched services under more pressure, and many practices are turning away new patients as they're at capacity.
Government funding of interpreters in Primary Care is needed to ensure quality care
The pandemic has highlighted many problems in the NZ health system. This blog will address the question of availability of interpreters for people with limited English proficiency (LEP). This is now funded within hospitals. It is funded in Primary Care in Auckland and Nelson but not other regions. It became clear that interpreters were needed to enable Primary Care to look after Covid-19 patients in the community and the Ministry of Health has provided central funding throughout the country for this purpose. If it is acknowledged that funded interpreters are needed for Covid-19 patients, why are they not available for other conditions?
Public health
HIV diagnoses in 2021 lowest in two decades, research shows
The number of people diagnosed with HIV in New Zealand is at its lowest since 2001, new figures from Otago University's Aids Epidemiology Group show.
Rural health
Uncertain state of rural health services
Rural News Group
Dr Fiona Bolden says the rural health services are under huge pressure.
Articles of interest
Nurses, physicians and patients' knowledge and attitudes about nurse prescribing.
Haririan, H., Seresht, D.M., Hassankhani, H. et al.
BMC Nurs 21, 112 (2022). https://doi.org/10.1186/s12912-022-00888-0
One of the roles that nurses have acquired in recent years is the role of prescribing. This study aimed to investigate the knowledge and attitudes of critical care nurses, physicians and patients about nurse prescribing.
Being heard – Supporting person-centred communication in paediatric care using augmentative and alternative communication as universal design: A position paper.
Thunberg, G., Johnson, E., Bornman, J., Öhlén, J. and Nilsson, S. (2022),
Nursing Inquiry, 29: e12426. https://doi.org/10.1111/nin.12426
Person-centred care, with its central focus on the patient in partnership with healthcare practitioners, is considered to be the contemporary gold standard of care. This type of care implies effective communication from and by both the patient and the healthcare practitioner. This is often problematic in the case of the paediatric population, because of the many communicative challenges that may arise due to the child's developmental level, illness and distress, linguistic competency and disabilities. The principle of universal design put forth in conventions and legislation means that the design of products and services should be usable by all people, to the greatest extent possible. Augmentative and alternative communication encompasses strategies, for example pictures and apps, that are typically used with people with communication disability. In this position paper, we argue for the universal use of augmentative and alternative communication to support person-centred communication and care for children, regardless of age or potential disability. Clinical examples are shared from three different paediatric care settings where pictorial supports were applied universally. Interviews were conducted with children and adolescents (with and without disabilities), parents and healthcare practitioners, and the principles of universal design were used as a framework to demonstrate how person-centred communication is supported in paediatric care.
The above information has been collated for the College of Nurses Aotearoa (NZ) Inc by Linda Stopforth, SNIPS and is provided on a weekly basis. It is current as of 17 May
If you have any feedback about content - what parts are most useful or what you would like added - please email admin@nurse.org.nz
For more up to date news and information follow SNIPS at:
Facebook: Snips Info
Twitter: @SnipsInfo