News bulletin 22 June
on 22 June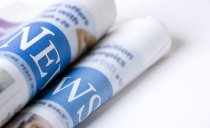 Welcome to the College of Nurses Aotearoa News Update.
No. 598, Wednesday 22 June 2022

Weekly news round-up of nursing and health information in New Zealand and internationally
New Zealand news
I'm a nurse, and you're lucky I'm still standing | Stuff.co.nz
Tracey Morgan is a nurse manager from Rotorua.
OPINION: My name is Tracey Morgan. I am a nurse and you are lucky to have me.
I don't mean I'm more special than any other nurse. The reason you're lucky is that I'm still doing the job despite being on the brink of burnout, so fatigued I can barely stand, and so dispirited I hesitate to turn up for the job I try to keep loving.
Spectre of staffing exodus to fall on Health NZ as DHB holds its final meeting | Stuff.co.nz
A tired, sick and under-staffed workforce, unprecedented demand for GPs and hospital services, a growing wait list for cancelled elective surgeries, a pandemic that is lingering much longer than expected, and an early flu season.
Andrew Little says Government is doing everything it can to address nurse shortage as ... - Newshub
The Health Minister says the Government is doing everything it can to make nursing more attractive "in a way that it has never been before" as hospitals struggle to keep up with immense demand
Nursing shortage: Nurses 'broken' while sector faces thousands of vacancies - NZ Herald
NZNO president Anne Daniels said nurse shortages in New Zealand were "pretty horrendous". "The fewer nurses there are, the more likely [it is] that ...
Health system 'under pressure', not in crisis - Minister Andrew Little
The health minister is "dreaming" if he thinks the health system is not in crisis, his National Party counterpart Shane Reti says.
Health minister says flu, staff absences cause of new hospital pressures - Stuff.co.nz
Little said the Government had funded an extra 4000 nursing roles, but he wasn't sure how many had been filled, and health funding had increased by 25 ...
The Front Page: Lure of Australia could worsen NZ's nursing crisis - NZ Herald
"New Zealand has had a problem retaining and recruiting nurses for decades, but the Covid pandemic and increased pay equities have escalated the ...
International news
Sanford to hire more than 700 foreign nurses by 2025
Sioux Falls, S.D.-based Sanford Health is planning to hire more than 700 internationally trained nurses over the next three years to work at the system's four major medical centers and several critical access hospitals, Chief Nursing Officer Erica DeBoer, RN, told Becker's June 15.
Australian nurses speak out over hospital and aged care understaffing - 9Now - Nine
Amanda Short has been a nurse for 40 years but retired early due to overwhelming stress over the last 12 mo...
NSW to trial shared equity scheme to help nurses, teachers buy homes
"It's good news, we support it. We're happy that a trial scheme is in place. I would make the point that Dominic Perrottet is the fourth Liberal ...
'Bring back masks,' demand nurses as cases rise again - Newstalk
Mask wearing should be brought back on public transport to deal with the surging number of COVID cases in Ireland, the General Secretary of the Irish Nurses & Midwives Organisation has urged.
Covid
Behind the Mask: Kiwi doco captures global tales from Covid-battle's frontlines
REVIEW: Just when you thought you'd seen the last of the early-days-of-Covid documentaries, this year's Doc Edge Film Festival has a Kiwi-created one that's well worth seeking out.
True disparities in Covid-19 vaccine coverage by ethnicity remain 'unclear'
More than a year into Aotearoa's Covid-19 vaccine roll-out, and after more than 10.7 million doses have been given, the true disparities in coverage by ethnicity remain "unclear".
DHBs
Wellington DHBs pause non-urgent care leaving hundreds waiting for surgery
Hundreds waiting for planned surgeries in Wellington and the Hutt Valley will have to wait even longer. Capital & Coast and Hutt Valley DHBs are deferring the vast majority of planned care for another four weeks as both hospitals struggle with demand and never-before-seen staff absences.
Waiting lists: Wellington Hospital scanning failures lead to big spends on private providers
Wellington Hospital is being forced to spend millions of dollars extra sending patients to private providers for MRI and CT scans as its old scanning machines fail to cope.
Wellington region hospitals offer GP vouchers to ease emergency department pressure
Hospitals in the Wellington region are handing out vouchers for free GP after-hours and remote appointments to patients who don't need to be in under-pressure emergency departments.
Wellington hospital wrestles with staff absences, vacancies and high turnover - NZ Herald
Wellington Regional Hospital is wrestling with unprecedented staff absences, high vacancy levels, and capacity issues to the point that average hospital occupancy hit 104 per cent on June 1.
Three Provisional Improvement Notices Issued To Palmerston North Hospital ED - Scoop NZ
Health and Safety Representatives (HSRs), with support from the New Zealand Nurses Organisation, Tōpūtanga Tapuhi Kaitiaki o Aotearoa (NZNO), ...
Nearly all NZ hospitals failing to meet Govt's ED wait time targets - NZ Herald
As hospitals undergo 'extreme pressure' with 'abnormally high' patient presentations, NZ Nurses Organisation Co-President Kerri Nuku calls on the ...
'Unprecedented stress, chaotic' - Emergency Depts overcrowded
An emergency specialist says the situation in hospitals is psychologically and physically exhausting.
'Bribery works, doesn't it?' - Hotel stay offered to raise DHB vax rates
A night in a luxury hotel is being used to entice staff at the Taranaki District Health Board to get a flu vaccination as it declares itself a 'Fortress' against winter ailments.
Taranaki Māori health boss set to bow out
Hayden Wano is bowing out after 24 years as the head of Taranaki Māori health provider Tui Ora.
Education
Increased Medical Student Places Would Help Address Medical Shortage - Scoop NZ
University of Auckland medical and health leaders say that a government sanctioned increase in university places at Auckland would be an obvious and cost effective start to addressing the current shortage in medical practitioners.
Two years' worth of NorthTec students celebrate their graduation together - NZ Herald
A NorthTec graduate has lived away from her son and family for more than three years to finish her nursing degree.
NorthTec's international nursing student enrolment numbers are rising - NZ Herald
Nursing placements for international students are increasing in Whangārei to meet the demand for nurses amid a nationwide shortage.
Maori health
Trail-Blazing Mahi By Māori Health Pioneers Forges A Path For Equity
TAURANGA, 20 June 2022: The extraordinary legacy of Te Moana a Toi's Māori Health Rūnanga will be acknowledged at a commemoration event this week in Tauranga.
Mental health
Health staffing crisis: Nurses warn more lives at risk if issue not addressed - NZ Herald
Nurses are warning more people will die if the health sector's staffing crisis is not urgently fixed.
A patient died in Middlemore Hospital's Intensive Care after previously leaving the hospital due to high waiting times.
Patient safety
When health care goes wrong: It's time for transparency in patient safety - The Conversation
Patient safety incidents were already a leading cause of death in Canada. ... For example, New Zealand has had significant success in implementing ...
Primary health care
NPs lead primary care for Oceania | New Zealand Doctor
Oceania Healthcare signed a funding contract with its fourth PHO this year as it rolls out its own nurse practitioner-led primary care service. [subscription needed to access]
Nurse prescribing under pressure: college of PHC nurses | New Zealand Doctor
New Zealand Doctor
For the past 16 months I have been prescribing as a nurse in a rural primary healthcare post.
[subscription needed to access]
Hospital pressure: Counties Manukau DHB pays GPs up to $350 per patient for consultations - RNZ
Twenty-seven general practices in South Auckland offered free ... as locum doctors and nurses who were already paid at much higher rates, he said.
Free doctors' visits attempt to alleviate hospital strain | RNZ News
With a large surge of winter illness sweeping Auckland, GPs in South ... "We know many of those GPs and nurses who are putting their hands up to ...
Auckland GPs 'overloaded, fatigued' as ED patients redirected
Auckland GPs say they are fatigued and overworked as an overflow of winter patients diverted from emergency departments knock on their doors
Public health
Govt considers widening access to free flu shots as hospitals struggle
The government is considering widening free access to the flu vaccine as the health system struggles with winter illnesses including staff shortages.
Reports and Journals online
Issue 33
In this issue, we look at an important study exploring the needs of Pacific families affected by age-related cognitive decline.
Other highlights include:
Variation in vildagliptin use in Waikato patients with type 2 diabetes
Sugar-sweetened beverage consumption among NZ children
Universal health coverage in the Pacific Islands
Read more
Paediatric Vaccines Research Review Issue 50
In this issue, studies in the UK and Italy highlight the importance of promoting childhood immunisation uptake during the ongoing COVID-19 pandemic, and an editorial in the NEJM discusses the merits of COVID-19 booster shots.
Other highlights include:
Suboptimal maternal vaccination in pregnant NZ women
Effectiveness of a meningococcal vaccine against gonorrhoea
Communicating vaccine safety information in the COVID-19 era
Articles of interest
Looking through racism in the nurse–patient relationship from the lens of culturally congruent care: A scoping review.
Vaismoradi, M., Fredriksen Moe, C., Ursin, G. & Ingstad, K. (2022).
Journal of Advanced Nursing, 00, 1– 13. https://doi.org/10.1111/jan.15267
This review aimed to identify the nature of racism in the nurse–patient relationship and summarize international research findings about it.
Nurse manager succession planning for unit health and well-being,
Medeiros, Marky MSN, RN
Nursing Management (Springhouse): June 2022 - Volume 53 - Issue 6 - p 41-43 doi: 10.1097/01.NUMA.0000831436.38442.a8
Prior to the pandemic, healthcare organizations were faced with nurses experiencing burnout and moral distress, with 34% of nurses reporting emotional exhaustion and more than half of US physicians reporting symptoms of burnout.1 Researchers note the pandemic has only intensified the need for nurse leaders to support the well-being of clinical nurses.2 Now as those numbers increase and healthcare organizations address the issues of retention, moral distress, burnout, workforce trauma, and nurses leaving the profession for various reasons, we must come together and create solutions to keep nurses in practice.
Read more
The above information has been collated for the College of Nurses Aotearoa (NZ) Inc by Linda Stopforth, SNIPS and is provided on a weekly basis. It is current as of 21 June
If you have any feedback about content - what parts are most useful or what you would like added - please email admin@nurse.org.nz
For more up to date news and information follow SNIPS at:
Facebook: Snips Info
Twitter: @SnipsInfo