News bulletin 12 September
on 12 September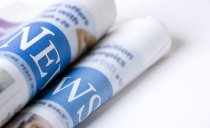 Welcome to the College of Nurses – News Update.
No. 120,  Wednesday 12 September 2012

From NZ media this week 
Nurse, Pacific style
Tonga's first male nurse admits he studied nursing for the "wrong reasons", but is now encouraging other Pacific Island students to choose the vocation he eventually fell in love with.

http://bit.ly/PJaflg
Leading by example wins nurse award

Heather wanted to be a nurse at the age of 3 and went on to pioneer the role of surgeon's assistant at Wairau

http://bit.ly/QBgV9V

A new Code of Conduct for New Zealand nurses
A new Code of Conduct recently released by the Nursing Council gives explicit direction to nurses about the professional conduct that is expected of them. It also acts as a resource for the public providing information about what can be expected from a nurse.

http://bit.ly/S4ZvNA

Nurses warned pay fight looms
Nurses should be prepared to fight for higher wages in 2015, says a retired union organiser.
Jackie McGrath, one of the New Zealand Nurses' Organisation longest serving organisers, has retired after 25 years.

http://bit.ly/TEEaAv

Waiariki review findings released
A review into the Waiariki Institute of Technology (Waiariki)'s Bachelor of Nursing pathway for internationally-registered nurses has been completed and resolutions for affected students found.

http://bit.ly/P97evJ
Nurse enrolment programme flawed

UCOL's processes for enrolling overseas-trained nurses into its nursing programme were flawed, the NZ Qualifications Authority has found.
http://bit.ly/PlamGJ
Waiariki 'must improve its processes'

Bad enrolment processes by Waiariki Institute of Technology are in part to blame for a predicament which has seen international nursing students battling to gain their nursing registrations.

http://bit.ly/P97j2y
Indian nurses update (video)

An update on the Indian nurses who came to New Zealand to study and found they couldn't work here

http://bit.ly/S66WUZ
Ryall's hardline sets hospital chiefs $700m savings target

Health Minister Tony Ryall threatened to use special legal powers to force hospital bosses to do his bidding if they did not support a project to save $700 million. The…

http://bit.ly/Qut3cN

Christchurch hospital revamp biggest ever
The redevelopment of Christchurch's Burwood Hospital will be fast-tracked as part of the largest hospital build in the history of New Zealand's public health service, Canterbury Earthquake Recovery Minister Gerry Brownlee says.

http://bit.ly/ONAJBs
Ian McPherson: Smarter use of our healthcare dollar a priority

It is becoming a concern that healthcare seems to be given "leave" every time economic sustainability is discussed.
http://bit.ly/TLXKJr

SDHB members may do ward time
New Southern District Health Board members have been told they may need to spend time on the wards with staff to learn about the reality of the health sector.

http://bit.ly/RoTn7O
Call for stronger support for victims of pathology errors

A nationally consistent process for supporting patients seriously affected by pathology errors is one of a number of recommendations made after five women had unnecessary surgery because of mistakes in reporting pathology results.

http://bit.ly/SzoK1d
International media

Midwives, nurses can safely perform abortions
Reuters Health) - Abortions are just as safe when performed by trained nurse practitioners, midwives and physician assistants as when doctors do them, a new review of the evidence suggests.

http://reut.rs/OzxKfJ
Nurses of different ages must 'respect' each other

The mix of ages within the nursing workforce can increase high stress levels and harm patient care in the process, German researchers claim

http://bit.ly/OmMwM6

Outback medical jobs in good health
A lack of staff in the last decade compelled the Federal Government to double the places in medical schools to about 3000. The result is a short term over-supply of junior doctors. It's the same with junior nurses. Further out the picture isn't so rosy: while the supply of doctors is headed for balance, Australia will be short of 110,000 nurses by 2025.

http://bit.ly/S1NAAl
Nurse Leader Resistance Perceived as a Barrier to High-Quality, Evidence-Based Patient Care

A new national survey of more than 1,000 registered nurses suggests that serious barriers - including resistance from nursing leaders - prevent nurses from implementing evidence-based practices that improve patient outcomes.

http://bit.ly/RqjHJB
Pacific health professionals explore the gap in mental health understanding

A study published in March this year found big differences in mental illness rates between Pacific island youth born in New Zealand, and young Pacific migrants.

http://bit.ly/PiZGbF
NHS pay cuts will lead to exodus of health workers, say nurses

Royal College of Nursing speaks out against local pay bargaining for hospital staff in south-west England

http://bit.ly/ToojpB
Public health
Five diagnosed with meningococcal disease
Five people in Auckland have been diagnosed with potentially fatal meningococcal disease in the past week.

http://bit.ly/Q4iMUw
The Meningitis Foundation NZ

Meningitis can often result in tragic death, deafness, loss of limbs, brain damage or other neurological disabilities. Sadly, those most affected include infants, adolescents and young adults. 
http://bit.ly/MHRKA7
Arthritis puts pressure on health system

One in four people suffer from musculoskeletal disorders, such as arthritis, which cost the country more than $5.5 billion each year, a new report says.

http://bit.ly/PJNjT0
'Boost needed' in fight against hepatitis
 
Doctors want boosted efforts to combat hepatitis in a bid to counter a jump in the number of liver cancer sufferers.

http://bit.ly/PlbfyS

Fever fighter gets award
Dedication to helping prevent rheumatic fever in Northland and around the country has earned a Kaeo woman a national health award.

http://bit.ly/P6RDww
Dementia care in spotlight
Dementia care is getting special treatment from the South Canterbury District Health Board following predictions the number of cases will double in the next 20 years.

http://bit.ly/OVLNzH

Suicide code of silence major NZ problem
Allowing suicides to go under the radar continues to be a problem for suicide prevention in New Zealand, says a Taranaki mental health advocate.

http://bit.ly/OS7b94
Key in poverty 'la la land'

Organisations working with the poor and opposition parties say Prime Minister John Key is in ''la la land'' if he thinks fruit is enough to get a hungry child through a school day.

http://www.stuff.co.nz/national/politics/7646833/Key-in-poverty-la-la-land
Child poverty costing NZ $10 billion a year - expert
Child poverty costs New Zealand as much as $10 billion a year and three-quarters of that cost is avoidable, a public health conference in Wellington has been told.

http://www.nzherald.co.nz/nz/news/article.cfm?c_id=1&objectid=10831755
Earthquake stress 'affects life prospects of the elderly'
Two years of earthquakes and insurance wrangles have led to the early deaths of some of Christchurch's elderly, a welfare leader says.

http://bit.ly/Sh4hy7
Safe staffing

This month, the Perspectives on Safety section explores the topic of nurse staffing and patient safety. We speak with Jack Needleman, PhD, of the UCLA School of Public Health, an expert on how the nursing workforce influences health outcomes. In addition to reading the

interview

, you can listen to an excerpt online or download a podcast. In the accompanying

perspective piece

, Peter I. Buerhaus, PhD, RN, of Vanderbilt University Medical Center, describes federal initiatives aimed at preparing the nursing workforce needed to match future demand and navigate changes vital to improving health care.
Perspective
:

 
http://www.webmm.ahrq.gov/perspective.aspx?perspectiveId=128

Interview:
http://www.webmm.ahrq.gov/perspective.aspx?perspectiveID=127
Source:

 

Agency for healthcare research and quality
New MoH publications
2012 Review of the Health Practitioners Competence Assurance Act 2003: A discussion document

This publication is about a review of the Health Practitioners Competence Assurance Act 2003 (the Act).
The main purpose of the HPCA Act is to protect the health and safety of the public. The review will look at how HPCA Act is functioning within the wider health system and how it (or the broader regulatory environment) could be improved. International trends in health occupational regulation point to a strengthening of consumer protection, standardisation of legislation and the design of institutions, and improving the performance of regulatory authorities and considering these trends will form part of the review.

The scope of this review has been agreed by Cabinet and will ensure the Act retains the ability to safeguard health practitioners' competence; but in a way that supports the delivery of the workforce required both now and for the future.
The Review will assess how:
the Act supports the delivery of the workforce required both now and for the future
the pastoral care of the health and welfare of health professionals to support the sustainability of the workforce can be improved
a robust data collection system to inform sector intelligence and planning can be developed
the Act can work effectively within the wider health environment and whether the purpose of the Act remains fit for purpose
the health occupational regulatory settings can be improved
the Act can provide optimal levels and types of regulation for the next five to ten years
the operational functioning of the Act can be improved.
The discussion document has  a focus on four principles to guide the review.

http://bit.ly/Sh4hy7
Pathology review panel report released

A national panel of experts have reviewed the five biopsy errors which occurred in the past two years and reported back to the Ministry of Health with a range of recommendations for improvements.

http://bit.ly/RAHz2H
Report on the Provision and Funding of Specialist Behaviour Support Services

This report provides a stocktake and gap analysis of current disability Behaviour Support Services (BSS), including data from interviews with current service providers and their clients.

http://bit.ly/SzpkMf
The above information has been collated for the College of Nurses Aotearoa (NZ) Inc by Linda Stopforth, SNIPS and is provided on a weekly basis.

 

It is current as at Tuesday 11 September 2012
If you have any feedback about content - what parts are most useful or what you would like added - please email
admin@nurse.org.nz
For more up to date news and information follow SNIPS at:

Facebook:
Snips Info
twitter:

@SnipsInfo