News bulletin 14 November 2012
on 14 November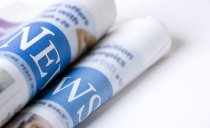 Welcome to the College of Nurses – News Update.
No. 129,  Wednesday 14 November 2012  

From NZ media this week


Nursing body vets careers
Council considers future of nurses with convictions
Two nurses convicted of failing to care for their animals are being investigated by the Nursing Council.

http://www.nzherald.co.nz/nz/news/article.cfm?c_id=1&objectid=10846594
Nest choppers a learning tool for nation's nurses

Northland's rescue helicopters were on show as part of a national conference for nurses who regularly take to the air to help save lives.

http://www.northernadvocate.co.nz/news/nest-choppers-a-learning-tool-for-nations-nurses/1614395/
IT solutions to improve health services
Health Minister Tony Ryall is pleased to announce Dr Jo Scott-Jones, a GP from Opotiki and chair of the rural GP network, has won this year's Clinicians' Challenge with his entry to improve the delivery of health care in a rural environment. 

http://www.sunlive.co.nz/news/34630-it-solutions-to-improve-health-services.html
MCKESSON TO ACQUIRE NZ'S EMENDO

US healthcare services and IT giant

 
McKesson
has announced it is buying

 
Emendo
, the Christchurch-based software vendor that developed the

 
CapPlan
patient flow management tool.

http://www.pulseitmagazine.com.au/index.php?option=com_content&view=article&id=1202:mckesson-to-acquire-nzs-emendo&catid=49:new-zealand-ehealth&Itemid=329

Grateful patients support QE hospital
It's vital QE Health hospital's future is secured, according to those who have received "life-changing" treatment at the Rotorua facility.

http://www.nzherald.co.nz/nz/news/article.cfm?c_id=1&objectid=10845478
Online mental health service a Kiwi first

ADHB has become the first health organisation in New Zealand to roll-out a free online self-help service aimed at improving emotional wellbeing for people in need.

http://www.nzdoctor.co.nz/un-doctored/2012/november-2012/02/online-mental-health-service-a-kiwi-first.aspx

Dental woes putting kids in hospital
Poor dental health is the biggest cause of avoidable hospital admissions for young children in the Wellington region, a report shows.

http://www.stuff.co.nz/dominion-post/news/7914759/Dental-woes-putting-kids-in-hospital

Access widened to funded medicines
Pharmac has spent more than $21.5 million on new drugs and widening access to publicly funded medicines in the past year.

http://www.stuff.co.nz/national/health/7940249/Access-widened-to-funded-medicines
Inaugural head of new College of Health announced

An internationally acclaimed public health specialist has been appointed as the first head of the University's new College of Health, Vice-Chancellor Steve Maharey announced today.

http://www.scoop.co.nz/stories/GE1211/S00055/inaugural-head-of-new-college-of-health-announced.htm
DHB specific
 

$30 million in health savings

A business consulting firm has identified $30 million in savings to be made in Southern District Health Board services over the next three years

http://www.odt.co.nz/news/dunedin/234303/30-million-health-savings

Hawke's Bay health board in $1.3m blowout
The first quarter of the financial year has been described as one of the worst for the Hawke's Bay District Health Board.

http://www.nzherald.co.nz/business/news/article.cfm?c_id=3&objectid=10846771
Unpaid medical bills top $125,000
Patients who are ineligible for free health care in Nelson and Marlborough racked up nearly $600,000 in bills during the last financial year - including nearly $11,000 for an acute nosebleed.

http://www.stuff.co.nz/nelson-mail/news/7938031/Unpaid-medical-bills-top-125-000
SCDHB chief Chris Fleming resigns

South Canterbury District Health Board chief executive Chris Fleming has resigned.
Mr Fleming will move to Nelson early next year to take on the role of chief executive of Nelson Marlborough District Health Board.

http://www.stuff.co.nz/timaru-herald/news/7938379/SCDHB-chief-Chris-Fleming-resigns

Taumarunui Hospital services plan stirs anger
The DHB is under fire for aiming to cut beds and shift an activity group, writes Nicola Brennan-Tupara.
A move that will see the number of inpatient beds at Taumarunui Hospital almost halved and an aged activity programme moved to a rest home is causing outrage in the town.

http://www.stuff.co.nz/waikato-times/news/7916304/Taumarunui-Hospital-services-plan-stirs-anger

DHB criticised over death of patient
The Bay of Plenty District Health Board has been criticised for serious failings in the care it provided a mental health patient who later committed suicide.

http://www.nzherald.co.nz/nz/news/article.cfm?c_id=1&objectid=10847101
 

Damning report upsets partner
Findings on DHB failures miss key concerns, says bereaved woman who is now seeking legal advice.

http://www.nzherald.co.nz/nz/news/article.cfm?c_id=1&objectid=10845778

DHB doctors use cremation fees for perks
Hospital doctors around New Zealand are charging grieving families for cremation certificates and spending the proceeds on parties and Sky TV.

http://www.stuff.co.nz/national/health/7945363/DHB-doctors-use-cremation-fees-for-perks
 

ED gains less than predicted from observation unit
Managers were "quite ambitious" in their initial predictions of gains from a $2.7 million observation unit in Dunedin Hospital's emergency department (ED), and these have been revised down, a Southern District Health Board committee heard yesterday.
http://www.odt.co.nz/news/dunedin/233806/ed-gains-less-predicted-observation-unit
Southern patient complaints up but no horror story, Menzies says

A near doubling of patient complaints to the Health and Disability Commissioner (HDC) is not a "shock horror story", Southern District Health Board deputy chairman Paul Menzies says.

http://www.odt.co.nz/news/dunedin/233785/southern-patient-complaints-no-horror-story-menzies-says
International media
Dean: Need for Nebraska nurses expected to grow even more under federal health care law

LINCOLN, Neb. (AP) -- Nebraska already faces a shortage of nurses and primary care doctors, but a top dean at the University of Nebraska Medical Center said Thursday that the need will grow even more under the federal health care law

http://nz.finance.yahoo.com/news/dean-nebraska-nurses-expected-grow-165351481.html
'Hire foreign doctors to drive down pay' urges think tank

More foreign doctors should be hired to drive up standards in NHS hospitals and drive down pay, according to a think tank.
http://www.telegraph.co.uk/health/healthnews/9667025/Hire-foreign-doctors-to-drive-down-pay-urges-think-tank.html
NHS patients get 'unacceptable' care from nursing assistants

NHS patients are receiving an "unacceptable" level of care from a growing army of unqualified healthcare assistants who have taken over nursing roles on wards and in care homes, an independent commission warns.
http://www.telegraph.co.uk/health/healthnews/9654037/NHS-patients-get-unacceptable-care-from-nursing-assistants.html
University of Chicago Kovler Diabetes Center program educates young adults with diabetes

When Peggy Hasenauer, RN, MS, was hired six years ago as executive director of the University of Chicago Kovler Diabetes Center, one of her first jobs was to find ways Kovler could serve populations that might otherwise be overlooked.

http://news.nurse.com/article/20121105/IL01/311050053
Long shifts for RNs can lead to patient dissatisfaction

Longer shifts make nurses more likely to experience burnout and job dissatisfaction and also make patients more likely to be dissatisfied with care, according to a study.

http://news.nurse.com/article/20121106/ML02/311060006

Dean pleads not guilty to nursing blaze
A nurse has pleaded not guilty to murdering 11 elderly residents by setting fire to a Sydney nursing home.

http://www.newstalkzb.co.nz/auckland/news/nbint/1531631991-dean-pleads-not-guilty-to-nursing-blaze

ANA releases draft of patient handling guidelines
The American Nurses Association has released a draft of its "Safe Patient Handling and Mobility National Standards" for public comment with the goal of establishing a uniform, national foundation for programs to improve safety for patients and healthcare workers. 

http://news.nurse.com/article/20121104/NATIONAL02/111050009
Joining Forces partners with nurses to heal vets

A conference at Missouri Western State University focused on invisible wounds of war such as post-traumatic stress disorder and traumatic brain injury.
"It truly opened everyone's eyes, not only with the military personal but impact on the families," said Carolyn Brose, EdD, RN, BSN, MSN, associate professor at the School of Nursing at Missouri Western State University in St. Joseph, Mo. "It was a very powerful conference."

http://www.kcnursingnews.com/features/article_c730d6eb-8e91-5b18-b2bf-9e845d0986d4.html


Long Shifts Lead to Nurse Burnout and Dissatisfied Patients
Extended work shifts of twelve hours or longer are common and popular among hospital staff nurses, but a new study reports that nurses working longer shifts were more likely to experience burnout, job dissatisfaction, and patients were more dissatisfied with their care.

http://www.nursing.upenn.edu/sia/Pages/Long-Shifts-Lead-to-Nurse-Burnout-and-Dissatisfied-Patients.aspx
Library nurses look after those in need

Pima County program, likely the first of its kind in the country, is aiding people without shelter or medical care

http://azstarnet.com/news/science/health-med-fit/article_6ee73756-17a6-50ff-afb1-d3921b85e8b2.html#.UIWjwuytj6c.twitter
Public health

Number of flu cases higher than expected
The number of patients admitted to hospital with influenza is higher than previously thought, an important New Zealand study on the disease has found.

http://www.nzherald.co.nz/nz/news/article.cfm?c_id=1&objectid=10845539

Swine flu pandemic cost more than $31m, study reveals
The 2009 swine flu pandemic cost New Zealand hospitals about $31 million, a university study shows. But Wellington-based…
http://www.nzherald.co.nz/nz/news/article.cfm?c_id=1&objectid=10846081
 

Record on fever 'shameful
Leading heart doctor says rheumatic fever needs to be tackled 'upstream'.

http://www.nzherald.co.nz/nz/news/article.cfm?c_id=1&objectid=10846098

Schoolgirls' binge drinking shame
Secondary school girls are now bigger binge drinkers than their male counterparts, report says.

http://www.stuff.co.nz/national/7943217/Schoolgirls-binge-drinking-shame
The Asthma Foundation urges smokers to visit their GP because 'It's not too late'
.

With World COPD Day approaching on 14 November, the Asthma Foundation is urging smokers and ex-smokers who have breathing difficulties to talk to their GP or contact their nearest asthma society.

http://www.scoop.co.nz/stories/GE1211/S00017/its-not-too-late-to-give-up-smoking-says-asthma-foundation.htm
People paying for free medication

Families and individuals are paying $2.5 million a year for prescriptions that should be free.

http://www.stuff.co.nz/national/health/7942400/People-paying-for-free-medication

Article of interest

Evidence-based practice for the busy nurse practitioner: Part one: Relevance to clinical practice and clinical inquiry process

Journal of the American Academy of Nurse Practitioners

Volume 24

,

 

Issue 10

,

 

pages 579–586

,

 

October 2012
Purpose:
The purpose of this four-part evidence-based practice (EBP) series is to enhance the nurse practitioner's (NP's) EBP skills by reviewing the process of developing a clinical question, searching for the best evidence, and critically appraising and applying the findings. Part two of the series focuses on how to search the published scientific literature for the most relevant studies that will answer a specific clinical question of importance to the NP.
Data sources:
Scientific literature review, gray searching, PubMed and other online literature databases and resources, and online EBP websites.
Conclusions:
Technology has allowed multiple healthcare resources to be available at one's fingertips enabling both NPs and their patients to find answers to clinical questions. EBP databases can be categorized as synthesized/filtered, unfiltered, and background information/expert opinion resources. Learning which database can best answer the clinical inquiry can streamline the search process.
Implications for practice:
For the busy NP, EBP has emerged as an important strategy to maintain valid, accurate, and relevant clinical knowledge. It is expected that this part of the series will enable NPs to identify appropriate databases to answer clinical inquires while refining their search strategy skills, which takes both time and practice.

http://onlinelibrary.wiley.com/doi/10.1111/j.1745-7599.2012.00748.x/pdf
Patient Sexuality Training: Benefits for Healthcare Professionals
All nurses, whether new or experienced, have experienced uncomfortable situations surrounding patient sexuality, whether it is a male patient making a sexual remark to a female nurse, a nurse walking in on a patient engaged in an intimate act with their spouse or patients asking questions about their ability to have intercourse following a spinal cord injury. These situations are real and all too common. Many nurses are uncomfortable discussing issues of sexuality with their patients, and nursing school programs often fail to educate nurses on how to handle these issues.

http://links.ausmededucation.mkt4285.com/ctt?kn=148&ms=NTA1NTk2NAS2&r=NTUyNDIyNjI5NgS2&b=0&j=NTc1OTk4NTYS1&mt=1&rt=0
Special considerations when assessing over 85s
Picture an 85-year-old lady. Do you imagine somebody frail, sitting in a nursing home watching telly all day? Or do you envision someone living in their own home, gardening, shopping and visiting friends to fill their time? Either way you could be right.

http://links.ausmededucation.mkt4285.com/ctt?kn=312&ms=NTA1NTk2NAS2&r=NTUyNDIyNjI5NgS2&b=0&j=NTc1OTk4NTYS1&mt=1&rt=0
 

Online resources 

Toolkit for Reduction of
Clostridium difficile
Infections Through Antimicrobial Stewardship.

Boston University School of Public Health. Rockville, MD: Agency for Healthcare Research and Quality; September 2012. AHRQ Publication No. 120082EF.
. This toolkit will help

 

hospitals

 

reduce

 

Clostridium difficile

 

infections by developing a

 

stewardship initiativeto prevent

 

antimicrobial misuse

http://psnet.ahrq.gov/resource.aspx?resourceID=25265&sourceID=1&emailID=
Supporting Infants, Toddlers, and Families Impacted by Caregiver Mental Health Problems, Substance Abuse, and Trauma: A Community Action Guide
presents resources that service providers, advocates, and practitioners can use to better understand and respond to young children whose caregivers are negatively affected by these issues. The Guide offers information, resources, and tips useful for engaging the wider community to come together for children and families in need of support.
The Guide is outlined in five sections:
Section 1 focuses on the importance of early development for children from birth to age 5.
Section 2 looks at the newest research on how toxic stress can harm brain development.
Section 3 emphasizes building a sturdy foundation for young children with family and the surrounding community.
Section 4 outlines a six-step roadmap for action.
Section 5 provides resources and references to help you move forward.
The problems facing families today are complex. Fortunately, small changes can have big impacts. Working together—connecting community resources and groups—enables us all to work more efficiently to help families benefit from resources that are coordinated and responsive to their needs. This Guide is meant to serve as a resource in support of this improved approach.

Download:
http://store.samhsa.gov/product/sma12-4726?WT.ac=EB_20121106_sma12-4726

Resources for food-related choking in young children
The Ministry of Health has reviewed and updated its recommendations to decrease the risk of food-related choking in babies and young children. The updated advice expands on previous Ministry advice and includes a list of foods considered to be of a higher choking risk, with suggestions for minimising risk.
Links to resources from Health Education New Zealand are also included. The resources relate to safe eating practices, starting young children on solid foods and what to do if a child is choking.

http://www.hqsc.govt.nz/our-programmes/mrc/cymrc/publications-and-resources/publication/664/
 

New publications
The Advanced Practice Registered Nurse as a Prescriber
ISBN: 978-0-8138-0524-5
Paperback
284 pages
February 2012, Wiley-Blackwell
A new era of opportunity is emerging for advanced practice registered nurses (APRNs) to increasingly address gaps in access to quality health care.  APRNs must be prepared to practice to the full scope of their education and abilities.  As more and more states pass legislation enhancing prescriptive authority and fully autonomous practice for APRNs, a comprehensive resource on prescribing practices is needed.
The increasing demands of today's fast-paced health care environment require a new level of prescriber expertise.  Knowledge about medication characteristics and effectiveness must be accompanied by an understanding of the context and process of prescribing. 

 

The Advanced Practice Registered Nurse as a Prescriber

 

provides practicing APRNs and students  information necessary to make fully informed, rational and ethical decisions as prescribers.
The book opens with an overview of the role of the APRN prescriber and moves on to discussing practical issues such as managing difficult patient situations, special considerations when prescribing controlled substances, the influence of pharmaceutical marketing, state regulation, and legal aspects of prescribing.  The book also examines barriers to prescribing, and the concluding chapter underscores key information to build cultural competence when prescribing.
An evidence-based resource for all APRNs and APRN students,

 

The Advanced Practice Registered Nurse as a Prescriberprovides a comprehensive and practical resource essential for APRNs in all advanced practice roles.

http://dmmsclick.wiley.com/click.asp?p=13380267&m=65167&u=1726060
The above information has been collated for the College of Nurses Aotearoa (NZ) Inc by Linda Stopforth, SNIPS and is provided on a weekly basis.  It is current as at Tuesday 13 November 2012 
If you have any feedback about content - what parts are most useful or what you would like added - please email
admin@nurse.org.nz
For more up to date news and information follow SNIPS at:

Facebook:
Snips Info
twitter:
@SnipsInfo