News bulletin 13 February 2013
on 13 February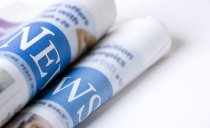 Welcome to the College of Nurses – News Update.
No. 140,  Wednesday 13 February 2013 

From NZ media this week 

Nurse's cheekbone broken in assault by patient
A nurse has had her cheekbone broken in an assault by a patient at Hawke's Bay Hospital.
http://www.nzherald.co.nz/nz/news/article.cfm?c_id=1&objectid=10863781 

Former nursing students swap 50 years of memories
A group of former Nelson nursing students have reunited at their old quarters to celebrate half a century since they started training.
http://www.stuff.co.nz/nelson-mail/news/8264887/Former-nursing-students-swap-50-years-of-memories 

Most nurses find work
While MidCentral has hired more new nurses than normal, nationally fewer than 60 per cent of this summers new grads have found work with a district health board.
http://www.stuff.co.nz/manawatu-standard/news/8281752/Most-nurses-find-work 

Morphine nurse charged with fraud
A Hamilton nurse has been remanded without plea on charges of possessing morphine and fraud.
http://www.stuff.co.nz/waikato-times/news/8288693/Morphine-nurse-charged-with-fraud 

NZ College of Midwives Supports Calls to Increase Pacifika Midwife Numbers
Karen Guilliland, NZ College of Midwives Chief Executive, agrees with the reviewers of the CMDHB maternity services that there is an urgent need to increase the number of Pacifika midwives in the Counties Manakau area.
http://www.scoop.co.nz/stories/GE1302/S00014/calls-to-increase-pacifika-midwife-numbers-supported.htm 

PHARMAC takes significant step towards national hospital medicines list
PHARMAC has taken a further major step towards forming a national list of hospital medicines that will be available nationwide.
http://www.scoop.co.nz/stories/GE1302/S00012/significant-step-towards-national-hospital-medicines-list.htm 

Care assessments improving rest home care
Health Minister Tony Ryall visited Malyon House in Mount Maunganui today to see first-hand a government initiative to help nurses provide better care for older people in rest homes. 
http://www.nzdoctor.co.nz/un-doctored/2013/february-2013/11/care-assessments-improving-rest-home-care.aspx 

DHB specific 

Wait for ED treatment still too long
Patients are still waiting too long for emergency medical treatment at Wellington Hospital, prompting a call for extra beds.
http://www.stuff.co.nz/national/8281343/Wait-for-ED-treatment-still-too-long 

Outsourcing surgery to cost CDHB $150m
Outsourcing surgery to make up for a post-earthquake loss of capacity and hospital beds will cost the region's health system more than $150 million
http://www.stuff.co.nz/the-press/news/8285187/Outsourcing-surgery-to-cost-CDHB-150m 

Hub health vision being put forward
Healthcare advocate Paula Thackwell says she is very confident a 24-hour health service will be restored to North Canterbury as part of the proposed health hub.
http://www.stuff.co.nz/the-press/northern-outlook/news/8279657/Hub-health-vision-being-put-forward 

DHB green lights $5m on new gear
MidCentral District Health Board looks set to go ahead with a $4.9 million purchase of new imaging equipment, including five ultrasounds and three X-rays.
http://www.stuff.co.nz/manawatu-standard/news/8268748/DHB-green-lights-5m-on-new-gear 

Public health 

Rheumatic fever vaccine 'effective within five years'
A vaccine for rheumatic fever is "closer than ever", but New Zealand should not let its world-leading prevention strategies slip, a visiting Australian researcher says.
http://www.stuff.co.nz/national/health/8270985/Rheumatic-fever-vaccine-effective-within-five-years 

Funding for rheumatic fever vaccine
New Zealand and Australia will pump $3 million into finding a potential vaccine for rheumatic fever.
http://www.nzherald.co.nz/nz/news/article.cfm?c_id=1&objectid=10864356 

Whooping cough epidemic not tapering off
A whooping cough epidemic that killed a Christchurch newborn last year is still putting a strain on the nation's health system.
http://www.stuff.co.nz/national/health/8285204/Whooping-cough-epidemic-not-tapering-off 

Return of the deadly cough
Epidemic of sometimes-fatal disease hitting adults as well as babies.
http://www.nzherald.co.nz/nz/news/article.cfm?c_id=1&objectid=10864830 

Farmers 'need help to talk about their pain'  
A Pihama dairy farmer who has never forgotten the tortured feelings of depression has voiced his support for a rural mental health campaign. http://www.stuff.co.nz/taranaki-daily-news/news/8271236/Farmers-need-help-to-talk-about-their-pain 

Call for resources to improve rural mental health
Drought and other afflictions such as floods can push rural people to the edge, worsening depression, Federated Farmers says.
http://www.stuff.co.nz/manawatu-standard/news/8273034/Call-for-resources-to-improve-rural-mental-health 

Stress, depression problems for rural women
Financial stress and family fights are emerging as major causes of depression among rural women.
http://www.nzherald.co.nz/nz/news/article.cfm?c_id=1&objectid=10864363 

International media 

L.A. County removing metal detectors from some hospital facilities
The intent is to make them more appealing to patients under the healthcare overhaul. But victims of past violence at hospitals are among many who oppose the change.
http://articles.latimes.com/2013/feb/03/local/la-me-metal-detectors-20130203 

St. Joseph Hospital offers to pay city to get Taser for officers in emergency department
BANGOR, Maine — St. Joseph Hospital wants every police officer on assignment in the emergency department to have access to a Taser, and is willing to pay the city to get one.
http://bangordailynews.com/2013/02/04/news/bangor/st-joseph-hospital-offers-to-pay-city-to-get-taser-for-officers-in-emergency-department/?ref=latest 

Violence on the rise in local emergency rooms
Emergency room violence continues to make headlines in the Bay Area. Just this past month an angry husband who wanted to see his wife attacked emergency room workers at Sutter hospital in Vallejo.
http://www.ktvu.com/news/news/local/violence-rise-local-emergency-rooms/nWCLh/ 

D.C. Council chairman to propose bill boosting nursing staffs at hospitals
D.C. Council Chairman Phil Mendelson plans to introduce legislation Tuesday that would require the city's hospitals to boost nurse staffing to make sure they won't have too many patients on any given shift.
http://www.washingtonpost.com/national/health-science/dc-council-chair-to-propose-bill-boosting-nurse-staffing-at-hospitals/2013/02/04/77b386f8-6cb9-11e2-8740-9b58f43c191a_story.html 

Program reduces readmissions after heart failure
For elderly patients with heart failure, a collaboration between Kaiser Permanente Colorado Region and the Visiting Nurse Association in Denver contributed to a 24% decline in readmissions while improving patient knowledge and promoting good self-management behaviors.
http://news.nurse.com/article/20130204/NATIONAL02/102040037 

Francis report shows NHS is not the national treasure we thought it was
We must acknowledge that our beloved NHS is lacking the basic humanity of care that we had come to expect
http://www.guardian.co.uk/healthcare-network/2013/feb/06/francis-report-nhs-national-treasure 

David Cameron's prescription for NHS failings: target pay of nurses
Damning report urges top-down shakeup to avoid repeat of Mid Staffs scandal
http://www.guardian.co.uk/society/2013/feb/06/david-cameron-nhs-nurses 

Overworked NHS nurses not to blame for Mid Staffs scandal
Nursing hasn't 'gone bad' – the root of the hospital scandal is a toxic culture that forces staff to focus on targets not patients
http://www.guardian.co.uk/commentisfree/2013/feb/06/overworked-nurses-not-blame-mid-staffs 

RCN restates support for overseas nurses
The Royal College of Nursing has been made aware of concerns being circulated by email that the RCN is working alongside the Nursing and Midwifery Council (NMC) to prevent foreign nurses from practising in the NHS. The RCN wants to make it clear that this is incorrect and that the RCN is doing nothing of the sort. Instead, the RCN has been actively supporting members who have come to the UK from overseas health services in both its everyday work and in activity with parliamentarians.
https://www.rcn.org.uk/newsevents/news/article/uk/rcn_restates_support_for_overseas_nurses  

Work and management 

Bullying knows no age limits
We're accustomed to stories about childhood bullies, but similar behaviours are occurring among seniors in independent retirement communities, assisted-living facilities, nursing homes and community centres.
http://www.nzherald.co.nz/health-wellbeing/news/article.cfm?c_id=1501238&objectid=10864187 

Articles of interest 

Developing cultural competency in accordance with the Health Practitioners Competence Assurance Act 
The New Zealand health care system, like that of other countries from Europe to the Americas, does not pro-vide equal health outcomes to all members of its popu-lation.1-3 Poor health is disproportionately greater among those whose cultural background differs from the ma-jority population.4-7 Culture thus serves as a marker of special needs and, as such, awareness of culture is an important skill for a doctor to possess.
https://www.rnzcgp.org.nz/assets/documents/Publications/Archive-NZFP/Oct-2006-NZFP-Vol-33-No-5/BacalOct06.pdf 

The Treaty of Waitangi: A framework for Maori health development
The Treaty of Waitangi is often described as New Zealand's founding document. However, and since its first signingon 6 February 1840, confusion and debate has often surrounded its interpretation and application, its value as anhistorical manuscript and its broader significance to the contemporary development of New Zealand. While thereis unlikely to be any clear consensus on the application of the Treaty of Waitangi or what its original intent mayhave been, this paper considers the relationship between the Treaty and Māori health. How Māori health issuesfundamentally informed the shape and design of the Treaty, how these connections have gradually been lost, buthow it may provide a framework for contemporary Māori health development.
http://www.nzaot.com/downloads/contribute/TheTreatyofWaitangiAFrameworkforMaoriHealth.pdf 

The long term health consequences of child physical abuse, emotional abuse, and neglect: a systematic review and meta-analysis
Norman, R.E., Byambaa, M., De, R., Butchart, A., Scott, J., & Vos, T. (2012, November). PLoS Medicine, (11):e1001349. doi: 10.1371/journal.pmed.1001349. Epub 2012 Nov 27.
This overview of the evidence suggests a causal relationship between non-sexual child maltreatment and a range of mental disorders, drug use, suicide attempts, sexually transmitted infections, and risky sexual behaviour. All forms of child maltreatment should be considered important risks to health with a sizeable impact on major contributors to the burden of disease in all parts of the world.
http://www.ncbi.nlm.nih.gov/pmc/articles/PMC3507962/ 

Reports on line 

4 ways to engage patients, staff to improve satisfaction and qualityEngaging patients and staff has a multitude of benefits beyond improving patient satisfaction scores--it can also reduce costs and improve care quality. In a new report, the American Hospital Association Committee on Research outlines the benefits of engaging healthcare users--communities, healthcare organizations, healthcare staff and individual patients.
http://www.aha.org/research/cor/engaging/index.shtml 

New publications 

Practice Development in Nursing and Healthcare, 2nd Edition
In its first edition,

 

Practice Development in Nursing

 

made an important contribution to understanding practice development and its core components. Now fully updated to take into account the many developments in the field, the second edition continues to fill an important gap in the market for an accessible, practical text on what remains a key issue for all members of the health care team globally.
Practice Development in Nursing and Healthcare 2nd edition
explores the basis of practice development, its aims, implementation and impact on health care, to enable readers to be confident in their approaches to practice development. It is aimed at healthcare professionals in a variety of roles (for example clinical practice, education, research and quality improvement) and students, as well as those with a primary practice development role, in order to enable them to effectively and knowledgeably develop practice and the practice of others.
Key features:
New updated edition of a seminal text in the field, including significant new material
Relevance inclusive of the health care team
Accessible and practical in style, with case studies, scenarios and examples throughout
Edited and with contribution by experts in the field
Fully updated to include the latest research in the field
Supported by a strong evidence base
With access to a companion website with additional resources

http://dmmsclick.wiley.com/click.asp?p=13380267&m=69344&u=1840330
New from the RCN
Delegating record keeping and countersigning records: Guidance for nursing staff (PDF 585.1 KB)
Publication code:
004337

Publication date:
14 November 2012

ISBN:
978-1-908782-25-0

Abstract:
As members of the wider health care team, HCAs and APs take personal accountability for good record keeping. This new short guidance from the RCN aims to clarify the issues of delegating record keeping and countersigning records for nursing staff and employers.

http://www.rcn.org.uk/__data/assets/pdf_file/0005/486662/004337.pdf
The role of a link nurse in infection prevention and control (IPC): developing a link nurse framework (PDF 232.9 KB)
Publication code:
004310

Publication date:
18 October 2012

ISBN:
978-1-908782-20-5

Abstract:
Link nurses (LNs) are commonly used to support many areas of specialist nursing practice within the UK. Practice areas which utilise LNs include diabetes, tissue viability, pain, nutrition and infection prevention and control (IPC). The RCN recognises the importance and popularity of LN systems in supporting clinical nurse specialists and IPC teams. This document forms part of a series of resources to support LNs, specialist teams, and managers who may be using or considering a LN system and specifically outlines the benefits of implementing LN roles for IPC. It describes the development of a role framework and associated competences in this area, based on the contribution of specialist infection control nurses and practising/aspiring LNs. Although this work has originated from, and uses, IPC examples, the principles of this work are relevant to LNs working in all specialties and a generic role framework has been provided for reference and adaptation (see Appendix 1).

http://www.rcn.org.uk/__data/assets/pdf_file/0006/481515/004310.pdf
The above information has been collated for the College of Nurses Aotearoa (NZ) Inc by Linda Stopforth, SNIPS and is provided on a weekly basis.  It is current as at Wednesday 13 February 2013 
If you have any feedback about content - what parts are most useful or what you would like added - please email
admin@nurse.org.nz
For more up to date news and information follow SNIPS at:

Facebook:
Snips Info
twitter:
@SnipsInfo