News bulletin 23 July
on 24 July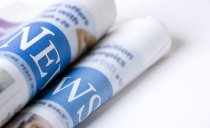 Welcome to the College of Nurses – News Update.
No. 163, Wednesday 24 July 2013 

From NZ media this week 

Protocol to save vital time
A team of Northland-based medical experts have achieved a first for New Zealand and created a system that could save valuable minutes for heart attack patients.
http://www.northernadvocate.co.nz/news/protocol-to-save-vital-time/1949814/ 

Never let babies sleep in seats out of car - researchers
Babies should never be allowed to sleep in car safety seats when the seat is not in a car, researchers say after a new study showing a link to decreased oxygen levels.
http://www.nzherald.co.nz/lifestyle/news/article.cfm?c_id=6&objectid=10898599 

Best to be straightforward with parents of overweight and obese kids – study
Research into how best to engage the parents of overweight and obese children has found motivational interviewing (MI) offers no real advantages over usual care – simply giving feedback in a straightforward and non-judgemental way.
http://www.scoop.co.nz/stories/GE1307/S00095/best-to-be-straightforward-with-parents-of-overweight-kids.htm 

New governance model for Whanau Ora
Whanau Ora will be governed by a new Crown-iwi partnership group and three non-government organisations will be set up as part of the process, the Government has announced.
http://www.nzherald.co.nz/nz/news/article.cfm?c_id=1&objectid=10898894 


Don't push personal views, doctor told
A Blenheim doctor who
refused to prescribe a patient contraceptives
has been told it is unacceptable to push his personal views, says Marlborough Primary Health Organisation head Beth Tester.

http://www.stuff.co.nz/marlborough-express/news/8923158/Don-t-push-personal-views-doctor-told
Primary Health Organisation Navigator finds her own Way: Nancy's Story

Ko Ngai Tùhoe te iwi
Ko Nancy McNoe taku ingoa

Discovering, to her horror, that she was pre-diabetic in her early fifties and coming from a whanau with known health risks, put Nancy McNoe, her whanau and her friends on a new path to health and fitness.

http://www.scoop.co.nz/stories/GE1307/S00081/primary-health-organisation-navigator-finds-her-own-way.htm
Student receives BBC grant to film nurses journey to funeral director

Meeting someone who tells you they want to become a funeral director would surprise most people.
But when former nurse Janet Mikkelsen told University of Auckland student Hilary Crombie she was leaving her nursing career to do just that she decided to make a documentary about it.

http://www.scoop.co.nz/stories/CU1307/S00299/student-films-nurses-journey-to-funeral-director.htm
Bitter deal for diabetics

Pharmac-funded blood glucose testing devices are unreliable, sufferers claim

http://www.nzherald.co.nz/nz/news/article.cfm?c_id=1&objectid=10900924
Reassurance on care for dying in NZ

The Ministry of Health is confident end-of-life care in New Zealand will not be affected by a damning review from the United Kingdom.

http://www.stuff.co.nz/national/health/8944042/Reassurance-on-care-for-dying-in-NZ
Genetic code trial to aid treatment

New Zealand doctors are a step closer to using patients' individual genetic records to make day-to-day decisions in the clinic and in GP surgeries.

http://www.stuff.co.nz/national/health/8944787/Genetic-code-trial-to-aid-treatment
UC researchers seeking to improve hospital care of critically ill patients

University of Canterbury (UC) researchers are trialling mathematical models to help intensive care unit medical staff monitor patients' lung conditions.

http://www.scoop.co.nz/stories/GE1307/S00094/uc-researchers-seeking-to-improve-hospital-care.htm
Award-winning workshop teaches medical students safe healthcare practice

Learning how to prevent errors in health care will be a focus for 470 nurse, medical, pharmacy and optometry students at an award-winning workshop aimed at safe health care practice.

http://www.scoop.co.nz/stories/GE1307/S00092/workshop-teaches-medical-students-safe-healthcare-practice.htm
DHB specific

Doctors 'open' to better care
Collective "openness" is the word on the Bay of Plenty District Health Board's lips as they get behind the Health Quality and Safety Commission's latest initiative.

http://www.sunlive.co.nz/news/48908-doctors-open-to-better-care.html
Number of unwell children a worry for DHB

The large number of sick children in the Waikato region is continuing to be a big cause of concern for the Waikato District Health Board.
http://www.stuff.co.nz/waikato-times/news/8929214/Number-of-unwell-children-a-worry-for-DHB

Doctor blasts DHB in resignation letter
An Auckland doctor has accused his District Health Board of failing to support frontline healthcare in a scathing resignation letter.

http://www.stuff.co.nz/national/health/8936551/Doctor-blasts-DHB-in-resignation-letter
Waikato DHB First In Region to Promote Open For Better Care

Waikato DHB chair Graeme Milne, quality and risk coordinator Susan McHugh, director of nursing and midwifery Sue Hayward, chief operating officer Jan Adams and Health Quality and Safety Commission senior policy analyst Ethan Tucker get on board to raise awareness of the new national patient safety campaign at Waikato Hospital today (Monday 22 Julyl.

http://www.scoop.co.nz/stories/GE1307/S00097/waikato-dhb-first-in-region-to-promote-open-for-better-care.htm
Public health

Record number of children get B4 School Check
This Government is committed to ensuring New Zealand children get the best start to school and is investing an extra $7 million into the B4 School Check programme so even more children receive these important checks.

http://www.voxy.co.nz/politics/record-number-children-get-b4-school-check/5/161567
Tummy bug outbreak sparks warning
Taranaki is suffering an outbreak of a stomach bug caused by parasites, the region's medical officer of health is warning.

http://www.stuff.co.nz/national/health/8928853/Tummy-bug-outbreak-sparks-warning
Concern at high rate of strep throat
Nurses have found higher rates than expected of streptococcal throat infections in a mass South Auckland programme aimed at cutting the high rates of rheumatic fever in the region.

http://www.nzherald.co.nz/nz/news/article.cfm?c_id=1&objectid=10899046
Social health
Tough issues confronted

A distinctive programme using a three-pronged attack to overcome the serious issues facing Northland's youth - including alcohol abuse, teen pregnancy, sexual abuse and suicide - has been launched in Whangarei.

http://www.northernadvocate.co.nz/news/tough-issues-confronted/1949841/

Fears addicts may face longer waiting time for treatment
Drug and alcohol addicts may face longer waiting times for treatment as services brace for an influx of about 700 welfare beneficiaries needing assessment every year after failing controversial new drug tests.

http://www.nzherald.co.nz/nz/news/article.cfm?c_id=1&objectid=10899039
Government told there's no excuse for child poverty

The government's being told there's no excuse for its failure to act on the high number of children living in poverty.

http://www.nzherald.co.nz/nz/news/article.cfm?c_id=1&objectid=10900850
International media
Pacific Partnership Nurses Host Educational Workshops in Kiribati

TARAWA, Republic of Kiribati (NNS) -- Pacific Partnership 2013 nurses are providing education and refresher training for nurses in the Republic of Kiribati, July 16, the first day of a five-day series of workshops.

 


The Pacific Partnership nurses giving the lectures and trainings are representing the Australian navy, the New Zealand army and nongovernmental organizations. 

http://www.navy.mil/submit/display.asp?story_id=75386
American Sentinel University's New Nursing School Comparison Worksheet Helps Nurses Find The BSN Program That's Right For Them

American Sentinel University, a leading online accredited university, has developed a

 
Nursing School Comparison Worksheet
tailor-made to help registered nurses (RNs) compare the nursing programs and amenities of different schools, side by side to help ease the confusion and

 
anxiety
that accompanies this important decision.

http://www.medicalnewstoday.com/releases/263104.php
Nurse Practitioners Provide More Primary Care In States With Least Restrictive Regulations

Facing a nationwide shortage of primary care physicians, some states in recent years have eased up on regulations that create barriers for nurse practitioners who want to work as primary care providers.

http://www.medicalnewstoday.com/releases/263070.php
The 8
th
Global Conference on Health Promotion, Helsinki, Finland, 10-14 June 2013

The Helsinki Statement on Health in All Policies
The 8
th
Global Conference on Health Promotion was held in Helsinki, Finland from 10-14 June 2013. The meeting builds upon a rich heritage of ideas, actions and evidence originally inspired by the Alma Ata Declaration on Primary Health Care (1978) and the Ottawa Charter for Health Promotion (1986). These identified intersectoral action and healthy public policy as central elements for the promotion of health, the achievement of health equity, and the realization of health as a human right. Subsequent WHO global health promotion conferences
1
cemented key principles for health promotion action. These principles have been reinforced in the 2011 Rio Political Declaration on Social Determinants of Health, the 2011 Political Declaration of the UN High-level Meeting of the General Assembly on the Prevention and Control of Non-communicable Diseases, and the 2012 Rio+20 Outcome Document (the Future We Want). They are also reflected in many other WHO frameworks, strategies and resolutions, and contribute to the formulation of the post-2015 development goals.

http://www.healthpromotion2013.org/images/8GCHP_Helsinki_Statement.pdf
Six-Step Plan May Cut HF Readmissions

The six strategies identified by Bradley and colleagues that were associated with reducing heart failure readmissions are:
Having nurses supervise medication plans

http://www.medpagetoday.com/Cardiology/CHF/40509
Reflections on diversity

Mirroring patients' ethnicity in the RN workforce
By 2043, the U.S. is projected to become a majority-minority nation for the first time in its history, according to the U.S. Census Bureau. Both the Hispanic and Asian populations will more than double between 2012 and 2060, and the black population will increase by 50% during the same time period. These statistics illustrate that nurses will be caring for a progressively diverse patient population and the increasing urgency to build a diverse RN workforce.

http://news.nurse.com/article/20130701/NATIONAL05/307010044
Work and management

Making a Difference: Raising C Diff Awareness
C Diff is a resilient bacteria that is becoming an emerging workplace health threat.
http://ehstoday.com/health/making-difference-raising-c-diff-awareness?NL=OH-05&Issue=OH-05_20130716_OH-05_518&YM_RID=stop4th@xtra.co.nz&YM_MID=1408999&sfvc4enews=42 

Social media 

Online and mobile-based technologies for health promotion: Fab or fad?
With more and more New Zealanders online and the increasing affordability of mobile phones and devices, there has been growing enthusiasm for health promotion interventions which utilise these tools. But research has been slow to emerge on the effectiveness of these interventions for promoting behaviour change.

Tune in on the 5 August 10-10:30am as we launch ANA's next evidence snapshot on "The effectiveness of online and mobile technologies for changing health behaviours" via webinar.Leading researcher in the field of Health Informatics and Technology, Dr Robyn Whittaker (The National Institute for Health Innovation) will also showcase learning's from NZ research.
Click here to register or for more information
The webinar is free to attend, but spaces are limited.
Articles of interest 

Disrespectful behavior in healthcare...
Have we made any progress in the last decade?
From the June 27, 2013
Bullying, incivility, intimidation, and other forms of disrespectful behavior have run rampant in healthcare, allowed to exist while many remain silent or make excuses—"That's just the way he/she is"—in an attempt to minimize the profound devastation that disrespectful behavior can cause. The term "disrespectful behavior" encompasses a broad array of conduct, from aggressive outbursts to subtle patterns of disruptive behavior so embedded in our culture that they seem normal (see Table 1 on page 2 in PDF version).1,2 On a personal level, disrespectful behavior causes the recipient to experience fear, vulnerability, anger, anxiety, humiliation, confusion, loss of job satisfaction, professional burnout, uncertainty, isolation, self-doubt, depression, and a whole host of physical ailments such as insomnia, fatigue, nausea, and hypertension.1-8 The presence of disrespectful behaviors erodes professional communication and collaboration, which is essential to patient safety and quality, and creates an unhealthy or even hostile work environment.4
http://www.ismp.org/newsletters/acutecare/showarticle.asp?id=52 

Recognizing and preventing acute kidney injury
Acute kidney injury (AKI, previously called acute renal failure) is common in hospitalized patients (affecting 24 to 30 patients per 1,000 hospital discharges) and contributes to increased morbidity and mortality.1 Although clinicians have long known that patients with AKI who need renal replacement therapy (RRT) have an increased mortality, even patients with modest elevations of serum creatinine are at increased risk.2Patients who have an increase in serum creatinine of 0.3 mg/dL or more have a mortality that's 70% higher than those patients who don't experience a change in renal function.2 Prevention and early recognition is imperative in order to improve outcomes, especially in critically ill patients.
http://www.nursingcenter.com/lnc/Static-Pages/Recognizing-and-preventing-acute-kidney-injury 

Acute Kidney Injury and the Critically Ill Patient
Acute kidney injury (AKI) is a serious complication for the critically ill patient. The term has been increasingly adopted over recent years as efforts have been made to capture and better define mild to severe renal dysfunction. Persistent AKI can lead to the subsequent development of renal failure recognized as an important determinant of morbidity and mortality in the critically ill patient. This article explores the clinical implications of AKI for the critically ill patient and how this can have a profound influence on the principal presenting disease and expected outcome.
http://www.nursingcenter.com/lnc/Static-Pages/Acute-Kidney-Injury-and-the-Critically-Ill-Patient 

Linking Evidence-Based Nursing Practice and Patient-Centered Care Through Patient Preferences
Calls for both patient-centered care and evidence-based practice (EBP) have increased dramatically over the last decade despite a tension between the two. Patient preferences, one of the cornerstones of EBP, can provide the link between the two. Although current research supports the added value of patient preferences in care, there is currently a "gap" between EBP and patient-centered care, with the two often viewed as opposing ideas. The purpose of this article is to provide an overview of patient preferences, summarize research on patient preferences, and discuss implications for nursing and nursing administration. Efforts to incorporate patient preferences into nursing care must be multifaceted, targeting multiple levels from individual nurses to organizations and systems. Four critical elements have been identified for integrating patient preferences into EBP: (1) health care redesign, (2) decision support, (3) empowered organizational culture, and (4) informed and empowered nurses.
http://www.nursingcenter.com/lnc/JournalArticle?Article_ID=1560757&Journal_ID=54011&Issue_ID=1560565 

Online resources 

Intimate partner violence - WHO guidelines
A health-care provider is likely to be the first professional contact for survivors of intimate partner violence or sexual assault and the World Health Organisation has issued a guidelines document to aid health professionals with their response.  
Responding to intimate partner violence and sexual violence against women : WHO clinical and policy guidelines provides evidence-based guidance and advice for policy makers, encouraging better coordination and funding of services, and greater attention to training programs for health care providers. 
The guidelines are based on systematic reviews of the evidence, and includes:Identification and clinical care for intimate partner violence  Clinical care for sexual assault  Training relating to intimate partner violence and sexual assault against women  The guidelines provide standards that can form the basis for national guidelines, and for integrating these issues into health-care provider education.
http://www.who.int/reproductivehealth/publications/violence/9789241548595/en/index.html 

Web-based learning packages for serious incident review and open disclosure
The HQSCommission has been working with the wider health and disability sector to develop two web-based learning packages to provide guidance for two key subjects:serious incident reviewopen disclosure.The packages are intended to provide an introduction to these subjects, and are aimed at staff who work for health and disability providers in the wider sector, rather than district health boards.
http://www.hqsc.govt.nz/news-and-events/news/1012/ 

Reports online  from the Ministry of  Health   Conferences 
Aust and NZ Obesity Society 2013 Conference
REGISTRATION & ABSTRACT SUBMISSIONS NOW OPEN!
 

INTERESTED IN CONFERENCE UPDATES?
SIGN UP HERE!
The Australian and New Zealand Obesity Society (ANZOS) takes great pleasure in inviting you to attend the 2013 ANZOS Annual Scientific Meeting.
This meeting will be held in Melbourne, 17th to 19th October, and will bring together a diversity of researchers and practitioners who are focussed on the prevention, treatment and management of obesity. The breadth of contribution to ANZOS offers a unique opportunity in Australia and New Zealand to meet and exchange ideas that will promote integrated approaches to tackle the escalating obesity problem.
Delegates will have a chance to engage in a comprehensive three-day programme that will include a dynamic mix of expert keynote speakers and presentations in parallel streams focussing on preclinical/ basic research, clinical studies and public health / policy research and other considerations.
The critical mass of presentations across each of these streams will provide a perfect opportunity for both experienced and early career researchers to interact in what is likely to be the most well attended obesity meeting in Australasia in recent years.
We look forward to welcoming you to Melbourne for what we believe will be a very exciting meeting.

 
http://www.anzos2013.org/?utm_source=MailingList&utm_medium=email&utm_campaign=ANZOS+OPENING+BULLETIN
The above information has been collated for the College of Nurses Aotearoa (NZ) Inc by Linda Stopforth, SNIPS and is provided on a weekly basis.

 

It is current as at Tuesday 23 July 2013

If you have any feedback about content - what parts are most useful or what you would like added - please email
admin@nurse.org.nz
For more up to date news and information follow SNIPS at:

Facebook:
Snips Info
twitter:
@SnipsInfo