News Bulletin 17 November 2010
on 17 November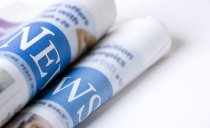 From the NZ media this week  

Emergency nurse wins top award in Australasia
A Hastings nurse with a soft spot for children has been judged Australasia's top emergency nurse. http://bit.ly/9mQVSP 

Doctor-defies-privacy-complaint
A Southland doctor is the subject of human rights proceedings after raising concerns about a resthome worker's access to drugshttp://bit.ly/daahYb 

Hard-core-of-killers-on-our-roads
Evidence has emerged that 72% of all alcohol-related deaths on the roads are caused by drivers who are either blind-drunk or repeat offenders. http://bit.ly/bTz4T0 

Wanganui hospital staff warn DHB of patient safety risks
Patient safety is being compromised at Wanganui Hospital because of shortcomings in the revamped outpatient service.http://bit.ly/atdF7h 

Age old wisdom
Something old, something new - it's all about finding the right balance. Rowena Orejana discovers a service offering traditional Maori and modern medicine.http://bit.ly/b5kyGK 

Rotorua Nurse Suspended For Theft From Patient
Wellington, Nov 12 NZPA - A Rotorua nurse was suspended after stealing about $170 and possibly a credit and Super Gold Card from a patient's wallet when he was in Rotorua Hospital.http://bit.ly/cmUdu9 

Nurses' work following tsunami honoured
Samoan nurses who returned to Samoa to assist in the aftermath of last year's devastating tsunami were honoured in an emotional ceremony at the 15th South Pacific Nurses' Forum in Auckland on November 10th .http://www.spasifikmag.com/12nov10nurseswork/ 
Tim Parke: Universal health system 'more efficient'
Tim Parke compares the pros and cons of New Zealand and American healthcarehttp://bit.ly/aar8X6 

New tool sharpens treatment for Mäori
A new tool that measures physical, spiritual and whänau dimensions of Mäori with mental health issues in addition to purely psychological measures is to be launched this week.http://bit.ly/cyGaBB 

New Zealand's chief nurse heads Pacific alliance
New Zealand's new chief nurse, Jane O'Malley, has been elected the chair of the South Pacific Chief Nursing and Midwifery Officers' Alliance. The alliance has been meeting alongside the South Pacific Nurses' Forum in Auckland this week and on November 11 the alliance and forum delegates came together to discuss ways of improving communication between the two groups.http://tinyurl.com/28f59sa 

English language testing for pacific nurses a 'festering sore'
The issue of English language testing for overseas-trained nurses was a "festering sore" for the South Pacific Nurses' Forum and Pacific nurses, according to the service manager of Auckland Pacific public health provider, Health Star Pacific, Anna Baileyhttp://tinyurl.com/24h2f5w  

From international media sources 

Nurses Banned from Flirting
Nurses in Western Australia have been handed new guidelines to monitor their behaviour during work. High on the list of these guidelines is banning flirtatious or intimate behaviour by...http://bit.ly/c4N3Cs 

Doctors Oppose Nurses' New Rights
A move by doctors to undermine Medicare's extension to cover nurse practitioners in private clinics is gathering momentum. An 11-doctor practice in Hobart has already submitted a letter to medical specialists and radiology and pathology providers, encouraging them to decline referrals from nurse practitioners...http://bit.ly/d1dHw3 

5 ways to engage patients with Facebook pages
Creating a Facebook fan page for your physician practice is a free, easy and increasingly essential way to leverage the phenomenon of online users turning more and more to the Internet for health information.http://bit.ly/b5jQvd 

Why hospitals need to embrace mobile health
Last week, Twitter was buzzing about a new report from the Healthcare Performance Institute that said social media can help reduce medical expenses while improving the quality of care. The article focused on electronic health records and the importance of sharing patient data, but neglected to look at what I think is the biggest health trend--mobile health, more commonly known as...http://bit.ly/cQZ5Eg 

AACN Data Confirm That Nurses With Bachelor's Degrees Are More Likely To Secure Jobs Sooner After Graduation Than Other Professionals
New data from the American Association of Colleges of Nursing (AACN) show that graduates of entry-level baccalaureate (BSN) and master's nursing programs are much more likely to receive job offers at the time of graduation or soon after than graduates from other fieldshttp://www.medicalnewstoday.com/articles/207707.php 

Patient safety champion to leave Wales for New Zealand
One of Wales' leading healthcare improvement champions is moving to New Zealand to become director of the National Institute for Innovation and Improvement. Dr Jonathon Gray spoke to Health Editor Madeleine Brindley about why patient safety needs to stay at the top of the agenda in Waleshttp://bit.ly/c3Msp0  

Tens of thousands of NHS jobs 'to be cut'
At least 10,000 NHS jobs are earmarked to be cut despite promises from ministers that front line health services will be protected, the Royal College of Nursing has found. http://bit.ly/9ugiIU 

Royal College of Nursing fears for 3,800 NHS Wales jobs
A nursing union says it fears more than 3,800 NHS posts face the axe in Wales because of spending cuts.http://www.bbc.co.uk/news/uk-wales-11737951 

Nursing majors: they're bloody cool
The national shortage of nurses is not evident in USM's School of Nursing, as they have trouble fitting all of their students in the space allowed to them in Elizabeth Harkins Hall.http://bit.ly/deZioc 

Diabetes care 'can be improved by specialist nurses'
Inpatient diabetes care can be improved if the expertise of specialist nursing teams is used, leading experts have said.http://www.nursingtimes.net/5021688.article?referrer=e1 

Public health – NZ 

Overcrowding blamed for high rheumatic fever rate
Household crowding is being partially blamed for New Zealand having one of the highest rates of acute rheumatic fever (ARF) among children and teenagers in the developed world.http://bit.ly/9Ox4ff 

Diabetes-not-given-attention-it-needs
Diabetes is a life-threatening condition, but many people do not take it seriously, an expert says.http://bit.ly/93EfQ8  

Articles of interest

Effective handoff communication, part 1: developing and implementing new SBAR tool.
Woods MS. Jt Comm Perspect Patient Saf. October 2010;10:1,3-5,11. This article discusses risks associated with patient handoffs and recommends an adapted SBAR (Situation-Background-Assessment-Recommendation) technique to ensure safe patient handoffs
 http://bit.ly/bJiaYa 

Coming of Age: New geriatric care models and technological advances offer better treatment options
The most important advances in geriatric care, say gerontological nurse researchers and practitioners, are not new technologies and procedures but changes in thinking about older patients. These changes are based on new evidence that for the first time includes large numbers of the elderly. U.S. Census statistics show the number of Americans over 65 will nearly double between 2005 and 2030, expanding from 13% of the population in 2000 to 20% in 2030, for a total of 72 million people.http://bit.ly/bWlzbS 

From the Ministry of Health 

The Burden of Cancer: New Zealand 2006Date of publication (online): November 2010
Summary of publicationThe report presents estimates of the burden of 28 different cancers in 2006, denominated in Disability Adjusted Life Years (DALYs).

The total burden of cancer was estimated to be approximately 127 000 DALYs, with the major types being breast (27%), lung (14%) and colorectal cancer (13%) in females, and prostate (16%), lung (16%) and colorectal cancer (13.5%) in males.

Age standardised cancer DALY rates were typically 1.5 fold higher in Maori than non-Maori.

This report adds to existing information on cancer incidence, survival and mortality in New Zealand and will be used to assist in the planning and prioritisation of cancer services, especially cancer control activities.http://bit.ly/apM7x3  

Conferences, hui and professional development

Learn how to communicate effectively with non-English speaking clients
Monday, November 15th, 2010 Interpreting Canterbury invites you to a workshop, to be held 22 November, on how to work with interpreters for the best possible communication with non-English speaking clients.  It is especially designed for those working in the health services-medical professionals and support staff; everyone from the front desk to emergency services. 
Date    :           Monday 22 November
Time   :           10am - 12pm (Morning tea will be provided)
Venue :           Level 4 Christchurch Community House 141 Hereford St., Christchurch
Cost    :           Free
http://bit.ly/aqLqM9 

Online resources 

NZ Nursing Workforce Statisticshttp://bit.ly/94iALH

 The above information has been collated for the College of Nurses Aotearoa (NZ) Inc by Linda Stopforth,  SNIPS (stop4th@xtra.co.nz)  and is provided on a weekly basis.  It is current as at  Wednesday 17  November 2010.  If you have any feedback about content - what parts are most useful or what you would like added - please email admin@nurse.org.nz