News bulletin 5 March
on 5 March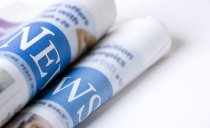 Welcome to the College of Nurses – News Update.
No. 192  Wednesday 5 March 2014
 
From NZ media this week

Canterbury is investing in its nursing workforce
Canterbury DHB is focusing on its future nursing workforce as part of ensuring a sustainable health system for the region.
http://www.voxy.co.nz/health/canterbury-investing-its-nursing-workforce/5/182635
Maori nursing grads stacking shelves
Maori nursing graduates say the struggle to get a job is forcing some to resort to stacking shelves at supermarkets.
http://www.radionz.co.nz/news/te-manu-korihi/237440/maori-nursing-grads-stacking-shelves
Nurses lay down deadline on staff shortages
The Southern District Health Board has been given less than a week to come back with a solution to nursing staff shortages, which nurses say compromise patient care.
http://www.radionz.co.nz/news/regional/237313/nurses-lay-down-deadline-on-staff-shortages
Dunedin Hospital staff shortages affecting care, say nurses
Nurses in Dunedin say a massive staffing shortage is affecting patient care.
Last week hundreds of nurses met with Southern District Health Board management about the situation and are expecting solutions at a meeting tonight.
http://www.newstalkzb.co.nz/auckland/news/nbhea/1615764037-dunedin-hospital-staff-shortages-affecting-care--say-nurses
Confident over nursing
The Southern District Health Board said last night it was confident its nursing numbers in Dunedin were adequate.
http://www.odt.co.nz/news/dunedin/293811/confident-over-nursing
DHBs and Primary Health Care
'Number of failures' lead to woman's death
Wellington Hospital has been slated for care failings after doctors were too busy to see to an elderly woman who later died of septic arthritis.
http://www.stuff.co.nz/national/health/9784651/Number-of-failures-lead-to-womans-death
New plan for last days of life
A controversial national health programme giving patients control over their own death has been criticised as "euthanasia in disguise", but Jean Whitteker, 91, thinks it is a blessing.
http://www.stuff.co.nz/national/health/9777926/New-plan-for-last-days-of-life
Public health

Deadly fever fears for NZ
An outbreak of dengue fever that has killed three people and swamped hospitals in Fiji may be headed for New Zealand, experts warn.
http://www.stuff.co.nz/national/health/9779846/Deadly-fever-fears-for-NZ
Rare case of brain disease
An Auckland patient is the latest person to be diagnosed with the incurable brain disorder Creutzfeldt-Jakob disease (CJD), a condition that became notorious because of its association with Britain's "mad cow disease" outbreak of the mid-1990s.
http://www.stuff.co.nz/national/health/9779866/Rare-case-of-brain-disease
Social health

Under 5 Energize off to a rolling start
Thousands of Waikato pre-schoolers are benefitting from a healthy nutrition and activity programme developed with $1.1 million of government anti-obesity funding says Health Minister Tony Ryall.
http://www.voxy.co.nz/health/under-5-energize-rolling-start/5/182664
Number of Kiwi kids in poverty jumps by 60,000
The number of Kiwi kids in poverty jumped by 60,000 in the recent global recession - twice as much as previously reported.
http://www.nzherald.co.nz/nz/news/article.cfm?c_id=1&objectid=11210883
Superannuitants living in poverty underestimated
GreyPower is disappointed but not surprised that errors by Statistics New Zealand and the Ministry of Social Development saw the number of superannuitants living in poverty underestimated.
http://www.nzherald.co.nz/nz/news/article.cfm?c_id=1&objectid=11212238
International media
Nurse-led dementia trial bridges diversity
A Melbourne nurse-led dementia trial is working to prevent people from culturally and linguistically diverse (CALD) backgrounds slip through the cracks of the health system.
http://www.ncah.com.au/news-events/nurse-led-dementia-trial-bridges-diversity/2023/
Nurse Caseloads, Education Tied to Surgery Outcomes
Each case added to workload linked to higher risk of patient death, researchers say
http://consumer.healthday.com/senior-citizen-information-31/misc-death-and-dying-news-172/nurse-caseloads-education-tied-to-surgical-patient-outcomes-685194.html
Full Lancet article available at:  http://download.thelancet.com/pdfs/journals/lancet/PIIS0140673613626318.pdf?id=baa5NqgBKTd0wczAX0Vru
Peer-to-peer nursing aggression threatens patient care, outcomes
Horizontal violence between nurses at the same level of authority is jeopardizing patient outcomes, research has revealed. A relationship between horizontal violence and ineffective communication, as well as between horizontal violence and poor patient outcome or near misses, was demonstrated. Peer-to-peer abuse has been widely documented in fast-paced healthcare environments in other countries.
http://www.sciencedaily.com/releases/2014/02/140224081111.htm?utm_source=feedburner&utm_medium=email&utm_campaign=Feed%3A+sciencedaily%2Fliving_well+%28Living+Well+News+--+ScienceDaily%29
Practice-based learning improves end of life care confidence in community nurses
District and community nurses who completed a practice-based educational pathway reported greater confidence in delivering palliative and end of life care to patients. Nurses working in these roles said communication was their main area of concern in relation to end of life care but this increased significantly during the project, due to interaction with colleagues experienced in this area.
http://www.sciencedaily.com/releases/2014/02/140224081037.htm?utm_source=feedburner&utm_medium=email&utm_campaign=Feed%3A+sciencedaily%2Ftop_news%2Ftop_health+%28ScienceDaily%3A+Top+Health+News%29
Articles of interest
The feasibility, acceptability and sustainability of nurse-led chronic disease management in Australian general practice: The perspectives of key stakeholders
This was the first Australian study investigating the acceptability, feasibility and sustainability of a nurse-led model of chronic disease management in general practice. A concurrent mixed-methods design was used within a 12-month intervention of nurse-led care in three general practices. Adult patients with type 2 diabetes, hypertension and/or stable ischaemic heart disease were randomized into nurse-led or standard care. Semi-structured interviews explored perceptions of key stakeholders towards this model including patients in the nurse-led arm, and all practice staff pre- and posttrial. The data were thematically analysed and the emergent themes were: importance of time; collaborative relationships; nurse job satisfaction, confidence and competence; patient self-management and choice. Our findings showed that nurses provided chronic disease management that was acceptable, feasible and sustainable. The collaborative involvement of doctors was intrinsic to patient acceptability of nurse-led care that facilitated job satisfaction, and therefore retention and growth within this nursing speciality.
http://onlinelibrary.wiley.com/doi/10.1111/ijn.12027/pdf
The domino effect: Staffing for "what is" versus "what if"
If you've ever worked as a nurse supervisor or nurse administrator, you've probably heard the saying, "We don't staff for 'what if.'" As a nurse supervisor with over 10 years of experience, I still don't understand how we staff any other way. Unless we, as administrators, are looking into a crystal ball, how can we know what type of patients will walk in our hospital doors? Are we able to predict if a patient coming through our ED will need to be placed on a CCU or need emergency surgery in the OR? The answer is no, so why do hospitals staff for what their current census is? The answer is quite simple: it's a case of economics.
http://journals.lww.com/nursingmanagement/Fulltext/2014/02000/The_domino_effect__Staffing_for__what_is__versus.13.aspx
Get it right! Taking a Best Possible Medication History.
Obtaining a best possible medication history, or BPMH, is an important step in medication reconciliation. The Australian Commission on Safety and Quality in Healthcare recently released a training video that guides clinicians on how to obtain an accurate and complete BPMH. By the end of the video, clinicians should be able to:
* explain how to obtain and record a BPMH
* explain why at least two sources of information are used to obtain the BPMH
* understand how medication history taking techniques can influence the accuracy of the BPMH
* recognise when medication reconciliation should occur and why it is important.
Designed for medical, nursing and pharmacy staff, the video includes a short, role play scenario which highlights the steps in taking a BPMH and provides important tips when reviewing sources of medicines information.
The video can be accessed via the Commission's YouTube channel.
http://www.youtube.com/watch?v=dc5jFuba6CI
Professional development
NZ Population Health Congress
Aotea Centre, Auckland
The New Zealand College of Public Health Medicine, the Public Health Association and the Health Promotion Forum warmly welcome you to the inaugural New Zealand Population Health Congress.
http://www.scoop.co.nz/stories/GE1402/S00102/nz-population-health-congress-october.htm
The above information has been collated for the College of Nurses Aotearoa (NZ) Inc by Linda Stopforth, SNIPS and is provided on a weekly basis.  It is current as at Tuesday 4 March  2014
If you have any feedback about content - what parts are most useful or what you would like added - please email admin@nurse.org.nz
For more up to date news and information follow SNIPS at:
Facebook:  Snips Info
twitter: @SnipsInfo