New Bulletin 24 Nov 2010
on 25 November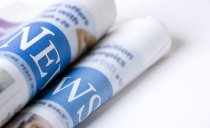 From the NZ media this week  

Cost-of-sick-staff-could-be-13b-report
Sick days and employees who battle through illness are costing the economy billions of dollars  http://tinyurl.com/2b7rjet 

Treasury working papers can be found at this link
http://bit.ly/ci8dzg 

Placenta-project-wins-recognition
Christchurch Women's Hospital lost 10 placentas in one year, prompting it to introduce a tracking project.  http://tinyurl.com/2fd53dq 

Otaihape Health calls in liquidator
Despite a financial bail-out the beleaguered Otaihape Health Ltd has decided to go into voluntary liquidation.  http://tinyurl.com/2f7l2n7 

Trust initially set up to provide surgery facilities
Four years ago Otaihape Health Ltd was formally set up, launched as a grandiosely titled proposal called Integrated Health and Disability Services and the Formation of a Trust in Taihape.  http://bit.ly/calG2g 

Surgery-not-safe-for-many-older-people
At least one in five elderly people will die or develop major complications after surgery, research suggests.  http://bit.ly/9Hn2UU 

Nurse Practitioner Appointed
Canadian Nurse Practitioner Friederike von Aweyden has been appointed to the newly created position of Nurse Practitioner at the Rural Academic General Practice at Grey Base Hospital.  http://bit.ly/cQ5Qoe 

Hospital errors causing serious harm climb
The number of public hospital errors that caused or could have caused major harm to patients has increased.  http://tinyurl.com/37fq87r

Falls top hospitals' patient mishaps list
Falls were the leading cause of major preventable "adverse events" in public hospitals in the year to June. http://bit.ly/bJtZMw 

Enough staff key to preventing serious and sentinel events
The Serious and Sentinel Events Report released today (November 17) demonstrates, yet again, that having enough appropriately skilled staff to provide safe care, is crucial in preventing patients dying or suffering a serious disability while in hospital, according to the New Zealand Nurses' Organisation (NZNO).  http://bit.ly/aDe6zU 

Primary Care Event Reporting A Matter Of Time
Serious and sentinel events in primary care won't be included in next year's Health Quality and Safety Commission report, but possibly in reports a year or two after that, it was announced today  http://bit.ly/c4s8dl 

Ten new DHB chairs announced
Ten new chairs have been appointed to District Health Boards (DHBs) among positions announced today by Health Minister Tony Ryall  http://bit.ly/cFagMx 

National Services chosen
The National Health Board (NHB) has chosen five vulnerable services to become national services in the next financial year. The services are Clinical Genetics, Paediatric Pathology, Paediatric Metabolic Services, Paediatric Cardiology and Paediatric Cardiac Surgery.   http://bit.ly/asU3qv 

DHBs-head-dismisses-merger-by-stealth-claim
The new joint chairwoman of Wellington and Hutt Valley's district health boards has dismissed claims the role is "merger by stealth" and says the care patients receive in either city will not be compromised.  http://bit.ly/bx3raB 

Hospital-revamp-may-close-PMH
A $1b revamp of Christchurch hospitals could lead to the closure of Princess Margaret Hospital.  http://bit.ly/aDs4y2 

Training to identify child abuse starts today
Teachers and health workers will get training to recognise and respond to child abuse in a nationwide initiative announced by Acting Social Development Minister Judith Collins today  http://bit.ly/cdiGNd  

Cot-death-campaign-revived
Cot death is killing too many babies when simple safety messages could save them, a leading health researcher says.  http://bit.ly/bxOEci 

Health-info-day-for-migrants
Plunket, public health nurses, breast screening and free midwifery services are part of New Zealand's health landscape that Kiwis grow up with  http://bit.ly/9Y3OAC 

Prize-for-arthritis-sufferer
A Christchurch teenager whose time in hospital inspired her to train as a nurse has won a national award for young arthritis sufferers  http://bit.ly/c75rxV 

Māori whakapapa search seeks subjects
Bravestar Films are looking for Māori of all ages to be part of the seventh series of Tātai Hono, due to run on Māori Television next year. The television series revolves around helping Māori who have lost touch with their family and tribal affiliations reconnect with their people and their home ground.  http://tinyurl.com/2fyerzx   

Public health issues 

Cuts to diabetes service 'bad for nation's health'
Diabetes Awareness Week celebrations started today with national leaders watching to see whether the MidCentral District Health Board decides to cut $100,000 from its Diabetes Lifestyle Centre specialist service.  http://tinyurl.com/2favggj 

Scourge of the superbug
A new generation of superbugs, fast developing resistance to all the tried-and-true antibiotics, has reached New Zealand shores. And hospitals are scrabbling for a solution.  http://bit.ly/cLwBgO 

Costly cleanse unnecessary
New Zealand hospitals have no immediate plans to introduce a costly programme to "deep clean" wards to fight deadly superbugs  http://bit.ly/9AS6vo  

Killer superbug in NZ
A new killer strain of superbug has reached New Zealand shores.  http://bit.ly/cFY5Xn  

Superbugs one of NZ's 'greatest disease threats'An Auckland health symposium has identified rheumatic fever and superbugs as the greatest infectious disease threats in New Zealand.  http://bit.ly/ddTzuC 

Smokers-quit-in-droves
The number of smokers stubbing out the habit has nearly doubled since tobacco tax hikes.  http://bit.ly/9TpK5p  

From international media sources 

Roxon Ushers in New Nursing Reforms
Federal Health Minister Nicola Roxon addressed the Australian College of Nurse Practitioners earlier this month to mark the momentous changes in the country's health system.
http://tinyurl.com/2fejscj 

Debate Rages: Can Nurse Clinics Provide Safe Care?
The introduction of Medicare rebates for services provided by nurse practitioners, in addition to the new laws extending nurses' prescribing rights, has raised concerns regarding the level of collaboration that will be demanded of nurses working in private nurse practitioner clinics. http://tinyurl.com/28yrqfu 

Call to boost nurse training on pain
Nursing care of older patients must be improved, particularly the control of pain, the author of a national report on hospital mortality has told Nursing Times.  http://www.nursingtimes.net/5021643.article?referrer=e1 

CNO launches online support for nurses to share best practice
Chief nursing officer for England Dame Christine Beasley has launched a new section on the Department of Health's website to give nurses access to the Energise for Excellence quality framework from wherever they are delivering care.  http://bit.ly/d8k3yu 

New MA in nursing course open to all graduates
The University of Salford has launched a new MA in nursing that is open to all graduates – making it the first of its kind in the country.  http://www.nursingtimes.net/5021724.article?referrer=e1 

Hopkins CEO: Nurse practitioners could reduce need for more docs
Contrary to the opinions of many medical prognosticators, Ed Miller, dean of the School of Medicine and CEO for Johns Hopkins Medicine, believes that more doctors are not necessary to handle the influx of patients sure to hit once health reform fully kicks in. Instead, he sees an opportunity to call on many other caregivers--nurse practitioners, physician extenders and technicians, for example--to step up and fill in the gaps, according to a recent interview with The JHU Gazette. http://bit.ly/agfVIc 

Nurse practitioner-led spinal clinic produced impressive results and shorter waiting times
Ninety-six per cent of patients with back problems were satisfied with the assessment carried out by a specially trained nurse practitioner, according to a study in the December issue of the Journal of Advanced Nursing. Seventy-four per cent were happy to see her rather than wait up to a year to see a surgeon, with less than a quarter of those who preferred to see a surgeon saying that the extra wait was acceptable.  http://bit.ly/9SWp7a 

College of Nursing welcomed New Zealand nursing scholar The College of Nursing was pleased to host Deb Spence, PhD this fall. Dr. Spence is responsible for both graduate and undergraduate students in the nursing program at her college – AUT University in Auckland, New Zealand. She was traveling in the United States this semester on a sabbatical to learn more about advanced practice nursing (APN) education and clinical practice and the use of simulation in nursing education. During her time in the United States, she was visiting a variety of educational and clinical locations to explore different teaching strategies, our approach to a culture of safety, and nurse-managed community clinics. She was particularly interested in seeing how low/high fidelity simulation can be used for undergraduate instruction especially mental health nursing scenarios and in APN education for enhancing clinical preparation and decision making  http://bit.ly/cIEolz 

New set of principles for nursing care launched
Patients will be able to judge the nursing care they receive against a set of eight principles published today.  http://www.nursingtimes.net/5022099.article?referrer=e1 

Survey finds high burnout levels among nurses
ONE-THIRD OF nurses across the State believe the quality of patient care provided in their hospitals has deteriorated over the past year, according to a new survey.  http://bit.ly/c1AuY9

 Nurses' Role in the Future of Health Care
At the start of my surgical training, I helped to care for a middle-aged patient who was struggling to recuperate from a major operation on his aorta, the body's central artery, and the blood vessels to his legs. As the days wore on, the surgeon in charge began consulting various experts until the once spare patient file became weighted down with the notes and suggestions of a whole roster of specialists.  http://nyti.ms/cSbkrl 

Assessment by nurse practitioner satisfies patients with back problems
Study reports 100 percent agreement on clinical diagnosis and 96 percent patient satisfaction. Ninety-six per cent of patients with back problems were satisfied with the assessment carried out by a specially trained nurse practitioner, according to a study in the December issue of the Journal of Advanced Nursing. http://bit.ly/chREYB 

Specialist nurses speed up diagnosis
A specially trained nurse practitioner can speed up the diagnosis and management of patients with certain spinal conditions, according to Canadian researchers. http://www.nursingtimes.net/5022040.article?referrer=e18 

Articles of interest 

improve safety: A literature reviewNursing Management
November 2010 
Volume 41 Number 11
Pages 18 - 24I
Improving patient safety has been at the forefront of the U.S. healthcare industry since the Institute of Medicine's publication, To Err is Human: Building a Safer Health System, was released in 1999.  http://tinyurl.com/27gbq96 

Enough is enough: When and how to terminate projects
Nursing Management: November 2010 - Volume 41 - Issue 11 - p 46–48  http://bit.ly/9u9Q0X  

From the Ministry of Health 

Calculating Outcomes Potentially Sensitive to Nursing: A Literature Review
Date of publication (online): November 2010
Summary of publication  There is a link between nurse staffing, in terms of hours and skill mix, and certain patient outcomes. These outcomes have been identified as being potentially sensitive to nursing care (OPSNs). The purpose of this Literature Review was to see whether there is evidence that the cost of these OPSNs could be quantified. The findings suggest that costing of OPSNs is possible, and is generally done through the use of a hospital accounting system.

However, costing using this method would appear to be a time-consuming and not entirely accurate process, which has thus far been carried out for research purposes only, and with a relatively small sample of patients. Accounting systems appear to be improving, and are now widely used in Canada and the United States.  http://bit.ly/aK1hAF  

The New Zealand Health Survey: Objectives and topic areas August 2010
Date of publication (online): November 2010
Summary of publication  The New Zealand Health Survey (NZHS) is an important data collection tool for monitoring the health of the population.

The information collected is an important source of supporting evidence for health and health service policy and strategy development.

From May 2011, the New Zealand Health Survey will be made up of a consistent core questionnaire with a flexible programme of rotating thematic / topic modules.The document describes the New Zealand Health Survey and outlines the key objectives of the survey.

The report also outlines the key information domains and topic areas that will be included in the survey.  http://bit.ly/9jRwOV 

National Opioid Substitution Treatment Providers Training Programme
Date of publication (online): November 2010
Summary of publication  This publication is designed to be used in conjunction with training workshops provided by the New Zealand Association of Opioid Treatment Providers. Its purpose is to provide a national standard for effective and responsive service delivery and to ensure that the skills and attitudes used by the workforce are enhanced to meet the specific needs of clients receiving opioid substitution treatment.  http://bit.ly/9qJAwZ 

Serious and Sentinel Events 2009/2010
New figures show New Zealand hospitals have a continuing focus on patient safety, says Professor Alan Merry, Chair of the Interim Board of the Health Quality & Safety Commission.  http://bit.ly/bd1XYT 

New publications 

HEALTH PROMOTION & HEALTH EDUCATION IN NURSING : a Framework for Practice Ed. Dean Whitehead (Massey) & Fiona Irvine Using a multi-professional approach, this book provides a fascinating guide to health promotion, health education and public health issues. It supplies the knowledge and means to understand and implement a systematic approach to individuals' own practice, including information on :
Health promotion in the context of the healthcare setting

The role of the nurse in promoting health

Evidence-based practice

Politics, policy and ethics for health education and promotion
Pub. Palgrave Macmillan     2010     978-1-4039-4081-0      $65.00 
http://tinyurl.com/29366b8
Online nursing newsletters
International Nurse Migration 
November 2010 eNews

This issue contains articles about global recommendations on increasing access to health workers in remote and rural areas, Mexican nursing and NAFTA, nursing development and exportation in the Philippines, concerns about health migration from Eastern Europe, supporting Indian nurses migrating to New Zealand, and more.  
http://bit.ly/9LarYA
The above information has been collated for the College of Nurses Aotearoa (NZ) Inc by Linda Stopforth,

 

SNIPS (
stop4th@xtra.co.nz
)

 

and is provided on a weekly basis.

 

It is current as at

 

Wednesday 24

 

November 2010.

 
If you have any feedback about content - what parts are most useful or what you would like added - please email
admin@nurse.org.nz