News bulletin 26 March
on 26 March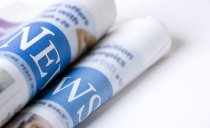 Welcome to the College of Nurses – News Update.
No. 195 Wednesday 26 March 2014
 
From NZ media this week

New life leads to study path for Annatjie Pretorius
A swerve in Annatjie Pretorius's life journey will see her capped with a Master of Nursing at EIT's graduation ceremony on Friday.
http://www.nzherald.co.nz/hawkes-bay-today/news/article.cfm?c_id=1503462&objectid=11222488
Cost cutting at Auckland Hospital 'intolerable' - Nurses
Nurses say they won't be able to function under any further staff cuts at Auckland Hospital.
An email has been sent to senior managers and clinical staff saying urgent cost cutting measures may be needed, in areas which have overspent.
http://www.farmingshow.com/news/nbhea/1210552520-cost-cutting-at-auckland-hospital--intolerable----nurses
Auckland nursing and midwifery jobs at risk
The New Zealand Nurses Organisation (NZNO) holds fears nursing and midwifery jobs could be targeted after Auckland District Health Board (DHB) revealed plans to introduce cost-cutting measures.
http://www.ncah.com.au/news-events/auckland-nursing-and-midwifery-jobs-at-risk/2045/
Anti-gambling body to get chop: MP
The Problem Gambling Foundation is to be shut down, largely because it opposes the Government's SkyCity deal, Labour MP Trevor Mallard says.
http://www.nzherald.co.nz/nz/news/article.cfm?c_id=1&objectid=11223341
No bluff: Anti-gambling body's funds cut
Government funding for the Problem Gambling Foundation has been scrapped, the organisation confirmed today amid rumours the service would be shut-down because it opposes National's SkyCity convention centre deal.
http://www.nzherald.co.nz/nz/news/article.cfm?c_id=1&objectid=11223341
Helplines to merge into single service
Helpline services for smokers, gamblers and other groups are being merged into a new national "telehealth" service - possibly with a simple 111-style number.
http://www.nzherald.co.nz/nz/news/article.cfm?c_id=1&objectid=11226337
Maternity units are valued, feedback shows
The Waikato District Health Board will decide tomorrow whether to keep or close down its maternity units in Te Awamutu and Morrinsville.
http://www.stuff.co.nz/waikato-times/news/9863091/Maternity-units-are-valued-feedback-shows
UC research finding ways to reduce New Zealand's critical illness costs
Healthcare costs are growing faster than society's ability to afford them but University of Canterbury (UC) research is finding ways to reduce this economic burden through model-based therapies for critical illness.
http://www.scoop.co.nz/stories/GE1403/S00117/uc-research-finding-ways-to-reduce-nz-critical-illness-costs.htm
TV urged to retune for deaf
Hearing bodies campaign for universal captioning, especially when disaster strikes.
http://www.nzherald.co.nz/nz/news/article.cfm?c_id=1&objectid=11226329
Aged care
Cases of elder abuse increasing
The number of cases of elder abuse and neglect referred to Age Concern Otago continues to rise, those working for the organisation say.
http://www.odt.co.nz/news/dunedin/296513/cases-elder-abuse-increasing
DHBs and Primary Health Care
DHB staff claimed to be overworked and understaffed
Waikato District Health Board has been named as one of four in New Zealand at "high risk" due to staff shortages.
http://www.stuff.co.nz/national/health/9867704/DHB-staff-claimed-to-be-overworked-and-understaffed
Missing gowns and towels cost hospitals dear
They are hardly the height of style and comfort, but up to $200,000 worth of hospital gowns and towels go missing from lower North Island hospitals each year.
http://www.stuff.co.nz/national/health/9846582/Missing-gowns-and-towels-cost-hospitals-dear
Intensive care infection survival rates boosted
Australian and New Zealand hospitals have dramatically improved the survival chances of people admitted to intensive care units (ICUs) with severe infections, according to a 12-year study.
http://www.stuff.co.nz/national/health/9845536/Intensive-care-infection-survival-rates-boosted
DHB faces $12m shortfall
The country's biggest hospital faces cost-cutting measures to rein in a potential $12 million budget shortfall.
http://www.stuff.co.nz/national/health/9848540/DHB-faces-12m-shortfall
Mental health
Disillusionment and stress in Canterbury - DHB
The CERA Wellbeing Survey highlights the stresses caused by living in a post-disaster environment.
All Right? manager Sue Turner says many people in Canterbury are struggling with their mental health as a result of the earthquakes and the stressors inherent in our recovery.
http://www.voxy.co.nz/health/disillusionment-and-stress-canterbury-dhb/5/185105
Pharmacy
Flu remedies pose dosage risk
Over-the-counter cold and flu remedies could be exposing patients to unexpectedly high doses of phenylephrine, new research shows.
http://www.stuff.co.nz/southland-times/news/9849364/Flu-remedies-pose-dosage-risk
Drugs' disease risk concern
University of Otago researchers have found that some widely used heartburn and peptic ulcer medicines, involving proton-pump inhibitors, increase the risk of contracting a rare kidney disease.
http://www.odt.co.nz/campus/university-otago/296521/drugs-disease-risk-concern
Medicine run amok, or mere advice?
New Zealand is one of two developed countries that allow direct-to-consumer advertising of prescription-only medicine. Critics claim a proposed trade deal could make advertising more worthwhile if drug-buying agency Pharmac is affected. Health reporter Eileen Goodwin looks at the issue.
http://www.odt.co.nz/news/dunedin/296057/medicine-run-amok-or-mere-advice
Vaccinations available at pharmacies
Whooping cough and meningococcal are serious diseases and can be deadly if preventable action isn't taken.
http://www.stuff.co.nz/auckland/local-news/western-leader/9844857/Vaccinations-available-at-pharmacies
Public health
Swine flu outbreak in Hawke's Bay
Eight cases of swine flu (H1N1) have struck Hawke's Bay since February. Three patients are in intensive care and one in a coma.
http://www.nzherald.co.nz/nz/news/article.cfm?c_id=1&objectid=11225839
Plain packs will help prevent a new generation of smokers
Plain packaging for tobacco products must be introduced without delay to prevent tobacco companies from marketing their products to the detriment of our young people's health, says the Paediatric Society's Dr Philip Pattemore.
http://www.scoop.co.nz/stories/GE1403/S00090/plain-packs-will-help-prevent-a-new-generation-of-smokers.htm
Social health
Global survey shows one in six Kiwis struggling for food
A global survey has found that one in every six Kiwis ran out of money for food in 2011-12 - more than in all except eight other developed nations.
http://www.nzherald.co.nz/nz/news/article.cfm?c_id=1&objectid=11223351
Kids dragged from school to school
Our poorest schools are swapping nearly half their pupils a year, as transient families chase work or flee debt.
http://www.stuff.co.nz/national/education/9867561/Kids-dragged-from-school-to-school
Elderly, disabled included in state house review
More than one in five of the first 780 state house tenants facing possible eviction under a new Government policy will be elderly or disabled.
http://www.nzherald.co.nz/nz/news/article.cfm?c_id=1&objectid=11222414
International media
Emergency Rooms Are No Place for the Elderly
The elderly man lived alone in an apartment complex not far from the hospital. A younger neighbor, who'd watched him hobble down the building's stairwell for nearly a week, insisted on taking him to the emergency room. Doctors there immediately diagnosed an infection in his painful toe and prescribed antibiotics for him to take at home.
http://ht.ly/uy896
Saskatchewan nurses say Lean program has little impact on patient care
The president of the Saskatchewan Union of Nurses says her members are worried about changes under a program known as Lean.
http://www.theglobeandmail.com/news/national/saskatchewan-nurses-say-lean-program-has-little-impact-on-patient-care/article17561357/
Union says chronic understaffing of ER nurses is impacting safe patient care
The BC Nurses' Union is again speaking out this morning about the issue of chronic understaffing in hospitals throughout the Fraser Health region, and the impact it is having on patient care.
http://globalnews.ca/news/1217814/union-says-chronic-understaffing-of-er-nurses-is-impacting-safe-patient-care/
State colleges reach deal on easing way for nurses' degrees
A new agreement makes it easier for nurses who start their studies at state community colleges to earn a bachelor's degree.
http://seattletimes.com/html/localnews/2023173365_nursesbachelorsxml.html
Nurse under fire for posting photos of patient on Facebook
Taipei, March 13 (CNA) A nurse at a hospital in eastern Taiwan has invited accusations of privacy violation for posting photos of a heart surgery patient on her Facebook page.
http://focustaiwan.tw/news/asoc/201403130023.aspx?utm_content=buffer8766c&utm_medium=social&utm_source=twitter.com&utm_campaign=buffer
ICU Mobility Program Saves $500K in 6 Months
A program to get mechanically ventilated and post-operative ICU patients up and moving quickly represented a huge culture change for nurses, but it reduced length of stay and eliminated pressure ulcers and ventilator-associated pneumonia.
http://www.healthleadersmedia.com/content/NRS-302019/ICU-Mobility-Program-Saves-500K-in-6-Months
NHS Staff Who Refuse Flu Jab 'Irresponsible'
Patients are being put at risk because so many doctors and nurses refuse to have the flu vaccine, Sky News has been told.
http://www.mix96.co.uk/news/national/1238069/nhs-staff-who-refuse-flu-jab-irresponsible/
Florida nurse practitioners seek more authority to work independent of doctors
NAPLES — Nurse practitioners think this will be their year. Doctors hope it's not.
Florida lawmakers this spring are considering bills to expand the role of advanced registered nurse practitioners, pitting them against physicians in an ongoing effort to expand their scope of practice.
http://www.naplesnews.com/news/2014/mar/20/florida-nurse-practitioners-seek-more-authority/?partner=RSS
Texas RNs and physicians establish culture of collaboration
Initiating policies and modeling professional behavior help facilities move forward
http://news.nurse.com/article/20140320/SE02/140319003
WATCH: ER nurses at Royal Columbian quit over overcrowding problems, doctors sound alarm
Doctors and nurses say overcrowding is reaching a breaking point at Royal Columbian Hospital with some nurses even leaving their jobs in the emergency room.
http://globalnews.ca/news/1214575/watch-er-nurses-at-royal-columbian-quit-over-overcrowding-problems/
Provincial News: Nurse Practitioners Call for Action to Address Red Tape that Blocks Public Access to Care
TORONTO, March 20, 2014 /CNW/ - On the eve of a new budget and a potential election, Ontario's Nurse Practitioners have released a platform calling on all political parties to take action in five key areas that will improve health care performance and value.
http://www.northumberlandview.ca/index.php?module=news&type=user&func=display&sid=27572
Behavior therapies better than antipsychotics for dementia patients, nurses say
More than 20 percent of American nursing home residents with Alzheimer's-related illness are on antipsychotic medications, despite the fact that this is an off-label use for the drugs and that dementia patients who take them are more likely to be hospitalized or to die. Medicaid spends more on this class of drugs than any other — including antibiotics, AIDS drugs or medicines to treat high blood pressure.
http://www.washingtonpost.com/local/behavioral-therapies-better-than-anti-psychotics-for-dementia-patients-nurses-say/2014/03/17/a2ef3804-acc2-11e3-a06a-e3230a43d6cb_story.html
Work and management
Employment law legal update: Health and safety reform bill
Last week, the Government introduced the Health and Safety Reform Bill to Parliament. The closing date for submissions to the Select Committee is Friday 11 April 2014.
The Bill clarifies duty-holders' core responsibilities, and increases worker participation, leaders' responsibilities, the scope for personal liability and penalties for breach.  The aim is to bring about the cultural change needed to markedly improve workplace health and safety across New Zealand. 
http://bit.ly/1d4SkpN
Articles of interest
What Do Nursing Students Learn About Patient Safety? An Integrative Literature Review
Susanna Tella, MNSc, RN; Mari Liukka, MNSc, RN; David Jamookeeah, MEd, RGN, Cert Ed; Nancy-Jane Smith, PhD, MA, BA (Hons); Pirjo Partanen, PhD, RN; Hannele Turunen, PhD, RN
Journal of Nursing Education
January 2014 - Volume 53 · Issue 1: 7-13
DOI: 10.3928/01484834-20131209-04
Preventing adverse events and enhancing patient safety in health care are key objectives of nursing education. This integrative literature review critically appraises the content of patient safety in prelicensure nursing education, the teaching and learning methods used, and subsequent nursing student learning. The studies (N = 20) reviewed reveal that patient safety in nursing curricula was not necessarily obvious. However, patient safety was taught within both academic settings and clinical environments. The identified content of patient safety was learning from errors, responsible individual and interprofessional team working, anticipatory action in complex environments, and patient safety–centered nursing. The teaching and learning methods used included combining multiple methods. Patient safety curricula included continuing improvement in patient safety competency, sensitivity to nursing students' role, and having a supportive learning environment. Patient safety in the nursing curriculum requires broad, comprehensive attention and development as a specific theme with an interprofessional approach. [J Nurs Educ. 2014;53(1):7–13.]
http://www.healio.com/nursing/journals/jne/%7B3008d8f9-19b9-4a4b-97f5-c51aa3fba0e4%7D/what-do-nursing-students-learn-about-patient-safety-an-integrative-literature-review
An exploration of graduate nurses' perceptions of their preparedness for practice after undertaking the final year of their bachelor of nursing degree in a university-based clinical school of nursing
The nursing literature continues to give ongoing attention to university-educated nurses' preparedness for practice in the first year following graduation. This interpretive descriptive study explored the impact of a university-based clinical school of nursing experience on graduate nurses' perceptions of their preparedness for practice. Ten registered nurses who undertook their graduate year programme in the same hospital where they attended the university-based clinical school of nursing were interviewed. The interviews were audio-recorded, transcribed verbatim, and analysed to reveal themes and categories. Thematic data analysis revealed three themes: 'being situated in a clinical school within a hospital', 'the university away from the university' and 'engagement with practice'. The outcome of the experience of being situated in a university-based clinical school of nursing contributed to the participants' sense of being prepared for practice as a graduate nurse.
http://onlinelibrary.wiley.com/doi/10.1111/ijn.12032/pdf
Publications and Reports online
Making our health and care systems fit for an ageing population (UK report)
Our fragmented health and care system is not meeting the needs of older people, who are most likely to suffer problems with co-ordination of care and delays in transitions between services. This report sets out a framework and tools to help local service leaders improve the care they provide for older people across nine key components.
http://www.kingsfund.org.uk/publications/making-our-health-and-care-systems-fit-ageing-population
Helping measure person-centred care
Person-centred, individualised, personalised, patient-centred, family-centred, patient-centric and many other terms have been used to signal a change in how health services engage with people. This rapid review summarises research about measuring the extent to which care is person-centred.
Three key questions guided the review:
How is person-centred care being measured in healthcare?
What types of measures are used?
Why and by whom is measurement taking place?
The review signposts to research about commonly used approaches and tools to help measure person-centred care. It aims to showcase the many tools available.
A spreadsheet listing 160 of the most commonly researched measurement tools accompanies the review. This allows users to search according to the type of tool, who it targets and the main contexts it has been tested in. Hyperlinks to the abstracts of examples of research using each tool are also provided.
The review shows that, while a large number of tools are available to measure person-centred care, there is no agreement about which tools are most worthwhile.
It also makes clear that there is no 'silver bullet' or best measure that covers all aspects of person-centred care. Combining a range of methods and tools is likely to provide the most robust measure of person-centred care.
http://www.health.org.uk/publications/helping-measure-person-centred-care/
Consultations
Consultation on Alcohol Advertising and Sponsorship
Submissions close 5pm, 28 April 2014.
Published online: 13 March 2014
The Ministerial Forum on Alcohol Advertising and Sponsorship is seeking submissions  from affected stakeholders, experts on advertising, sponsorship, alcohol and health, and the public. It is looking for new evidence, information and expert advice that has emerged since 2010.  
To inform its report, the Forum would appreciate your feedback to the questions in thesubmission form (doc, 79 KB)
http://www.health.govt.nz/publication/consultation-alcohol-advertising-and-sponsorship
Smoke-free Environments (Tobacco Plain Packaging) Amendment Bill
Public submissions are now being invited on the Smoke-free Environments (Tobacco Plain Packaging) Amendment Bill.
The closing date for submissions is Friday, 28 March 2014
This bill would introduce a plain packaging regime for tobacco products.
The bill is available for download from the `Related documents´ panel. Print copies can be ordered online from Bennetts Government Bookshops.
The committee requires 2 copies of each submission if made in writing. Those wishing to include any information of a private or personal nature in a submission should first discuss this with the clerk of the committee, as submissions are usually released to the public by the committee. Those wishing to appear before the committee to speak to their submissions should state this clearly and provide a daytime telephone contact number. To assist with administration please supply your postcode and an email address if you have one.
Further guidance on making a submission can be found from the Making a Submission to a Parliamentary Select Committee link in the `Related documents´ panel.
http://www.parliament.nz/en-nz/pb/sc/make-submission/50SCHE_SCF_00DBHOH_BILL12969_1/smoke-free-environments-tobacco-plain-packaging-amendment
From the Ministry of  Health
Taeao o Tautai: Pacific Public Health Workforce Development Implementation Plan 2012–2017
Summary
This publication supports the implementation of the national public health workforce strategy Te Uru Kahikatea 2007-2016. Based on a range of research and sector consultations, Taeao o Tautai outlines priorities and actions to:
strengthen the Pacific public health workforce
increase the capability of the non-Pacific workforce to improve Pacific health gain and reduce inequities.
Taeao o Tautai outlines how the Ministry of Health will implement these actions to contribute to better health outcomes for Pacific peoples. In particular, Taeao o Tautai lists the specific priorities, workforce outcomes, action points and milestones that will be necessary to achieve this.
This plan should be considered in the context of other public health workforce development activities, as it aligns with and complements a range of other actions which are being promoted by the Ministry to implement all the objectives of Te Uru Kahikatea.
http://www.health.govt.nz/publication/taeao-o-tautai-pacific-public-health-workforce-development-implementation-plan-2012-2017
The above information has been collated for the College of Nurses Aotearoa (NZ) Inc by Linda Stopforth, SNIPS and is provided on a weekly basis.  It is current as at Tuesday 25 March  2014
If you have any feedback about content - what parts are most useful or what you would like added - please email admin@nurse.org.nz
For more up to date news and information follow SNIPS at:
Facebook:  Snips Info
twitter: @SnipsInfo