News bulletin 21 May
on 20 May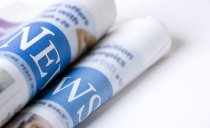 Welcome to the College of Nurses – News Update.
No. 203 Wednesday 21 May 2014 
From NZ media this week
NZ nurse receives highest award
A Gisborne nurse has been presented with the Florence Nightingale Medal - the highest international distinction a nurse can receive.
http://www.radionz.co.nz/news/national/244619/nz-nurse-receives-highest-award
A 'Nightingale' honoured
GISBORNE International Red Cross nurse Janet Askew received two standing ovations as she was presented with the Florence Nightingale Medal — the highest distinction a nurse can receive — in an emotional and tearful ceremony at Lawson Field Theatre yesterday.
http://www.gisborneherald.co.nz/article/?id=37047
'Inspiring' care leads to nursing awards
Fiona Unac is a Nursing Hero, winning one of 10 awards to celebrate recent International Midwives and International Nurses Days.
http://www.nzherald.co.nz/hawkes-bay-today/news/article.cfm?c_id=1503462&objectid=11254824
Future nurses meet at hui
It's the birthplace of the nation and Waitangi proved a popular venue for the national Maori student nurses hui with one of the largest turnouts in memory.
http://www.nzherald.co.nz/northern-advocate/news/article.cfm?c_id=1503450&objectid=11253984&ref=rss
NMIT celebrates 40 years of nursing education
Nelson Marlborough Institute of Technology (NMIT) celebrates 40 years of nursing education this year.
Back in 1974 when NMIT (then Nelson Polytechnic) had its first intake of 30 trainee nurses under a pilot programme, it was one of the first technical institutes in New Zealand (after Wellington and Christchurch) to begin offering nursing education outside of the hospital-based school system. The transfer of nursing from hospital training to tertiary education was a significant reform, led by nurses, and in response to a rapidly changing society. A display in the NMIT library starting on 12 May (International Nurses Day) celebrates 40 years of nursing education at NMIT and recognises some of the many nurse visionaries who influenced the development of nursing.
http://www.voxy.co.nz/national/nmit-celebrates-40-years-nursing-education/5/190248
Nurse pried into love rivals files
Woman censured and suspended after repeatedly looking at medical records of ex-husband's new partner.
http://www.nzherald.co.nz/nz/news/article.cfm?c_id=1&objectid=11257330
Patient stops nurse giving her wrong drug
Hospital staff tried to give a woman paracetamol despite her allergy to the drug being well documented.
http://www.stuff.co.nz/national/health/10060482/Patient-stops-nurse-giving-her-wrong-drug
VMOKO brings health care to remote Far North
A new trial called VMOKO in the far north is aiming to reduce easily treatable infections, but it's being done without doctors and patients ever meeting face to face.
http://www.3news.co.nz/VMOKO-brings-health-care-to-remote-Far-North/tabid/817/articleID/344380/Default.aspx
The doctor will see you now, via webcam
Mark Matulaitis holds out his arms so the Parkinson's specialist can check his tremors. But this is no doctor's office: Matulaitis sits in his rural home as a neurologist a few hundred kilometers away examines him via the camera in his laptop.
http://www.nzherald.co.nz/health/news/article.cfm?c_id=204&objectid=11254106
Drugs tested on critically ill, coma patients
Those unable to give consent to be used in trial sponsored by American-based company.
http://www.nzherald.co.nz/nz/news/article.cfm?c_id=1&objectid=11254381
International media
Florence Nightingale Foundation sends Clair to New Zealand
A mental health service lead is on a research scholarship to New Zealand to learn about innovative techniques for Mental Health Crisis Interventions. 
http://www.rochdaleonline.co.uk/news-features/2/news-headlines/87095/florence-nightingale-foundation-sends-clair-to-new-zealand
Hospitals take different paths to meet nursing plan
SPARTANBURG, SC — Hospitals across the state are taking different paths to meet a recommendation that 80 percent of direct care nurses hold a bachelor's degree by 2020.
http://www.thestate.com/2014/05/12/3442012/hospitals-take-different-paths.html?sp=/99/117/#storylink=cpy
With report of nurse understaffing dangers, group pushes to revive 
In another attempt to revive a nurse ratio staffing bill, a group representing D.C. nurses submitted a report to city officials Monday listing 215 instances when they say patients were endangered due to understaffing in District hospitals.
http://www.bizjournals.com/washington/blog/2014/05/with-report-of-nurse-understaffing-dangers-group.html
Hospitals need thousands of extra nurses 'or patients' safety will be at risk'
New NHS guidelines from Nice propose maximum of eight patients to one nurse to prevent dangerous understaffing
http://www.theguardian.com/society/2014/may/09/hospitals-need-thousands-extra-nurses-or-patients-safety-at-risk
'The healthcare sector must work better together'
Jackie Smith, the chief executive of the Nursing and Midwifery Council, says increasing demand and the weight of public expectation is the biggest challenge facing the NHS
http://www.theguardian.com/healthcare-network/2014/may/09/healthcare-sector-must-work-better-together
New OR Nurse Role Increases Patient, Staff Satisfaction
Adding a surgical nurse liaison to a hospital perioperative team can increase not only patient and family satisfaction, but staff satisfaction as well, according to a report published in AORN Journal.
http://www.beckershospitalreview.com/quality/new-or-nurse-role-increases-patient-staff-satisfaction.html
Patient Safety Tool: 8 Strategies for Perioperative Nurses to Improve Patient Safety
The Physician-Patient Alliance for Health & Safety offers a complimentary poster featuring eight strategies to improve perioperative patient safety.
http://www.beckershospitalreview.com/quality/patient-safety-tool-8-strategies-for-perioperative-nurses-to-improve-patient-safety.html
Task shifting explained: a viable solution to health worker shortage?
A lack of nurses and doctors where they are needed is often lamented in development work. Is task shifting a solution?
http://www.theguardian.com/global-development-professionals-network/2014/may/12/task-shifting-health-development-shortage
Addressing the Nursing Workforce: How to Keep Nurses Empowered, Engaged and Invested
Nurses are the backbone of healthcare. They are care providers continuously on the front lines, serving a multitude of purposes and tirelessly working to better the lives of others.
http://www.beckershospitalreview.com/capacity-management/addressing-the-nursing-workforce-how-to-keep-nurses-empowered-engaged-and-invested.html
Need for Nurse Mentors Still Strong
More than half of nurses (63 percent) reported having a mentor assigned to them when they started their career, and nearly all of those nurses (96 percent) said the mentor was helpful in some way, according to a nationwide CareerBuilder survey.
http://www.beckershospitalreview.com/workforce-labor-management/need-for-nurse-mentors-still-strong.html
Budget 2014

No forward thinking in healthcare
The New Zealand College of Nurses has slammed the budget for reinforcing old models of healthcare rather than considering where investment would be most effective.
http://www.waateanews.com/waateanews?story_id=NzAwMA==
GPs eye more cash to join free schemes
Introduction delayed while ministry tries to establish right level of subsidies
http://www.nzherald.co.nz/nz/news/article.cfm?c_id=1&objectid=11256477
Budget 2014: Over 400,000 children to get free GP visits
More than 400,000 school children will be entitled to free GP visits through one of the biggest surprises in the Budget 2014.
http://www.nzherald.co.nz/health/news/article.cfm?c_id=204&objectid=11255318
Budget 2014: Public health services get $1.8B boost
The Government has allocated an extra $1.8 billion for public health services, bringing next year's health budget to a record $15.6b.
http://www.3news.co.nz/Budget-2014-Public-health-services-get-18B-boost/tabid/1607/articleID/344348/Default.aspx
DHB specific
Hospital staff asked to cut costs
Wellington patient care could be put at risk as the district health board makes a last-ditch push to avoid a budget blowout, unions are warning.
http://www.stuff.co.nz/national/health/10061203/Hospital-staff-asked-to-cut-costs
Social health
Warmer bedrooms keep kids' colds at bay
Warm, clean bedrooms for children could put a stop to colds and prevent wheezing attacks, researchers say.
http://www.stuff.co.nz/national/health/10057743/Warmer-bedrooms-keep-kids-colds-at-bay
Where are NZ's most deprived areas? (+interactive)
Changing the geography of poverty within New Zealand will take generations, according to health policy researcher Peter Crampton.
http://www.nzherald.co.nz/nz/news/article.cfm?c_id=1&objectid=11254032
Drugs and alcohol
'3000 babies affected' by mothers' drinking
Children with foetal alcohol syndrome are being all too commonly misdiagnosed, leading to health complications and wasted resources.
http://www.stuff.co.nz/national/health/10060553/3000-babies-affected-by-mothers-drinking
Young, drunk and messy
Drunk children soiling themselves in the emergency department and parents who don't want to pick them up till morning can make life difficult for Hutt Hospital staff.
http://www.stuff.co.nz/dominion-post/news/local-papers/hutt-news/10037234/Young-drunk-and-messy
Work and management
How to Obtain Consent
Nurses obtain consent before every action they perform. From asking a patient to allow an assessment to getting informed consent for a procedure, everything that happens to your patient must be performed with their knowledge and agreement.
http://bit.ly/1qPLRW0
Articles of interest
Factors affecting front line staff acceptance of telehealth technologies: a mixed-method systematic review
To synthesize qualitative and quantitative evidence of front-line staff acceptance of the use of telehealth technologies for the management of Chronic Obstructive Pulmonary Disease and Chronic Heart Failure.
Background
The implementation of telehealth at scale is a governmental priority in countries including the UK, USA and Canada, but little research has been conducted to analyse the impact of implementation on front-line nursing staff.
http://onlinelibrary.wiley.com/doi/10.1111/jan.12196/abstract
Disrespectful behaviors—part 1 and part 2.
ISMP Medication Safety Alert! Acute Care Edition. October 3, 2013;18:1-4. April 24, 2014;19:1-4.
The first article of this series reports the results of a survey investigating disruptive behaviors in health care. The second article explores why behaviors like bullying and intimidation exist and outlines recommendations for organizations to address the problem, including training and communication strategies.
Part one: https://www.ismp.org/newsletters/acutecare/showarticle.aspx?id=60
Part 2:  http://www.ismp.org/Newsletters/acutecare/showarticle.aspx?id=78
Online resources
Welcome to Patient Experience Journal
Patient Experience Journal (PXJ) is an international, multidisciplinary, and multi-method, open-access, peer-reviewed journal focused on the research and proven practices around understanding and improving patient experience. PXJ is designed to share ideas and research, and reinforce key concepts that impact the delivery of service, safety and quality and their influence on the experience of patients and families across healthcare settings.
http://pxjournal.org/journal/
Patient Safety Tool: AORN Surgical Sharps Safety Resources
The Association of periOperative Registered Nurses offers an extensive sharps safety toolkit to help teach evidence-based practices and prevention techniques to decrease sharps injuries during surgery.
http://www.beckershospitalreview.com/quality/patient-safety-tool-aorn-surgical-sharps-safety-resources.html
Aged care in Australia - two reports
The ARC Centre for Excellence in Population Ageing Research have released two new research briefs:
Aged Care in Australia: part I - policy, demand and funding looks at the demand and funding of both formal and informal care, taking a top-down approach.
Aged Care in Australia: part II - industry and practice describes care recipients, providers, the workforce and access and quality issues.  On workforce, the researchers noted that staffing was the largest cost item for aged care providers (64 per cent) and predicted the workforce would need to increase from the current 350,000 to between 830,000 and 1.3 million by 2050 to meet the future demand for services.
http://ncahslibraries.blogspot.co.nz/2014/05/aged-care-in-australia-two-reports.html
From the Ministry of  Health

NZDep2013 Index of Deprivation
NZDep2013 is an updated version of the NZDep2006 index of socioeconomic deprivation. NZDep2013 combines census data relating to income, home ownership, employment, qualifications, family structure, housing, access to transport and communications. NZDep2013 provides a deprivation score for each meshblock in New Zealand. Meshblocks are the smallest geographical area defined by Statistics New Zealand, with a population of around 60–110 people.
NZDep2013 groups deprivation scores into deciles, where 1 represents the areas with the least deprived scores and 10 the areas with the most deprived scores. A value of 10 therefore indicates that a meshblock is in the most deprived 10% of areas in New Zealand.
It is important to note that NZDep2013 estimates the relative socioeconomic deprivation of an area, and does not directly relate to individuals. NZDep2013 can not be used to look at changes in absolute deprivation over time as 10% of areas will always be the most deprived, relative to other areas in New Zealand. The indicators used to generate the index may also change over time, depending on their relation to deprivation.
http://www.health.govt.nz/publication/nzdep2013-index-deprivation
Auditory Processing Disorder: New Zealand Review
This publication documents the research and outcomes of an independent review of Auditory Processing Disorder (APD) in New Zealand, which was undertaken on behalf of the Ministries of Health and Education by Sapere Research Group. The purpose of the review was to identify best practice and make recommendations for the management of auditory processing disorder in children (age 0 to 15 years) and, in particular, the provision of hearing devices for these children.    
The key aim of the review was the completion of a position paper that the two ministries could use as the basis for forward planning. Unfortunately this could not be done due to the complexity of issues identified.
Overall, the review found that there was no consensus view on the assessment for or the management of APD. The two Ministries now plan to establish a reference group to progress this work.
http://www.health.govt.nz/publication/auditory-processing-disorder-new-zealand-review
The above information has been collated for the College of Nurses Aotearoa (NZ) Inc by Linda Stopforth, SNIPS and is provided on a weekly basis.  It is current as at Tuesday 20 May  2014
If you have any feedback about content - what parts are most useful or what you would like added - please email admin@nurse.org.nz
For more up to date news and information follow SNIPS at:
Facebook:  Snips Info
twitter: @SnipsInfo