News Bulletin 8 Dec
on 8 December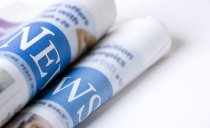 From the NZ media this week
Hospital staff fear abuse
Nurses may resort to wearing protective vests in some hospitals as assaults on medical staff continue to worry authorities.

http://bit.ly/f8ttZx
Danger part of job for assaulted nurse

A nurse who was punched in the face by an aggressive patient said nurses accepted the risks and dangers in their workplaces

http://bit.ly/gCvdrR

New Zealand
'ill', says doctor
New Zealand
has a social illness and needs clinical-style treatment, according to crusading Timaru doctor Albert Makary.

http://bit.ly/haBWzV
Cost keeps doctors at bay
Catherine Hedges, 53, says it's a pain to pay $50 to go to the doctors, but she's got no choice.

http://bit.ly/h1V4Rw
 

Approaches to liberty fraught with difficulty

Notions of liberty and freedom are problematic when it comes to imposing mental-health compulsion orders, University of Otago law Prof John Dawson told mental-health nurses in Dunedin yesterday

http://bit.ly/ibw0Gc
Shameful-record-as-Kiwi-kids-suffer

Gangs, family violence and bullying are New Zealand's biggest problems – and children bear the brunt of it, Kiwi kids have told the United Nations

http://bit.ly/eoQloQ
Report suggests child neglect often overlooked - Children's Commissioner

Child neglect does not always get the attention it deserves despite the serious damage it causes to children's development, Children's Commissioner John Angus said today.

http://bit.ly/fq7Vfs 

Whole-of-family focus will help address child neglect in New Zealand - Families Commission
Dealing with the whole family, not just the problems of individuals within a family, will go a long way toward preventing and redressing child neglect in New Zealand says Families Commissioner Christine Rankin

http://bit.ly/frk1bw
Claim: poor care for Bay diabetes patients

A claim that poor care for diabetes patients in the region is putting them at risk of further serious health problems has been rejected by Bay of Plenty District Health Board.

http://bit.ly/hJarWJ

Mission
possible
The beating heart of Auckland's central charity for the down-on-their-luck has hopes for a medical facility to properly care for all comers.
Joanna Davies
reports.

http://bit.ly/i6yctv
 

Italian Mental Health Reformist To Speak In New Zealand
With New Zealand struggling to emerge from the global economic recession further cut backs in public spending appear inevitable. It is clear that spending on health cannot be excluded from this reality.

http://bit.ly/fSSFZk
 

Residents-report-justifies-fears

Worried residents say a damning report on financial systems at Taihape's former healthcare provider has justified their fears about the inexperience of the people in charge

http://bit.ly/fseTCK
Public health issues
Heart checks show 'alarming' fever rate

A study of New Zealand children's hearts has uncovered an "alarming" rate of damage caused by what many call a Third World disease.

http://bit.ly/fVz3k1
From international media sources

Dementia nursing care needs overhaul, says King's Fund

Nursing care for people with dementia is in need of a radical overhaul, a leading think tank has warned.
An Australian study suggests that children who are sexually abused, especially if it involves penetration, appear to be at higher risk for developing schizophrenia and other psychotic disorders, according to a report in the November issue of Archives of General Psychiatry, one of the JAMA/Archives journals.

http://bbc.in/i2sxZL
Nurse teacher 'acts up' for students
A CQ University academic has turned to role play to teach her students about nursing practices.

http://bit.ly/hlWAu3
Hospitals Can Save 25 Percent In Component Costs And Significantly Improve Nurse Satisfaction

http://mnt.to/l/3Nhq
Nurses are 'fundamental' to preventing poor health

Nursing staff play a fundamental role in preventing unhealthy lifestyles developing, according to the leader of the Royal College of Nursing.

http://www.nursingtimes.net/5022629.article?referrer=e1
Articles of interest

Telehealth Provides Real-Time Intervention at Home
Over the past couple of years, nurses have witnessed the positive effects of telehealth — home care through phone calls, the Web and remote monitoring using technology. Fewer hospitalizations and ED visits, and better patient outcomes are just a few of the byproducts. To quantify the results, home care agencies have started to track telehealth outcomes, such as reduced costs and fewer readmissions

http://news.nurse.com/article/20101122/NY01/111220018
Telenursing - What is it?

Telenursing can be defined as using telecommunication devices to provide nursing care, utilising the nursing process to care for individuals or specific patient populations, such as isolated groups of people. Telehealth focuses on delivery, management and coordination of services and care.

http://bit.ly/gYpcpU
From the Ministry of Health
 

Regulatory Impact Statement

Better Retail Controls on Tobacco: Smoke-free Environments (Controls and Enforcement) Amendment Bill
Published: December 2010

http://bit.ly/iip86N
New Publications

NEW RESOURCE FOR AFRICAN COMMUNITIES


The NZAF has produced a new resource for New Zealand's African communities.
The fold-out brochure, Preventing HIV, is a useful tool to help spread our message to an at-risk community. Preventing HIV outlines HIV prevention and testing and will be distributed at African community events throughout New Zealand.
Hard copies are available by emailing the NZAF Communications Team here, or it can be viewed 
http://bit.ly/fzrwCk
The above information has been collated for the College of Nurses Aotearoa (NZ) Inc by Linda Stopforth,  SNIPS  and is provided on a weekly basis.  It is current as at  Wednesday 8 December 2010. 
If you have any feedback about content - what parts are most useful or what you would like added - please email
admin@nurse.org.nz