News bulletin 5 November
on 5 November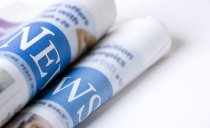 Welcome to the College of Nurses – News Update.
No. 227 Wednesday 5 November 2014

 
From NZ media this week

Scholarship great incentive for further study for South Auckland nurse
South Auckland community Māori mental health nurse Donna Tearii says being awarded a Medibank Community Fund post graduate scholarship for Māori nurses is a great incentive to further her studies.
http://www.scoop.co.nz/stories/GE1410/S00171/scholarship-great-incentive-for-south-auckland-nurse.htm
Older nurses make better carers: study
Older nurses offer a safer pair of hands than their younger colleagues, a study has revealed.
http://www.stuff.co.nz/national/health/10682589/Older-nurses-make-better-carers-study
'Ageist' policy puts stress on student close to graduating
A government policy that has been called "ridiculous, ageist and lacking common sense" is hindering a nursing student from completing a qualification at Whanganui UCOL.
http://www.nzherald.co.nz/wanganui-chronicle/news/article.cfm?c_id=1503426&objectid=11349735
Patients happy with nurses' service
Pleasant Point residents say the fact they still have access to a medical centre is a godsend, despite a GP only being available one afternoon a week.
Nurse practitioner Tania Kemp and registered nurse Chris Chamberlain, who recently purchased and run the Point of Care medical centre, are earning positive reviews from the community.
http://www.stuff.co.nz/timaru-herald/news/10688003/Patients-happy-with-nurses-service
Nurses Voice Concerns on Missed Care
Nurses working in hospitals, aged care and New Zealand's primary health care sector have raised concerns about missed patient care in a survey undertaken by academics at EIT.
http://www.scoop.co.nz/stories/GE1411/S00018/nurses-voice-concerns-on-missed-care.htm
Nurse censured for relationship with patient
A Napier nurse that had an inappropriate relationship with a mental health patient has been censured and had his registration cancelled.
http://www.stuff.co.nz/national/health/10686149/Nurse-censured-for-relationship-with-patient
Child died after ED discharge
A sick child who later died was sent home from Dunedin Hospital's emergency department despite a nursing assessment saying it might not be safe, a new report shows.
http://www.odt.co.nz/news/dunedin/321846/death-after-ed-discharge
Honouring 100 years
Stratford Plunket is celebrating 100 years of caring for the community's babies and mothers.
A commemorative dinner is being planned for November 27 and organisers are keen to hear from past members, committee members and nurses, who would like to attend.
http://www.stuff.co.nz/taranaki-daily-news/news/south-taranaki-star/10678602/Honouring-100-years
International news
2014 International Guideline on Prevention and Treatment for Pressure Ulcers: Clinical Practice Guideline
The New Zealand Wound Care Society and their Pan Pacific Pressure Injury Alliance partners: the Australian Wound Management Association, Hong Kong Enterostomal Therapy Nurses Association and the Wound Healing Society of Singapore, join with the National Pressure Ulcer Advisory Panel (NPUAP) and the European Pressure Ulcer Advisory Panel (EPUAP) to announce the launch of the 2014 International Guideline on Prevention and Treatment for Pressure Ulcers: Clinical Practice Guideline.
http://www.scoop.co.nz/stories/GE1411/S00005/2014-guideline-on-prevention-treatment-for-pressure-ulcers.htm
Ebola
Doctors reminded they have duty to treat Ebola patients
The Medical Council of New Zealand has issued an edict to the country's district health boards reminding doctors of their obligation to treat any Ebola patients.
http://www.nzherald.co.nz/nz/news/article.cfm?c_id=1&objectid=11350282
From the Ministry of Health (NZ)
Information on Ebola
Ebola information for the public - symptoms, treatment and prevention
Ebola readiness – what we are doing to prepare, including monitoring and screening
Information for health professionals
Updates - currently affected countries, latest resources
Video: Dr Darren Hunt, Director of Public Health and Professor John Crump, Centre for International Health, University of Otago discuss the low risk of Ebola arriving and spreading in New Zealand.
http://www.health.govt.nz/
NZ prepared for Ebola
Kiwi specialists say NZ has learnt from international mistakes, and is more prepared than ever for Ebola.
http://www.stuff.co.nz/world/africa/62851485/nz-prepared-for-ebola.html
Key weighs sending Kiwi medics to help with Ebola crisis
The Government would require an absolute guarantee New Zealand medical staff had swift access to top Ebola clinics in Africa, before it sends any contingent to support international efforts to stop the contagion.
http://www.stuff.co.nz/national/politics/10690106/Key-weighs-sending-Kiwi-medics-to-help-with-Ebola-crisis
TEDxChristchurch: Ebola 'a great white shark'
The ebola virus is an efficient killing machine, but doesn't rate against some superbugs that could stalk New Zealand within 10 years, a microbiologist told the TEDxChristchurch speaking conference yesterday.
"Ebola is the great white shark" of microbiology, Dr Siouxsie Wiles said. But tuberculosis kills more people in a week than ebola has killed so far.
http://www.stuff.co.nz/national/health/10690972/TEDxChristchurch-Ebola-a-great-white-shark
Hospital staff worried about Ebola
Frontline staff at Christchurch Hospital have voiced concerns about treating Ebola cases. 
About 30 staff members met Ministry of Health chief medical officer Dr Don Mackie and infectious disease specialist Dr Mark Beale to discuss Canterbury District Health Board preparedness for a suspected or genuine Ebola case in the region today.
http://www.stuff.co.nz/national/health/10699506/Hospital-staff-worried-about-Ebola
Aged care
Aged care facility failed to provide for elderly man - report
An aged care facility failed to provide an elderly man adequate care, who had his leg amputated below the knee two days after leaving the facility, a report has found.
http://www.nzherald.co.nz/nz/news/article.cfm?c_id=1&objectid=11352509
DHBs and PHOs
First national patient experience results published
The Health Quality & Safety Commission today released results from the first national survey of hospital inpatients.
http://www.scoop.co.nz/stories/GE1411/S00016/first-national-patient-experience-results-published.htm
Mental health
Mental health at crossroads
The change in mental health care from institutionalisation to community care has not been been without controversy. Stacey Knott talks to frontline health professionals about the challenges they face.
http://www.stuff.co.nz/nelson-mail/news/10683752/Mental-health-at-crossroads
The problem of dual diagnosis
In the third of the Lifting the Lid series, Stacey Knott looks at the role of drugs and alcohol in mental health problems, and discovers there are people who suffer from both, and struggle to get either treated.
http://www.stuff.co.nz/national/health/10698992/The-problem-of-dual-diagnosis
Patient safety
Medical mishaps increase
Surgical tools left in stomachs, operations on the wrong patients, and cancer left to grow after paperwork errors.
http://www.stuff.co.nz/national/health/10679556/Medical-mishaps-increase
More resources needed so patient safety can come first
Nurses believe many serious and adverse events are a symptom of an under resourced health sector and stressed and overworked staff. When nursing staff don't have enough hours in the day to do everything they need to do, the result is rationed nursing care and the potential for harm to befall patients.
http://www.scoop.co.nz/stories/GE1410/S00176/more-resources-needed-so-patient-safety-can-come-first.htm
Articles of interest
The power of consoling presence - hospice nurses' lived experience with spiritual and existential care for the dying
Being with dying people is an integral part of nursing, yet many nurses feel unprepared to accompany people through the process of dying, reporting a lack of skills in psychosocial and spiritual care, resulting in high levels of moral distress, grief and burnout. The aim of this study is to describe the meaning of hospice nurses' lived experience with alleviating dying patients' spiritual and existential suffering.
http://www.biomedcentral.com/1472-6955/13/25
Community health nurses' learning needs in relation to the Canadian community health nursing standards of practice: results from a Canadian survey
Background
Canadian Community health nurses (CHNs) work in diverse urban, rural, and remote settings such as: public health units/departments, home health, community health facilities, family practices, and other community-based settings. Research into specific learning needs of practicing CHNs is sparsely reported. This paper examines Canadian CHNs learning needs in relation to the 2008 Canadian Community Health Nursing Standards of Practice (CCHN Standards). It answers: What are the learning needs of CHNs in Canada in relation to the CCHN Standards? What are differences in CHNs' learning needs by: province and territory in Canada, work setting (home health, public health and other community health settings) and years of nursing practice?
http://www.biomedcentral.com/1472-6955/13/31
Assessment of quality in psychiatric nursing documentation – a clinical audit
Background
Quality in nursing documentation facilitates continuity of care and patient safety. Lack of communication between healthcare providers is associated with errors and adverse events. Shortcomings are identified in nursing documentation in several clinical specialties, but very little is known about the quality of how nurses document in the field of psychiatry. Therefore, the aim of this study was to assess the quality of the written nursing documentation in a psychiatric hospital.
http://www.biomedcentral.com/1472-6955/13/32
Empowerment, patient centred care and self-management
Background  Patient or person centred care is widely accepted as the philosophy and practice that underpins quality care. An examination of the Australian National Chronic Disease Strategy and literature in the field highlights assumptions about the self-manager as patient and a focus on clinical settings.
http://onlinelibrary.wiley.com/doi/10.1111/j.1369-7625.2011.00757.x/pdf
Reports online
Role of allied health professionals
In a comprehensive report from QualityWatch in the UK, researchers examined the role and quality of care of allied health professionals in the NHS.  Allied health professionals: Can we measure quality of care? looks at a diverse group of 12 professions who often work across mulidisciplinary teams and across sectors of care.  
The authors of this report express concern that the contribution AHPs make to overall healthcare is undervalued.  The different AHP groups include chiropodists, dieticians, music therapists, occupational therapists, orthoptists, paramedics, physiotherapists, radiologists and speech and language therapists.  They found that AHPs made up 6% of the NHS workforce in 2013.  "We suggest that a better understanding of both the levels of care and the quality of care provided by AHPs will be increasingly important in a financially constrained NHS."
http://www.qualitywatch.org.uk/sites/files/qualitywatch/field/field_document/Focus%20On%20Allied%20Health%20Professionals.pdf
New publications
Nurse retention strategies: Keys to empowerment, ownership and support
The following is an excerpt from an article published in the FierceHealthcare's eBook "How Hiring Right (or Wrong) Has a Direct Impact on Clinical Outcomes." Download the eBook here to read more.
With all of the effort and expense that hospitals put into hiring the right nurses, organizations must put at least as much energy into retaining those nurses and fostering continued high performance and growth.
http://www.fiercehealthcare.com/story/nurse-retention-strategies-keys-empowerment-ownership-and-support/2014-10-24?utm_medium=nl&utm_source=internal
From the Ministry of  Health
Evaluation of the Cancer Nurse Coordinator Initiative Annual Report 2014
The first annual Cancer Nurse Coordinator Initiative (CNCI) evaluation report has drawn on a number of data sources, including:
a specific Cancer Nurse Coordinator (CNC) database that provides information about the activity and function of the nurses

a CNC online survey which profiles CNCs and their activities, contribution and perceived effect on patient experience

a provider online survey to assess understanding and perceived effects on patient experience

a patient survey to assess patient experience of the new role and its contribution

qualitiative interviews.
The data collected to inform the 2014 annual report provides high level insight into implementation of the CNCI and shows that:
the CNCI is implemented across 20 DHBs using four delivery models that reflect DHBs' existing cancer care structures and population profile

CNCs have an important role in the treatment team and contribute to improving communication between health professionals about patient care

CNCs are seen to be contributing to a more coordinated patient journey and making a difference to patients and their family/whanau.
The evaluation provider is looking at enhancing the data collection tools to further improve data quality for the 2015 annual report.
http://www.health.govt.nz/publication/evaluation-cancer-nurse-coordinator-initiative-annual-report-2014
The above information has been collated for the College of Nurses Aotearoa (NZ) Inc by Linda Stopforth, SNIPS and is provided on a weekly basis.  It is current as at Tuesday 4 November  2014
If you have any feedback about content - what parts are most useful or what you would like added - please email admin@nurse.org.nz
For more up to date news and information follow SNIPS at:
Facebook:  Snips Info
twitter: @SnipsInfo