News bulletin 30 March
on 30 March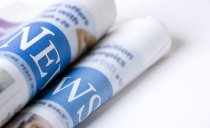 Welcome to the College of Nurses Aotearoa News Update.
No. 293 30 March 2016

 
From NZ media this week
Nurses learn te reo to bond with Māori patients
Nursing students at the Eastern Institute of Technology in Taradale are learning Te Reo Māori in an effort to help connect with more Māori patients. Efforts that will see more Te Reo Māori spoken in the health sector.
Read item here
KIWI NURSING SCHOOLS MAKE TOP WORLD RANKINGS
Nursing schools worldwide have been ranked for the first time in a global university survey with two New Zealand university schools making the top 100.
Read more here
ABOUT 40 PER CENT OF NEW GRADS STILL JOB-HUNTING
The summer is ending with 852 new graduate nurses in work but 547 remain in the talent pool still hoping for a new graduate placement.
Read more here
Colleague browses through private health information
An employee at a large health agency in New Zealand has had her private health information, including her "extremely sensitive" emergency department and mental health records, accessed by more than one former colleague. The woman's private information was looked at on numerous occasions between 2012 and 2013, case notes from the Privacy Commissioner's Office show.
Read item here
Hospital finalising its photo policy
Rotorua Hospital is stepping up plans to introduce a special policy around patients and visitors taking photos in the hospital grounds - starting with a ban on filming women having babies via caesarean section
Read item here
Aged care
How to Spot Elder Abuse and Neglect in the ER: Things Are Not Always As They Seem
WASHINGTON, March 22, 2016 /PRNewswire-USNewswire/ -- When older adults in severely debilitated states show up for treatment in the emergency department, emergency physicians and staff must be able to identify and document their symptoms and decide whether to report their concerns to adult protective services.  This is a difficult decision as the patient's symptoms may stem from willful neglect, unintentional neglect or sub-acute symptoms caused by an underlying illness than manifest as neglect. Two papers published online last Friday in Annals of Emergency Medicine highlight a problem that promises to grow rapidly with the aging of the Baby Boom generation.
Read item here
Delivering integrated care for older people with frailty
Date: 15 Mar 2016
Venue: The King's Fund, London W1G 0AN
Event type: Conference
Implementing the electronic frailty index – case studies from the NHS front line
This breakfast workshop was organised by our Workshop sponsor, TPP.
Session one: Opening plenary
Helen Lyndon - How new models of care can help support older people with frailty
Maggie Keeble - How new models of care can help support older people with frailty
Karen Goudie - Older people in acute care improvement programme (OPAC)
Session two: Public health and voluntary sectors leading integration for older people with frailty
Dr Sunil Hindocha - Proactive Care for older people with frailty
Caroline Abrahams - The role of the voluntary sector in integrating health for older people with frailty
Session three: Breakout streams
Breakout A: Ensuring health and wellbeing in older people who are living with frailty
Daniel Gordon and Gemma Lyons - The Camden and Inslington Winter Wellness Campaign
Alison Cole - Providing a stepping stone between the acute ward and home
Nigel Barrett - A systems leadership approach to Malnutrition: The South Staffordshire Eat Well Programme
Breakout B: Prodividing care for frail older people with long-term conditions or co-morbidities
Dr Guy Peryer - Occupational therapy intervention for residents with stroke related
Nina Barnett - Impact of integrated medicines management service
Jane McCombe - Enabling supported self-care for older people living with frailty: The Nottinghamshire Frailty Toolkit


Breakout C: Working together to provide integrated health and social care for older people with frailty
Chris Oleshko -Offering improved care and support to older people in Newcastle under Lyme
Anne Hendry - Working together to improve outcomes for older people in Scotland
Dimitri Varsamis - Vertical integration to support older people with frailty in the Netherlands
Breakout D: Improving acute care and discharge planning for frail older people
Debbie Hibbert - Older people in acute settings
Ann Boland - Capital and Coast District Health Board Geriatric inpatient services in New Zealand
Karen Titchener - Guy's and St Thomas' @home hospital at home service
Access presentations – written and video - here
Obesity
Sugar-free schools way to go: adviser
The Government's top child health expert has backed calls for schools to go sugar-free.
Dr Pat Tuohy, chief child and youth health adviser for the Ministry of Health, said a water-only policy would be a "great first step" to tackling tooth decay and child obesity.
Read item here
Primary Health care
New Zealand Parliamentarians and advocates united in fighting our region's biggest infectious killer
The deadliest disease in human history, Tuberculosis (TB), has gained new champions in New Zealand in time for the 24th of March, World TB Day.
Read item here
Hokianga Hospital research project
A research project has commenced this month at Hokianga Hospital, Rawene to investigate the impact of introducing  "point of care" (POC) haematology for Hokianga patients. Hokianga, on Northland's west coast, is a dispersed rural community of 6,300 people, 75% being Maori. A haematology analyser has temporarily been installed for on-the-spot full blood count measurement which will help in the diagnosis of conditions such as anaemia, infection and immune suppression.  
Read item here
Public health
Rotten to the core - our children's dental decay problem
More Kiwi pre-schoolers are requiring hospital treatment for severe tooth decay. Cate Broughton reports on a problem dentists are struggling to cope with. 
Read item here
From International media this week
FDA seeks to ban powdered gloves used by doctors and nurses
Citing health risks associated with the use of powdered latex gloves for medical procedures and exams, The Food and Drug Administration has proposed a nationwide ban on the gloves, Stat reported.
Read item here
Rural doctors call for more generalist nurses and allied health professionals in the bush
Rural doctors are calling for nurses and allied health professionals to be trained as generalists to tackle the inequality in health outcomes for rural and remote people.
Read item here
Infographic: What's the cost of nurse turnover? (US)
The healthcare industry is suffering from a nursing shortage, with not enough highly educated workers to fill job slots at hospitals, health systems, home health agencies and more. This shortage makes nurse retention an important initiative for healthcare organizations.
Read item here
Unsafe staffing is a top concern for nurses: Patty Eakin
When I became a nurse in 1976, I set out to become part of the most respected profession in our country. I wanted to be at the bedside, caring for sick patients and delivering the highest quality of care possible. Instead, at times, I found myself struggling to deliver even adequate care. Too often, patients are put at risk and RN licenses are compromised by our profit-driven healthcare system which routinely leaves patients without proper nursing care in order to make more money. In my nearly forty year career as a nurse, the biggest difference in staffing conditions and overall morale has been working in a hospital where nurses have a union and are able to stand up for themselves and the quality of care they deliver. As frontline healthcare providers, nurses need to lead the way to a safer healthcare system.
Read commentary here
Social media
Suzanne Gordon on the difficult patient
Today it's hard to find a healthcare professional who doesn't want to "put the patient first," practise "patient centered care," or make the patient "part" or even "the centre" of the healthcare team. When you discuss any potential or actual bureaucratic, governmental, insurance company, or even internet interference in clinical practice, clinicians complain that non-healthcare professionals fail to understand the sacred trust that exists between clinician and patient and the duty to "first do no harm," and protect the patient. 
Read blog post here
Articles of interest
Nursing's contribution to clinical documentation integrity efforts
Clinical documentation improvement, or clinical documentation integrity, may be defined as a process by which clinical indicators, diagnoses, and procedures documented in the medical record are supported by the appropriate ICD-10-CM and ICD-10-PCS codes. Code assignments drive reporting for reimbursement, quality measures, hospital and physician profiles, regulatory requirements, and clinical data collection and research. In addition, documentation found within the hospital record is a key to communicating the patient's illness and care plan to providers managing the patient in the community. Therefore, the documentation that results in code assignment must be an accurate and complete representation of the severity of the patient's illness and the efficacy of the treatment plan. A well-constructed medical record will reflect an alignment of documented clinical indicators, associated diagnoses based on those indicators documented to the correct acuity and specificity, and procedures appropriate for the indicators and diagnoses.
Read article here
Ali, P. A. and Watson, R. (2016), Peer review and the publication process. Nursing Open. 
To provide an overview of the peer review process, its various types, selection of peer reviewers, the purpose and significance of the peer review with regard to the assessment and management of quality of publications in academic journals.
Read article here
The above information has been collated for the College of Nurses Aotearoa (NZ) Inc by Linda Stopforth, SNIPS and is provided on a weekly basis.  It is current as at Tuesday 29 March 2016.
If you have any feedback about content - what parts are most useful or what you would like added - please email admin@nurse.org.nz
For more up to date news and information follow SNIPS at:
Facebook:  Snips Info
twitter: @SnipsInfo