Please click on each speakers photo to see their bio.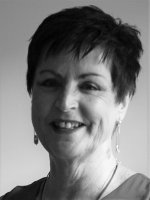 Suzie Morrell, Registered Psychotherapist & Counsellor
Australian born, Suzie is a Registered Psychotherapist and Counsellor with over 25 years' experience in New Zealand. She works with adult men and women from all walks of life and enjoys helping others to make positive changes in their lives especially in the areas of self-care and management. She also supervises and supports other health professionals, corporate managers and business owners.
Suzie has much experience in training and facilitation and used to own and manage a corporate communications and staff training and development company. When she is not working she enjoys travel, swimming, reading and writing and is also a member of the Top of the South Film-makers Association. Suzie moved to Marlborough from Christchurch twenty years ago and lives in central Blenheim with her writer husband, Phil and their two young cats; Zoe and Honey.
"Wrangling Monkeys".
In her presentation, Suzie will talk about the importance of taking care of our own health and well-being – something we all promote but often don't do for ourselves. She will touch on how to achieve work/life balance amidst our busy careers and will cover such things as: creeping burnout; negotiating our path; embracing "good enough" and acknowledging SOS. She might even introduce you to some monkeys!!