Please click on each speakers photo to see their bio.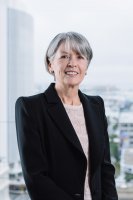 Chief Coroner Judge Deborah Marshall
Judge Marshall was educated in Auckland and has a BA majoring in Political Studies and an LLB (Hons) from the University of Auckland.
After completing her BA degree Mrs Marshall joined the NZ Police and was a Detective in the Auckland Criminal Investigation Branch, specialising in fraud investigation. Shortly after the Serious Fraud Office was formed in 1990, Mrs Marshall joined that office as an Investigator. She began her legal studies on a part time basis while at the Serious Fraud Office.
In 2001 Mrs Marshall became a prosecutor at Meredith Connell, the Office of the Crown Solicitor in Auckland. She became a partner of that firm and a senior Crown Prosecutor.
In January 2013, she was sworn in as a coroner based in Auckland and in 2015 was appointed the Chief Coroner and a District Court Judge.