Please click on each speakers photo to see their bio.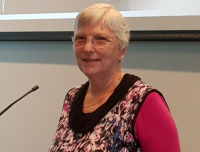 Wendy Bryson NP Cardiology
Wendy Bryson NP Cardiology
Wendy is a Cardiac Nurse Practitioner working in the sunny Bay of Plenty. A component of her role has been to set up and lead the Heart Failure service in Tauranga and Whakatane. This service aims to improve quality of life and self care for those living with a Heart Failure, by providing education, medication titration, and onward referral for further diagnostic tests, device insertion, transplant consideration or end of life care planning.
Wendy holds a Cardiac Nursing diploma (National Heart, London), BSc (Perth), Clinical Masters (Victoria). Wendy chaired the recently endorsed NZ Cardiac Nursing Knowledge and Skills Framework, working group and was the previous national nursing representative to CSANZ. She is delighted to have the opportunity to speak with you this morning about ARNI's , the latest development in heart failure treatment which is now available in NZ.
ABSTRACT:
Title: Using Technology To Improve Cardiac Outcomes
If we stop for a moment to think about the impact technology has had on our own lives with devices such iPhones, You tube, GPS, etc., it is not surprising that technology is also impacting significantly in cardiac patient's lives. Devices such as ICD (implantable cardiac defibrillator)1, CRT (cardiac resynchronisation therapy)1, with fluid volume thresholds, loop recorders and LVAD's (left ventricular assist devices)2, are becoming more common. Consequently, there is a need to understand the role of these devices and their impact in enhancing patient outcomes and reducing mortality.
References;
1Clinical Therapeutics/Volume 37, Number 10, 2015
2Am J Cardiol. 2018 Apr 15;121(8):986-996. doi: 10.1016/j.amjcard.2017.12.044. Epub 2018 Jan 31
ICDs have revolutionised the management of patients at high risk of sudden cardiac death since they were introduced to clinical practice in 1980.
CRT devices were first implanted in 2003. Since becoming guideline treatment for heart failure with severe impairment on left ventricular function with number being inserted have risen significantly in NZ. Loop recorders and optival leads are diagnostic tools with potential to remotely monitor patients and improve QOL .