Please click on each speakers photo to see their bio.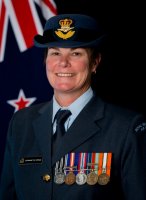 Wing Commander Bernadette Pothan RNZAF
Wing Commander Bernadette Pothan RNZAF
Wing Commander Berni Pothan joined the RNZAF in July 1996 as an Education Officer. In December 1996, post completion of Initial Officer Training, she was posted to RNZAF Base Woodbourne where she was initially employed as the Base Education Officer. She then worked as Flight Commander Education Services Flight and Flight Commander Instructional Systems Flight (responsible for the conduct of RNZAF Train the Trainer courses). Wing Commander Pothan completed CANZEX in 1998 - four months based at the Canadian Flying Training base in Moosejaw, Saskatchewan. On return to New Zealand and promotion to Flight Lieutenant, Wing Commander Pothan was posted to RNZAF Base Auckland as the Base Education Officer. During this tour she attended the 60th Commemoration of the Battle of Crete with the New Zealand contingent as the supervisor of the essay competition winners. In 2001 she posted to New Zealand Cadet Forces as the Southern Area Co-ordinator - a highlight of this tour being the review and subsequent redesign and reinvigoration of Cadet Force training.
Following successful completion of the RNZAF Junior Staff Course in 2003 Wing Commander Pothan was posted to the Sinai Peninsula for a nine month tour as the Aide-de-Camp to the Force Commander Multinational Force and Observer Group. Wing Commander Pothan was promoted to Squadron Leader in 2004 and posted to RNZAF Training Headquarters as the Assistant Director Training Design. During this period she was primarily employed as the Project Officer for the Review of RNZAF Leadership Training. In 2008 she was selected by the Chief of Air Force to undertake the dynamic command appointment of Flight Commander Leadership Development Flight, in order to lead the implementation phase of the new Leader development continuum. She was instrumental in driving the transformation of Air Force Officer Leadership/Command personal and professional training and development. Coupled with ensuring that the contemporary leadership packages were delivered on, a fundamental philosophical cultural change toward an organisation aligned with Future 35 was required. This involved collaboration with both NZ Army and RNZN personnel, to ensure integration across the NZDF as a significant enabler of future joint operations.
During 2011 Wing Commander Pothan successfully completed the Australian Command and Staff Course, gaining a Master of Arts (Strategic Studies). During 2012 she completed a Master of Philosophy (Politics) at the University of New South Wales (ADFA). On return to New Zealand she was posted to the New Zealand Command and Staff College as a Directing Staff member, and was an integral member of the cultural realignment that occurred at the College. On promotion to Wing Commander in December 2014 she was posted to HQNZDF to take up the newly established position of Chief of Staff Training and Support (Air). In February 2016 the Chief of Defence Force appointed her to lead Operation RESPECT – the cultural change programme introduced to eliminate harmful sexual behaviour from the NZDF, to ensure a safe and inclusive workplace for all. The Chief of Air Force appointed her to undertake her current post, a significant Unit Command tour as Base Commander WOODBOURNE in April 2017.
Wing Commander Pothan has a balanced background, having held significant appointments in the operations, command and training contexts. Wing Commander Pothan is married to Michelle and they spend their spare time enjoying their two dogs, fishing off their boat, touring in their house bus and riding on their Harley!